The old-school side-scroller kicks off a two-game partnership for Team2Bit and OUYA
SANTA MONICA, Calif. – Feb. 25 2014 – Team2Bit today brought their hit indie title, Fist Puncher, to the OUYA as the first of a two-game deal. Fist Puncher is the testosterone-packed brainchild of brothers Matt and Jake Lewandowski, and serves as their homage to the classic side-scrolling brawlers that they grew up with. With two new OUYA-exclusive characters (making it a total roster of 19) and 50 levels of hand-to-hand heroism, Fist Puncher will take players back to a simpler time when good was good, bad was bad, and fists were fists.
Fist Puncher is the first of two games that the Lewandowskis are bringing to OUYA this year. For now, the second is shrouded in secrecy, but fans can expect a pair of bitter rivals to join forces and determine the fate of the free world. For more details, head to the Game Developer's Conference in San Francisco next month – the game will make its debut at the OUYA booth.
Fist Puncher will deliver the following kickass features:
19 playable characters, including Dr. Karate, Steroid Jackson, Hella Fistgerald and the Beekeeper.
Unique attacks and movesets for each character.
RPG features allow you to assign attribute points to hone and sculpt your characters to your liking.
Purchase perks including new moves and powers for your characters.
Over 50 levels, from a nude beach to Hitler's birthday party.
99 unlockable achievement trading cards – collect them all!
Over 100 collectible items.
Attack with tasers, slingshots, guns, bombs and more.
Throw cars, cows, dogs, street musicians and whatever else you can pick up.
Four player local co-op.
Sexy pixel art graphics – like living in 1988!
About OUYA
OUYA is a new kind of game console for the television that brings together an open development experience—where any creator can publish a game to the living room—with an accessible and affordable console at $99, with all games free to try. OUYA supports both the downloading and streaming of entertainment content in 1080p HD quality. Built on an open OS with a custom interface and store, OUYA focuses on the fun factor of games—games are organized by featured playlists and overall player engagement and not by revenue or downloads—enabling the most fun game experiences to shine. OUYA was envisioned by founder and CEO Julie Uhrman, and beautifully designed by award-winning designer Yves Behar.
About Team2Bit
Team2Bit is an indie game studio comprised of two brothers located in Santa Cruz, California. They make pixelated, retro-styled games infused with humor and some modern twists. They're also graduating members of IGN's Indie Open House class of 2012. Check out the Team2Bit website for more information: http://www.team2bit.com/.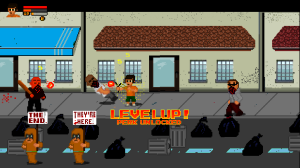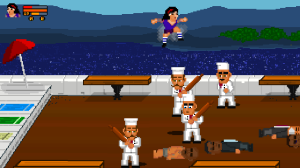 Assets
Check out the Fist Puncher trailer here.
Download the game's assets here.
And peruse Team2Bit's replies to some frequently asked questions here.