Art-driven Experience Tackles the Emotional Tolls of Love and Loss in Slavery
SANTA MONICA, Calif.– March 13, 2014 –  OUYA today announced that Thralled, an interactive experience that tells the story of a runaway slave in 18th century Brazil, is coming exclusively to OUYA in the fall of 2014. Capturing the intense emotions of slavery, loss, and freedom in the colonial New World, Thralled will take OUYA players on a provocative journey that will appeal to gamers and non-gamers alike.
Thralled follows the journey of a young woman named Isaura, a slave traumatized by the disappearance of her child and tormented by memories of an agonizing past. After years living under oppression, she escapes from the sugarcane plantation where she was kept captive and takes to the thick forest to locate her lost son. Hunted by her former masters, Isaura must traverse the wilderness in secret and overcome both real and imagined threats. Thralled depicts Isaura's search for freedom with vibrant color and dramatic art design that immerse players in the journey, and sacrifices, that Isaura must make.  
Originally created as a student project from Miguel Oliveira and his team, Thralled was listed as a finalist in the Serious Games Showcase & Challenge in 2012. An early demo of Thralled will be shown at the OUYA booth at GDC, giving members of the press their first chance to experience Isaura's journey first-hand.
More information, including a trailer and art assets, can be found on the Thralled website: http://www.thralled.org/.
Any media interested in learning more about Thralled, arranging for a demo during GDC, or meeting the developers at the show should contact TriplePoint PR at ouya@triplepointpr.com or 415.955.8500. In addition, media can contact Miguel Oliveira (lead designer) at miguel.oliveira.usc@gmail.com .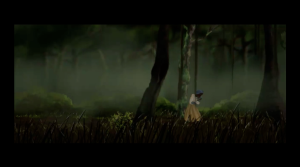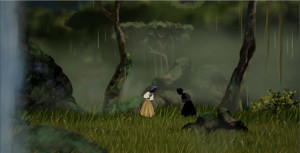 About OUYA
OUYA is a new kind of game platform that enables any creator to publish a game for the TV. Launched with the OUYA game console in 2013, OUYA has hundreds of games from established AAA developers to emerging game artists. The OUYA also has plenty of entertainment content in 1080p HD quality. OUYA, built on an accessible and open platform, was envisioned by founder and CEO Julie Uhrman. The OUYA console was beautifully designed by award-winning designer Yves Behar.
Website | Facebook | @playOUYA

---
Media Contact
Tristan Kruth, TriplePoint
TriplePoint PR for OUYA
ouya@triplepointpr.com
(415) 955-8500
Miguel Oliveira, Thralled
Lead Designer
miguel.oliveira.usc@gmail.com