Character-switching RPG Lets Players Use More Than 50 Fighters on Demand
BEIJING – March 26, 2014 – Get ready for total chaos! Coco today announced the launch of Chaos Fighters, a new mobile MMORPG that sends players on an epic quest to train the most powerful warrior in the world. The game features a unique character-switching mechanic that gives players total freedom in how they play. Chaos Fighters is available for free on the iTunes App Store from this link: https://itunes.apple.com/app/id783492605
Chaos Fighters puts a twist on the standard mobile RPG genre by letting players switch between more than 50 in-game characters at will. This allows players to adopt each character's strengths, weaknesses, and unique fighting style to better take on ferocious enemies, collect loot, and gain experience. When gamers find a powerful character and item combo, they can take to the arena to challenge other players for greater rewards on their quest to build the ultimate chaos fighter.
Already available in China, Korea, and Taiwan, Chaos Fighters has become a hit overseas since launching in 2013. To help build a strong community for the game's launch, Coco's parent company Chukong Technologies created a pre-registration page for the game, inviting players to sign up to receive notifications and special rewards when the game became available today.
Chaos Fighters features:
More than 50 characters, each with their own strengths, weaknesses, and fighting styles
Vibrant art and detailed character designs that make the game easily accessible for players new to the RPG genre
With 40 skills and hundreds of items to combine, players have endless options to build a warrior in their image for fast paced PvP combat
Real-time chat and built-in guild functions makes it easy to find someone to battle, and then beat them to death
Download assets and screenshots for Chaos Fighters here: http://triplepointpr.com/dl/Chukong/Chaos%20Fighters%20Screenshots.zip
Watch the official Chaos Fighters trailer here: https://www.youtube.com/watch?v=SbgBKZeVJ2g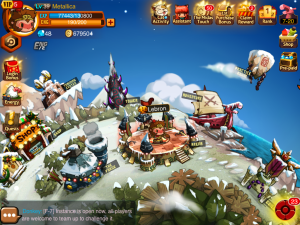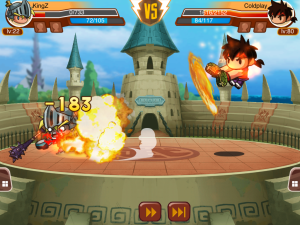 ---
About Coco 
Coco, the in-house publishing arm of Chukong Technologies, has built top-ranking games for players around the world. Previously operating under the name Punchbox, Coco is the studio behind the Fishing Joy franchise, one of the most popular mobile casual games in China. To date, the company has released 37 games since it was founded in 2008. Coco's games are played by more than 65 million players every day.
As part of the Chukong Technologies brand, Coco contributes to the overall success of China's largest game developer. Chukong also collaborates with leading developers to create, localize, monetize, and distribute games globally, as well as maintaining the Cocos2D-x game engine for its 400,000 users. To learn more, please visit http://www.chukong-inc.com/.
For more information about Cocos2d-x, please visit http://cocos2d-x.org/.
Media Contact
Tristan Kruth, TriplePoint for Chukong Technologies
tkruth@triplepointpr.com
(415) 955-8500