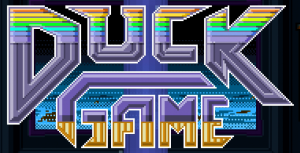 Birds of a Feather Will Fight Together
SANTA MONICA, Calif. – May 13, 2014 – OUYA today announced that DUCK GAME, the only local multiplayer combat game to feature a dedicated button for quacking, is now available on the OUYA store. Built single-handedly by Vancouver-based developer Landon Podbielski, DUCK GAME rekindles the joyous chaos of old-school local multiplayer gameplay with fast-paced PvP action for up to four players.
Check out the launch trailer for DUCK GAME here: https://www.youtube.com/watch?v=71X1pl_524Q
DUCK GAME is couch co-op in its purest and most ridiculous form, pitting combatants against each other in rapid-fire avian deathmatches. With quick individual rounds and infinite replay value, DUCK GAME gives players the chance to learn an opponent's strengths and weaknesses before punishing them with bullets, lasers, rockets, grenades, swords, old-fashioned muskets, or sweet sweet saxophone serenades (and more). Behind DUCK GAME's retro graphics and chiptune music are nuanced game mechanics that reward strategic play.
With 50 different arenas, more than two dozen weapons, and a level editing tool for players to build their own arenas, DUCK GAME is a must-have for the local multiplayer enthusiast.
A press kit with images, logos, and more can be downloaded here: http://triplepointpr.com/dl/duckgame/
To learn more about DUCK GAME, contact TriplePoint PR at ouya@triplepointpr.com or (415) 955-8500.
About OUYA
OUYA is a new kind of game platform that enables any creator to publish a game for the TV. Launched with the OUYA game console in 2013, OUYA has hundreds of games from established AAA developers to emerging game artists. The OUYA also has plenty of entertainment content in 1080p HD quality. OUYA, built on an accessible and open platform, was envisioned by founder and CEO Julie Uhrman. The OUYA console was beautifully designed by award-winning designer Yves Behar.
Website | Facebook | @playOUYA
About Landon Podbielski
Landon Podbielski is an independent game developer and music composer based out of Vancouver, Canada. Landon is the creator of DUCK GAME, a local multiplayer duck-based combat game, and is prepping the title for launch on OUYA this spring.
Media Contact
Tristan Kruth
TriplePoint PR for OUYA
tkruth@triplepointpr.com
(415) 955-8500