SAN FRANCISCO, LONDON – Aug. 7, 2014 – SEGA Networks, Inc. today announced the launch of Crazy Taxi™: City Rush for Android, the latest installment in the Crazy Taxi franchise designed for mobile devices. Crazy Taxi: City Rush is now available as a free download via Google Play. The new game was designed by Kenji Kanno, creator of the original Crazy Taxi arcade phenomenon, and developed by Hardlight™ Studio, one of SEGA's top in-house studios and developer of the global hits Sonic Dash™ and Sonic Jump Fever™. Crazy Taxi: City Rush preserves the spirit of the iconic arcade hit with all new adrenaline-fueled missions and a sprawling concrete jungle to unlock, explore, and master, featuring intuitive controls and gameplay optimized for smartphones and tablets.
Download the game today on Google Play: (LINK)
View the official launch trailer on YouTube: (LINK)
Crazy Taxi: City Rush features:
Drive Crazy on Mobile: Speed down alleys, drift around corners, weave through traffic, fly up ramps and launch into the air with intuitive driving controls, playable in both portrait and landscape modes.
Master the Streets of Bay City: Hone your driving skills in an all-new, bustling and expanding 3D city.  Drive crazy downtown, uptown, on the beach, and through the 'burbs.  Deliver a colorful cast of new and classic characters to their destination before the timer runs out. Learn the streets and defy satellite navigation! Take sneaky shortcuts to beat the clock and max out your score. Stay tuned; even more areas will be added soon.
Variety of Missions: Earn medals from increasingly challenging jobs – and while you're at it, why not crush some cars by taking a tank for a spin?
Customize Your Cab: Upgrade and fully customize a fun collection of modern and classic cabs. Increase your taxi's power and (and curb appeal) with over-the-top upgrades and accessories like dinosaurs and bullhorns!
Hire Your Friends and Build a Fleet of Taxis: Manage your own cab company by hiring friends to drive for you in the Taxi Tycoon multiplayer game.
Play Without Limits: No more gas in your tank? Borrow your Facebook friend's car to complete a mission, and you'll automatically share the fare! Players will be pleased to note that an internet connection is not required to enjoy the game.
Rock Great Tunes: Music has been hand-selected to complement the gameplay. Blast great tunes as you complete missions all over Bay City.
See the game in action via screenshots and other assets here: (LINK)
Crazy Taxi: City Rush is now available for free on Android devices from Google Play and on iOS from the App Store. For more information on Crazy Taxi: City Rush, please visit the official Facebook and Twitter pages.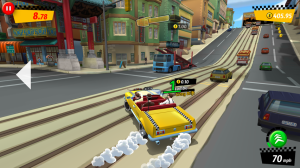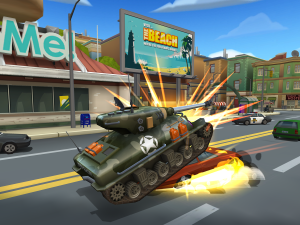 For screenshots and logos, click here.
About SEGA Networks Inc:
SEGA Networks Inc. is a division of Tokyo, Japan-based SEGA Corporation, and is focused on creating fun, compelling and engaging entertainment that features iconic SEGA® intellectual property as well as original content for mobile and tablet devices. Since 2008, SEGA has been a leader in the smartphone and tablet space with the wildly successful Super Monkey Ball™ and continues to be at the forefront of gaming, launching more than 85 games. SEGA Networks Inc. includes acclaimed studios Hardlight Studio™ and Three Rings™. Recent SEGA Networks Inc. titles include Sonic Dash™, Sonic Jump™ and Crazy Taxi™ City Rush and the upcoming title Super Monkey Ball Bounce. For more information, visitwww.sega.com.
About Hardlight:
Based in the UK and founded in 2012, Hardlight Studio is an internal development studio owned by SEGA Corporation. Composed of a small, dedicated team with drive, passion and creativity, Hardlight Studio focuses on making high-quality games for mobile devices. Hardlight Studio is behind Sonic the Hedgehog™'s latest critically acclaimed adventures on mobile platforms: Sonic Jump and Sonic Dash. For more information please visit: www.hardlightstudio.com.
©SEGA. All rights reserved. SEGA is registered in the US Patent and Trademark Office. SEGA and the SEGA logo are either registered trademarks or trademarks of SEGA Corporation. Android and Google Play are trademarks of Google Inc. App Store is a service mark of Apple Inc.
Media Contact
TriplePoint PR for SEGA Networks Inc.
sega@triplepointpr.com
(212) 730-9744
Rachel Steinberg, Communications Manager
SEGA Networks Inc.
rachel.steinberg@sega.net
+1 (415) 900-9569