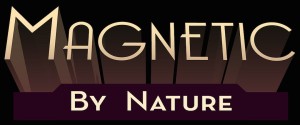 New 2-D Platformer Without Platforms Lets Players Control their Own Magnetic Field
SANTA MONICA, Calif. – Aug 20, 2014 – Hold onto your fillings – Magnetic By Nature is available now, only on OUYA. The debut title from Team Tripleslash, Magnetic By Nature is a fast-paced platformer that forgoes platforms entirely! In lieu of traditional jump-and-land mechanics, Magnetic By Nature lets players alter their own magnetic field to traverse a world riddled with the ferromagnetic remnants of a fallen machine-age civilization. Magnetic By Nature is currently available for $9.99 exclusively on the OUYA store, and will be coming soon to PC, Mac, and Linux.
Magnetic By Nature lets players step into a lushly-rendered apocalyptic landscape, desolate in its solitude but rich in atmosphere. Wielding the forces of magnetic attraction and repulsion, players can propel themselves fluidly through the air using both static and dynamic magnets. Of course, every action has an equal and opposite reaction, so players must constantly manage both their own place in gamespace, and the movement of the magnets that keep them aloft.
In the game, players will take on the role of the last remaining robot in a post-human wasteland, journeying through the ruins of their society to reactivate their friends. With its vivid art-deco graphic style, atmospheric sound design, and more than 100 different levels of magnetizing merriment, Magnetic By Nature is a refreshing new take on the platforming genre.
Watch the trailer to get an idea of what magnetic maneuvering really looks like: https://www.youtube.com/watch?v=waclbyT8aMc&feature=youtu.be.
Or download the press kit for in-game screenshots, logos, concept art and more: http://teamtripleslash.com/downloads/MBNPressKit(August2014).zip.
About OUYA 
OUYA is a new kind of game platform that enables any creator to publish a game for the TV. Launched with the OUYA game console in 2013, OUYA has hundreds of games from established AAA developers to emerging game artists. The OUYA also has plenty of entertainment content in 1080p HD quality. OUYA, built on an accessible and open platform, was envisioned by founder and CEO Julie Uhrman. The OUYA console was beautifully designed by award-winning designer Yves Behar.
Website | Facebook | @playOUYA
About Team Tripleslash
Team Tripleslash is an independent game development company formed by artists, animators, musicians, writers, and programers who met as students in the University of Utah's Entertainment Arts & Engineering program. Tripleslash's team of developers share a common passion for inventive gameplay and unique visual design. To learn more about Team Tripleslash, visit http://teamtripleslash.com
Media Contact
Tristan Kruth, TriplePoint
TriplePoint PR for OUYA
ouya@triplepointpr.com
(415) 955-8500