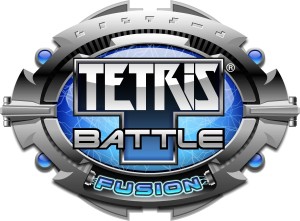 Head-to-head Iconic Puzzle Action is Available Now on OUYA
SANTA MONICA, Calif. – Aug. 25, 2014 — Colors and squares and tight spaces – oh my! Tetris® Battle: Fusion, an all-new game based on the addictive Facebook game Tetris Battle and multiplayer tribute to the game that singlehandedly spawned the puzzler genre, is now available for free on OUYA (with a $4.99 unlock for local multiplayer and AI battle mode). Developed this year by Tetris Online, Inc. to honor the Tetris brand's 30th anniversary, Tetris Battle: Fusion puts players' spatial strategy skills to the test.
OUYA owners can download the game here, and you can find assets for the game here: http://triplepointpr.com/dl/OUYA/TetrisBattleFusion/
Tetris Battle: Fusion lets users duke it out against the dual forces of gravity and geometry in a head-to-head edition of the arcade staple. Players can keep tabs on how their opponents are faring in order to optimize their own strategy, adding a frenetically competitive twist to the fast-paced shape-placing action.
Tetris Battle: Fusion also adds a few new elements to the core gameplay experience. Throughout the game's 50+ unique levels, players must collect Amulets, which determine the offensive and defensive capabilities of a player's next Matrix (playing field) and can be leveled up by gaining experience points over time. At the start of each match, users equip Amulets to determine the limits of their gameplay, and then can fuse Amulets together for added strength as a player's space-shifting prowess increases.
The game also features a 1v1 local co-op mode that enables friends in the same room to go head-to-head using previously earned Amulets. As a player's arsenal of Amulets grows, so will his or her ability to become the Tetris champion of the world – or at least their living room.
To learn more about Tetris® Battle: Fusion, contact TriplePoint PR at ouya@triplepointpr.com or (415) 955-8500.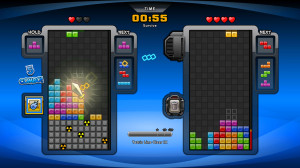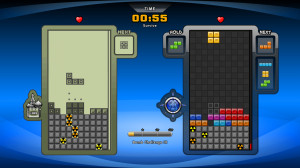 About Tetris Online, Inc.  
Tetris Online, Inc. is an official licensee of The Tetris Company, LLC. Founded in January 2006 by Minoru Arakawa, Henk Rogers and Alexey Pajitnov, Tetris Online is a developer and publisher of electronic entertainment properties. Titles include Tetris® Party Deluxe for Wii™ and Nintendo DS™, Tetris Party for WiiWare™, Tetris Splash for Xbox LIVE® Arcade, Tetris Battle, and Tetris Friends Online Games, which was named one of the "Top 100 Games of All Time" by PC Gamer and can be found at http://www.tetrisfriends.com. Tetris Online is privately held and headquartered in Honolulu, Hawaii.
About the Tetris® Brand
The Tetris® brand is one of the leading and most distinctive video game brands and franchises in the world with over 425 million paid mobile downloads, and over a billion games played online per year. In the game's 30 year history, hundreds of millions of players have experienced the Tetris Effect. Tetris is loved globally by people of all ages and all cultures. Partnered with Electronic Arts, Ubisoft, Sega, and Hasbro, the Tetris game continues to be one of the most widely recognized video games of all time. Tetris Holding, LLC is the owner of Tetris rights worldwide and The Tetris Company, LLC is its exclusive licensee. For the latest information about the Tetris brand and Tetris products, please visit http://www.Tetris.com. Follow Tetris on Twitter (@Tetris_Official) and become a fan of Tetris on Facebook (http://www.facebook.com/tetris)
About OUYA 
OUYA is a new kind of game platform that enables any creator to publish a game for the TV. Launched with the OUYA game console in 2013, OUYA has hundreds of games from established AAA developers to emerging game artists. The OUYA also has plenty of entertainment content in 1080p HD quality. OUYA, built on an accessible and open platform, was envisioned by founder and CEO Julie Uhrman. The OUYA console was beautifully designed by award-winning designer Yves Behar.
Website | Facebook | @playOUYA
Media Contact 
Tristan Kruth
TriplePoint PR for OUYA
tkruth@triplepointpr.com
(415) 955-8500