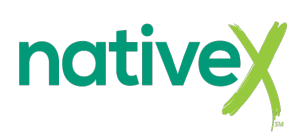 Now Offering the Most Comprehensive Suite of Reward and Non-reward Ad Formats in the Industry
SAN FRANCISCO – Sept. 15, 2014 – NativeX, the leading advertising technology for mobile games, today announced the launch of Lightning PlayTM Video, a video ad format that combines the latest mobile video ad technology with NativeX's industry leading selection of native advertising formats. This includes discovery walls, interstitials, and other rich media formats, both reward and non-reward. Lightning Play video provides NativeX game developers with yet another tool to best monetize their apps by serving the right ad format based on what's happening in the game. Designed with maximum performance in mind, Lightning Play uses proprietary technology to instantly play video ads without interrupting the user experience.
"Video ads can be an effective way for advertisers to quickly demonstrate the appeal of their product or app to players, but is not the only answer for developers looking to optimize revenue," said Robert Weber, Co-founder and SVP at NativeX. "You also need discovery walls, interstitials, reward and non-reward, and in-house promotions that deep link to your store to drive consumer purchase. Our video product is just one more piece to the holistic monetization puzzle."
Lightning Play Video will benefit from the same artistry of native monetization and science of predictive analytics that have made NativeX a leader in the mobile advertising space. When added to the rest of NativeX's suite of products, Lightning Play Video gives publishers more control by allowing them to choose between multiple ad formats to compete for higher fill and eCPM.  In addition, the NativeX Ad Exchange allows interstitials and video ads, both reward and non-reward, to compete for the same placement, extracting the most value from each ad impression.
As one of the first companies to tackle the challenges of native mobile advertising, NativeX is constantly improving their solutions and launching new products to match the expectations of players, developers, and advertisers. Advertisers benefit from NativeX's data science learnings yielding higher quality users by serving optimized ads selected with predictive analytics. The NativeX SDK offers developers the easiest way to implement both reward and non-reward options in multiple ad formats including Lightning Play Video into games, driving greater engagement and higher revenues. With NativeX's server side technology, publishers have the ability to change their ad formats, placements and reward or non-reward options as needed without any additional development work.
NativeX partners have made hundreds of millions in ad revenue since the company's founding in 2000.
For more information, visit http://nativex.com/.
Assets
About NativeX
NativeX is the leading ad technology for mobile games and is re-inventing in-app advertising with beautiful native ad experiences. NativeX offers developers a holistic approach to monetization, through a wide range of both reward and non-reward ad formats including interstitials, Lightning Play™ video, in-house promotions and playable ads all in one SDK.  With a dedication to data science, NativeX uses predictive analytics and machine learning to optimize every ad placement. For advertisers who want to reach gaming enthusiasts around the globe, NativeX consistently delivers high quality active users. NativeX has 12 consecutive years of profitability under its belt and has acquired more than 1 billion users across 178 countries through multi-year partnerships with top app developers including Yahoo, Sky Vu and Imangi Studios. For more information, visit nativex.com or email contact@nativex.com. Follow us on Twitter @nativeX.
---
Media Contact
Tristan Kruth, TriplePoint PR for NativeX
nativex@triplepointpr.com
(415) 955-8500
Jasmine Mayo, Sr. Marketing Manager, NativeX
jasmine.mayo@nativex.com