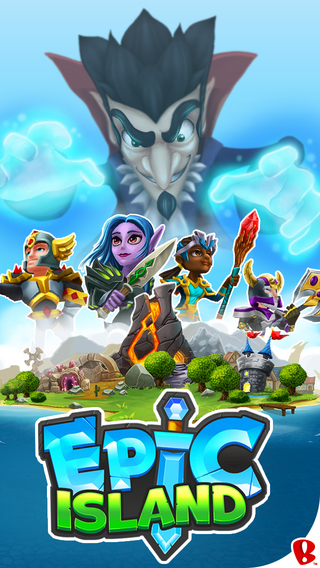 Loot-gathering adventuring game features upgradeable heroes and limitless fun for iOS
BOULDER, CO – September 4, 2014 – Backflip Studios today announced its newest game, Epic Island, will launch next Thursday, September 25 on iOS. Epic Island is an action-packed adventure game where players assemble and upgrade a team of five heroes tasked with reclaiming an island overrun with the minions of the evil sorcerer Cedric Sparklehands. Epic Island will be free to play with optional in-app purchases.
Check out all the epic action in the brand new trailer.
In Epic Island, players gradually build a team of heroes with unique combat and magical skillsets to go on quests to defeat scary monsters and enormous titans. Completing missions and slaying baddies will earn your heroes fame, experience points, and gold, which you can spend on forging mighty weapons and armor. The game's story explores a lush, colorful, 3D island with diverse terrain, ranging from simple, seaside villages to ominous volcanoes and harsh tundras. Players will also be able to test their heroes' collective strength against friends and other players from around the world in the Battle Arena. There are even adorable, yet powerful, pets to adopt as companions for the quests. Epic Island is epic.
Download the Epic Island press kit here.
About Backflip Studios
Backflip Studios develops and publishes absurdly fun mobile games for iOS and Android devices. The company's portfolio of top ranked games, which include hit franchises such as DragonVale, Paper Toss, NinJump, Spellfall, PlunderNauts and Army of Darkness Defense, have been downloaded over 300 million times and are played by more than 30 million active users per month. DragonVale was the #1 Top Grossing iPad app and the #4 Top Grossing iPhone app of 2012. The company is based in Boulder, Colorado. Hasbro, Inc. (NASDAQ:HAS) has a majority ownership stake in Backflip Studios.
Media Contact
Lucas Cartwright, TriplePoint for Backflip Studios
lcartwright@triplepointpr.com
(212) 730-9744