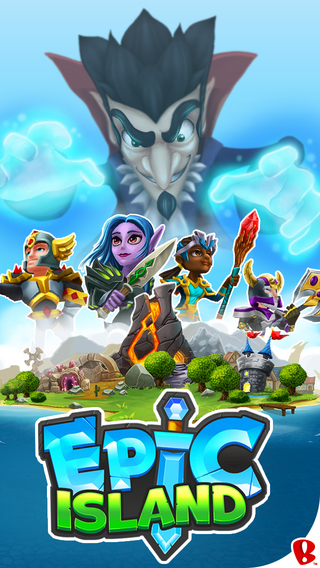 Makers of DragonVale offer endless adventure and stunning 3D animation in new RPG, available exclusively on iOS
BOULDER, CO – September 25, 2014 – Excellent adventure, sweet loot, and epic heroes await iOS players as Backflip Studios launches Epic Island for free on the iTunes App Store today. In Epic Island, you'll enlist and upgrade a group of hella cool heroes on a quest to defeat the evil Cedric Sparklehands and his army of baddies. Epic Island is free to play with in-app purchases.
Download Epic Island today: https://itunes.apple.com/nz/app/epic-island/id761219885?mt=8
Dive into the fray in the epic trailer: https://www.youtube.com/watch?v=TAOHWHWjRKs
In Epic Island, players venture through a diverse, richly-animated island complete with a full spectrum of brightly colored monsters. Each of your five heroes – the Dashing Male, Daring Huntress, Wise Man, Nimble Elf, and Stout Dwarf – and their unique skillsets give players the chance to create and strategically nurture a truly epic crew. Players send their heroes on timed quests to slay enemies to earn fame, experience points, and gold that can be used to improve existing weapons and armor or forge new ones. Epic Island also features the Battle Arena, an online component where players can test their team's mettle against other players from around the world.
Epic Island is available exclusively from the iTunes App Store as a free download. Click here for the Epic Island press kit.
About Backflip Studios
Backflip Studios develops and publishes absurdly fun mobile games for iOS and Android devices. The company's portfolio of top ranked games, which include hit franchises such as DragonVale, Paper Toss, NinJump, Spellfall, PlunderNauts and Army of Darkness Defense, have been downloaded over 300 million times and are played by more than 30 million active users per month. DragonVale was the #1 Top Grossing iPad app and the #4 Top Grossing iPhone app of 2012. The company is based in Boulder, Colorado. Hasbro, Inc. (NASDAQ:HAS) has a majority ownership stake in Backflip Studios.
Media Contact
Lucas Cartwright, TriplePoint for Backflip Studios
lcartwright@triplepointpr.com
(212) 730-9744