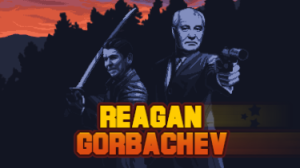 Top-Down Stealth/Action Game from Team2Bit Unites the Unlikeliest Dynamic Duo
SANTA MONICA, Calif. – Oct. 21, 2014 – OUYA and Team2Bit today announced that Reagan Gorbachev, a top-down stealth/action shooter from the developer that brought you Fist Puncher, is now available exclusively on OUYA. The title features Ronald Reagan and Mikhail Gorbachev in their most kick-ass form yet (excluding Bedtime for Bonzo – that chimp was a stone cold killer): as lock-picking, katana-slashing, pistol-firing defenders of justice.
Set in an alternate universe in which the garrulous Reagan and the famously-open Gorbachev are kidnapped by militant extremists at the 1986 Reykjavik Summit and must fight their way out to stay alive, Reagan Gorbachev takes the Arms Race to a whole new level, outfitting the pair of politicians with everything from poisoned darts to assault rifles and everything in between. With these two cold capitalists armed to the teeth, more than money will be trickling down – the unlikely duo will do whatever it takes to prevent the impending World War 3.
Reagan Gorbachev can be played by one or two patriots and is now free-to-try on OUYA, with the full campaign available for $9.99.
Check out the greatest political crusade in (alternate universe) history in the trailer here: http://www.youtube.com/watch?v=H4qL-xovtS0.
Or download the press kit here: http://www.team2bit.com/press/sheet.php?p=Reagan_Gorbachev.
Grab the game on OUYA here: https://www.ouya.tv/game/Reagan-Gorbachev/.
About OUYA
OUYA is a new kind of game platform that enables any creator to publish a game for the TV. Launched with the OUYA game console in 2013, OUYA has hundreds of games from established AAA developers to emerging game artists. The OUYA also has plenty of entertainment content in 1080p HD quality. OUYA, built on an accessible and open platform, was envisioned by founder and CEO Julie Uhrman. The OUYA console was beautifully designed by award-winning designer Yves Behar.
Website | Facebook | @playOUYA
About Team2Bit
Team2Bit is an indie game studio comprised of two brothers located in Santa Cruz, California. They make pixelated, retro-styled games infused with humor and some modern twists. They're also graduating members of IGN's Indie Open House class of 2012. Check out the Team2Bit website for more information:http://www.team2bit.com/.