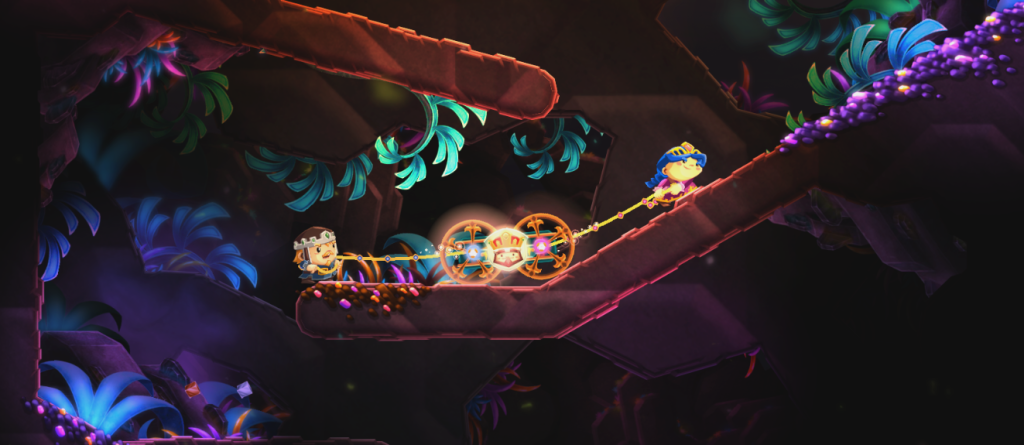 The Hit Couch Co-op Platformer Approaches One Million Downloads Following October Console Launches
QUEBEC CITY – November 12, 2014 – Frima today announced that couch co-op platformer Chariot is now available on Steam, following its PlayStation 4 and Xbox One releases earlier this fall. In Chariot, a princess and her fiancé venture deep into the royal catacombs to find a final resting place worthy of His Majesty. Featuring stunning environments and a wealth of challenges along the ride, Chariot tests players' wits and teamwork in order to survive their perilous journey. Chariot is a finalist for eight awards, including Game of the Year, at The Canadian Videogame Awards being held November 21.
Download Chariot for Steam here: http://store.steampowered.com/app/319450/
Prepare for your adventure with Chariot's trailer, and view the developer diary for an inside look into the game's creation.
In Chariot, players guide the King's funeral casket through richly colored landscapes by using physics-based mechanics, such as swinging, riding, pulling and pushing. At times, you're collecting jewels at high speeds down steep ramps, and a moment later, you're carefully traversing treacherous cliffs. Alone or with a friend, Chariot offers the thrill ride of an afterlife!
"Chariot has really taken off – no pun intended – on consoles, and we're thrilled to launch on Steam," said Frima Executive Producer Martin Brouard. "While you can play the campaign with a partner, Steam is an excellent platform to take on the journey solo."
Chariot is available for $14.99 on Steam, Xbox One and PlayStation 4, with a Wii U release date to be revealed soon. On Steam, Chariot is optimized for controller use, but keyboard controls have also been implemented. Chariot's mesmerizing soundtrack is also available for $3.99 or bundled with the game for $16.99.
Catch Frima's Steam launch livestream today, November 12, from 5-7pm EST here: http://www.twitch.tv/frimaoriginals
For more information, visit Chariot's official website at chariotgame.com, like on Facebook or follow on Twitter.
Assets
Download the press kit
Go behind-the-scenes with the developer diary
View the trailer on YouTube
Download the trailer
About Frima
Frima is Canada's largest independently-owned game developer. Since 2003, the company has been developing first-rate digital products for world-renowned clients like Electronic Arts, Activision, Warner Brothers, Konami and Ubisoft. Frima's services include video game development, animation and visual effects, as well as the concept art development of Volta. With over 350 artists and programmers in-house, Frima produces high-caliber products with both artistic and technical appeal. Frima Originals is a separate division within Frima that is dedicated to developing and self-publishing original indie titles, such as Nun Attack, Zombie Tycoon, A Space Shooter and couch co-op platformer Chariot.
Media Contact
Valerie Turpin, TriplePoint
vturpin@triplepointpr.com