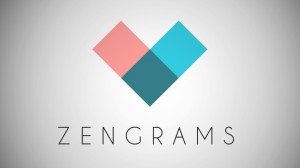 Indie publisher Gameblyr announces follow up to Pathogen and Third Eye Crime in Zengrams, the most deceptively challenging puzzle game on iOS
BOSTON — November 13, 2014 — Gameblyr today announced the release of Zengrams, an abstract, minimalist puzzler created by Andreas Boye, available exclusively on the Apple App Store for the iPhone, iPad and iPod Touch. Brought to you by the publisher of indie hits Pathogen and Third Eye Crime, Zengrams was designed to exercise your brain through deceptively simple puzzles in which players rearrange shapes into the correct design.
Download the full, 70-level experience for $2.99 on iOS here:  https://itunes.apple.com/us/app/zengrams/id924061101?ls=1&mt=8
Zengrams features a minimalist, abstract style and puzzle-based gameplay inspired by origami and logic puzzles. Carefully manage your limited number of moves as you cut, combine and position your way to success. Featuring an extensive single player campaign of progressively difficult levels, Zengrams will challenge even the best puzzle players to solve each deceptively simple-looking challenge.
"Zengrams makes you smarter and offers a level of challenge unseen on iOS to date," said Marco Mereu, CEO of Gameblyr. "If Dark Souls and Blek had a baby, this would be it," he joked. "We look forward to challenging the best puzzle gamers out there to complete all 70 challenges. We dare you to try it."
Zengrams Key Features:
Unique style and puzzle gameplay inspired by origami and logic puzzles
Extensive single player campaign: 70 levels of progressively difficult challenges
No hints or IAP cheats – hold your own hand!
Easy to play, hard to master: intuitive visual mechanics make Zengrams simple for anyone to pick up and play, while higher difficulty settings offer challenges for experienced puzzle gamers
Optimized for iOS 8 and Retina display
Assets
Download the press kit
Download the trailer
View the trailer on YouTube
Download now on the iTunes App Store
About Gameblyr
Founded in 2013, Boston-based Gameblyr is an indie game publishing partner established on the principle that great independent games should not go overlooked. Committed to helping developers bring high quality mobile and cross-platform games to the market, Gameblyr offers a publishing model build to support indies to compete in today's highly competitive environment.
Media Contact
Valerie Turpin
TriplePoint PR for Gameblyr
vturpin@triplepointpr.com
(347) 532-3337