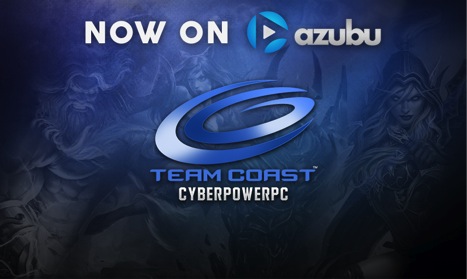 LOS ANGELES – November 14, 2014 – Azubu announced today an exclusive streaming partnership with Team Coast, one of the highly anticipated professional teams to grace North American League Championship Series (LCS) stages. The team recently competed in the 2014 North American Challenger Series (NACS), taking first place over Team Green Forest, Curse Academy, and Team LoLPro with a 6-1 overall record. In their second NACS this year, they went undefeated against Team 8, Curse Academy, and Denial eSports with a 6-0 sweep. In addition, they have a very high potential of returning to the LCS. Known for their innovative play style and wide Champion pool, Team Coast joins an impressive roster of pro teams and players like Faker currently streaming on the high-quality eSports broadcasting platform.
"We here at Team Coast are extremely excited to be partnering with Azubu for a great streaming experience for our fan base," said David Slan, Managing Partner for Team Coast. "Bringing Team Coast on board is just one more reason why Azubu is becoming the primary destination for quality and engaging eSports content," said Tricia Sugita, Director of eSports at Azubu."Team Coast brings such a robust background and competitive edge, and we can't wait to have them start streaming."
Brandon "DontMashMe" Phan, the team's AD player, also had this to say regarding the partnership: "My teammates and I are really excited to bring some awesome streaming to the Azubu network."
For more information, please visit www.azubu.tv.
About Azubu
Azubu is a premium global livestreaming and eSports platform, providing unparalleled gaming, viewing, and interactive experiences for both broadcasters and the community. Coming together to watch the biggest names and tournaments, users across the globe engage in the highest definition eSport content. Created for and driven by the community, Azubu delivers a "lean-in" experience for viewers to interact with their favorite games, players, and organizations, while empowering broadcasters with unique toolsets, superior streaming technology, chat-casting capabilities, and more. Azubu was founded in 2011, and is headquartered in Los Angeles with offices in Seoul, Vancouver, and London.
Official Website | Facebook | @AzubuTV
Media Contact
Lucas Cartwright
TriplePoint Public Relations
lcartwright@triplepointpr.com