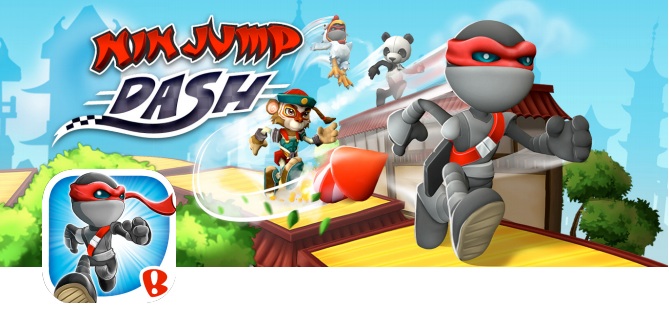 Race along rooftops, dodge throwing stars, and best your friends in the sequel to the popular endless jumper
BOULDER, CO – November 20, 2014 – Backflip Studios, the creative minds behind wildly successful titles Dragonvale, Spellfall, and NinJump, make another katana strike on your free time with NinJump Dash, available today on iOS and Android devices. NinJump Dash pits you against your friends and others in live, 4-person multiplayer races. Utilizing tap-to-jump controls, you will run across rooftops and collect one of six power-ups to slow down or blow up your rival ninjas.  
Download NinJump Dash today:
Get to dashin' in the epic trailer: https://www.youtube.com/watch?v=5TFR-XG0q-A
NinJump Dash adds Mario Kart-style power ups to live, high-speed multiplayer racing. Lagging behind in last place? Get the best power-ups like the speed run or the rocket launcher. Your opponent's too close for comfort? Hit 'em with a punch box and knock 'em down a peg. NinJump Dash also features over 30 costume combinations to personalize your ninja, including a pirate garb, robot gear, and a hilarious chicken suit.
NinJump Dash features:
Synchronous, 4-person multiplayer action.
Six ridiculously fun power ups like speed run, rocket launcher, the portal and more!
Over 30 ways to customize your ninja!
Social integration including Facebook integration for friend races, in-game leagues, friend leaderboards, and global leaderboards.
Special prizes and rewards for race winners!
For more information, please visit www.backflipstudios.com.
About Backflip Studios
Backflip Studios develops and publishes absurdly fun mobile games for iOS and Android devices. The company's portfolio of top ranked games, which include hit franchises such as DragonVale, Paper Toss, NinJump, Spellfall, PlunderNauts and Army of Darkness Defense, have been downloaded over 300 million times and are played by more than 30 million active users per month. DragonVale was the #1 Top Grossing iPad app and the #4 Top Grossing iPhone app of 2012. The company is based in Boulder, Colorado. Hasbro, Inc. (NASDAQ:HAS) has a majority ownership stake in Backflip Studios.
Media Contact
Lucas Cartwright, TriplePoint for Backflip Studios
lcartwright@triplepointpr.com