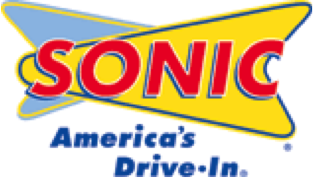 Feed your appetite for adventure with Temple Run-themed toys, now available for a limited time at participating SONIC locations
RALEIGH, N.C. — March 23, 2015 — Imangi Studios, the developers behind mobile mega-hit Temple Run, and SONIC® Drive-In today announced the release of Temple Run-themed toys available exclusively with the purchase of the restaurant franchise's Wacky Pack kids' meals. Until April 19, young diners of America's Drive-In can get a taste of the classic endless runner that takes gamers on a journey through a treacherous jungle, challenging them to avoid obstacles, earn points, and steal a sacred idol from a forbidden temple.
The new Wacky Pack offerings include stickers of top in-game runners Scarlett Fox, Guy Dangerous, Karma Lee, and Barry Bones, the coveted idol mask, an endless runner maze perfect for Temple Run training, and figurines depicting chamber guardians: the frightening Demon Monkeys! Adding to the fun, each toy features a scannable Temple Run code that unlocks a unique digital photo booth via Wacky Pack's online portal — putting fans inside the action.
"As we expand SONIC's digital reach, partnering with Imangi studios is a win for us and our customers, ," said Todd Smith, Chief Marketing Officer at SONIC. "With more than a billion downloads, we're confident the Temple Run franchise toys and exclusive content will appeal to our fans as we continue to expand digital initiatives that complement our dining experience."
Temple Run 2 is currently available on available on iOS, Google Play, Amazon, and Windows Phone 8.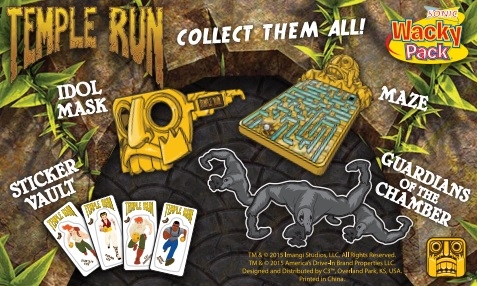 About Imangi Studios
Imangi Studios was founded in 2008 by husband-and-wife team Keith Shepherd and Natalia Luckyanova with the goal of creating small fun games for everyone to enjoy. What started as a dream job for the couple has evolved into a successful business, with Keith and Natalia now working with a team of other talented game creators. In June 2014, Imangi announced that its mega-hit Temple Run series had amassed over a billion downloads, defining it as one of the most popular games in history. The Temple Run franchise has expanded to create Temple Run: Brave and Temple Run: Oz, as well as over 30 global licensees from apparel to publishing.
About SONIC, America's Drive-In
SONIC, America's Drive-In, is the nation's largest drive-in restaurant chain serving more than 3 million customers every day. Nearly 90 percent of SONIC's 3,500 drive-in locations are owned and operated by local business men and women. Over the past 60 years, SONIC has delighted guests with signature menu items, more than 1.3 million drink combinations and friendly service by iconic Carhops. To learn more about Sonic Corp. (NASDAQ/NM: SONC), please visit sonicdrivein.com or follow us on Facebook and Twitter.
Media Contact
TriplePoint PR for Imangi Studios
imangi@triplepointpr.com
(415) 955-8500