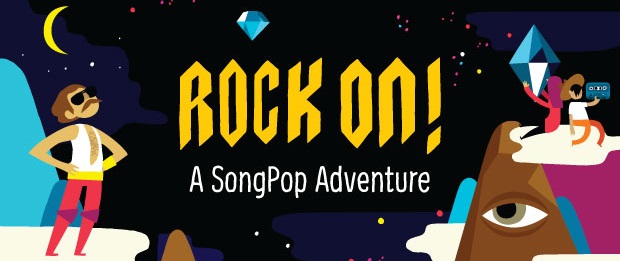 FreshPlanet's New SongPop Spin-off Lets Players Ascend to Rock-God Fame
NEW YORK CITY – March 24, 2015 – Mobile games developer and SongPop creator FreshPlanet today announced that its single-player music trivia title Rock On – A SongPop Adventure will be available exclusively for iPhone, iPad, and iPod touch on April 2, 2015. In Rock On, players will live out their rockstar fantasies and test their knowledge with actual recordings from rock's greatest artists, progressing through raging concerts and wild after-parties as they advance.
Rock On builds on the fun and challenging spirit of SongPop's Name That Tune(™)-inspired gameplay, adding a rowdy, rollicking music world filled with rock'n'roll mayhem. Players will be quizzed in a myriad of genres – Classic Rock, Heavy Metal, Punk Rock, Pop Rock, Indie Rock, and more – as they aspire to become a "Rock Legend."
Rock On features over 80 levels and unique play modes, including:
Mic Check – Get at least 5 of 10 questions right to move on to the next level.
Opener – Even the greats started somewhere! Prove your rocker mettle out of the starting gate with this quickfire trivia challenge.
Sudden Death – String together correct answers in succession to progress –  miss a beat and start over!
Arcade  – Play against the clock and compete for the highest score.
While this spin-off is a single-player experience, players can track their friends and display their own progress on the road to stardom via Facebook. The game is one of the first major projects to be developed using Apple's innovative new coding language Swift. Rock On will be free to download, with optional in-app purchases.
"We're proud to give players the chance to test their knowledge of rock history while listening to the tracks of the genre's greatest legends," said FreshPlanet CEO Mathieu Nouzareth. "With Rock On, we've created an immersive rock environment that merges trivia and music that fans of any age can enjoy."
For a look at Rock On, check out the new trailer: https://www.youtube.com/watch?v=5JGP-ZIHg1E
To follow Rock On and keep up with the latest news:
About FreshPlanet
FreshPlanet is one of New York City's largest venture-backed game development studios poised at the intersection of mobile, social and pop culture. In 2012, FreshPlanet launched the mega-hit social music game SongPop, amassing more than 100 million downloads and earning global recognition. Continuing its legacy for excellence in mobile and social gaming, FreshPlanet is working on a slate of mobile entertainment projects that bring players together around the world through pop culture. To learn more about FreshPlanet and its current lineup of games and apps, visit the www.freshplanet.com or on Twitter.
# # #
Press Contact
Eliana Carmona
TriplePoint PR for FreshPlanet
ecarmona@triplepointpr.com
+1 (415) 955-8500
Assets
Download the press kit here.