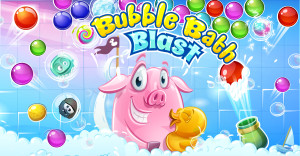 Solve puzzles in this unique bubble shooter from indie publisher Gameblyr, complete with skill shots, new bubble types, leaderboards, and more

BOSTON – April 23, 2015 – Gameblyr today announced the release of Bubble Bath Blast, a strategy-driven take on the bubble shooter genre, developed by Pinka Games. From the publisher of App Store-featured indie hits Pathogen, Third Eye Crime, Zengrams, and Spirefall, Bubble Bath Blast mixes bubble shooting with puzzles, adding a challenging twist to the casual genre by inviting players to think before they shoot in order to truly master the game. It features over 300 levels at launch, new bubble types, skillshots that yield bigger rewards, and Facebook Connect to compete with friends. Bubble Bath Blast is now available as a free download on the Apple App Store for iPhone, iPad, and iPod Touch, with optional in-app purchases.
Check out the game in the official launch trailer: http://youtu.be/yw5-cPIS4Ao
Download the game from the App Store here: https://itunes.apple.com/us/app/bubble-bath-blast/id954822043?ls=1&mt=8
Key Features Include:
300 challenging levels to keep you engaged — with regular updates coming
Masterful skill shots that yield greater rewards and bigger scores
All new boosters and bubbles to help get you to the next level
Leaderboards so you can challenge friends and competitors
To learn more about Bubble Bath Blast, visit www.gameblyr.com, on Facebook at www.facebook.com/Gameblyr, and on Twitter at @gameblyr.
Download the press kit here.
About Gameblyr

Founded in 2013, Boston-based Gameblyr is a publisher of fine independent mobile games established on the principle that great independent games should not go overlooked. Committed to helping developers bring high quality mobile and cross-platform games to the market, Gameblyr offers a publishing model build to support indies to compete in today's highly competitive environment. For more information, visit www.gameblyr.com.
About Pinka Games

Pinka Games is an Israel-based independent game studio founded by the real life couple of Yan Burshtein and Ruti Shamis in 2012 with the goal of creating casual fun games for everyone to enjoy. With Bubble Bath Blast, Pinka set out to take the bubble shooter genre to the next level by introducing new gameplay elements to keep players engaged and challenged. As passionate bubble shooter players themselves they strive to prove that even a small team can compete with the large industry players by focusing on great gameplay and mechanics.
---
Media Contact

TriplePoint on behalf of Gameblyr
+1 (415) 955-8500