Bounce challenges you to solve complex physics-based puzzles to help your robot companion D1G-B bounce his way to his final destination
OAKLAND, CA — November 30, 2016 — Steel Wool Studios — an independent VR development studio formed by creative veterans of Pixar Animation Studios, Lucasfilm, and Telltale Games — today announced that Bounce, their VR physics-based puzzle adventure, is now available for HTC Vive on Steam. Under the supervision of H8-Bit and 2Bit, two robots tasked with overseeing security of the intergalactic spaceship, players must help D1G-B, their spherical robot companion, traverse 50 in-game levels using an array of gadgets at their disposal to exit each level's portal. To celebrate the launch of Bounce, players can pick up the game on Steam at a sale price of $19.99 for a limited time.
For a glimpse into the physics contraption gameplay players can expect, check out the Bounce launch trailer: https://www.youtube.com/watch?v=TAxoAZEHzQM&feature=youtu.be
"What I love about Bounce is that there is not one fixed way to solve any level, and you're really tasked with using your own personal creative ability to use the tools at your disposal to help transport D1G-B to her destination. For every player, it means near-endless variation for solving each puzzle level", says Jason Topolski, co-founder at Steel Wool Studios. "Everyone looks at problems differently, and it's the same for player-solutions to Bounce. We're excited to see how players solve the puzzles we've prepared for them, and look forward to seeing some new faces on the in-game leaderboards!"
With moving obstacles, laser gates, gravity wells, and multi-floor levels obstructing the path of D1G-B, players will have to use their creativity to construct solutions. In order to help D1G-B through each level of the spaceship, players have an assortment of tools at their disposal:
Boards, Half-pipes and Pipes: Use this conventional hardware to easily guide D1G-B through each level. This is the easy stuff.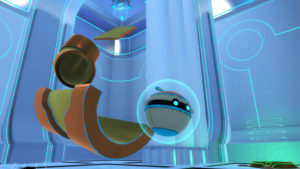 Treadmills: Do you like the sense of speed? That's the idea here – when D1G-B touches down on the belt, he will shoot off in the direction of your choosing!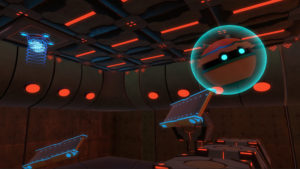 Accelerometers: Were the Speed-belts not enough? Step into the danger zone with a tool that uses an advanced gravity well to create instant acceleration for any object that enters. Beware!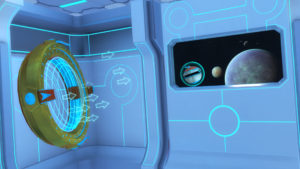 To coincide with the launch of Bounce, Steel Wool Studios has also released the acclaimed in-game soundtrack, available now on Steam as a standalone purchase or bundled with the full game.
Assets can be downloaded in the press kit: https://app.box.com/s/5fff2ud4bh77w9vj3pv3hre2s5ue32l7
Follow Steel Wool Studios:
About Steel Wool Studios
Steel Wool Studios, previously Steel Wool Games, is an Oakland, CA-based independent studio that develops virtual reality games, interactive educational experiences, and narrative projects. Fortified by Pixar, Lucasfilm, Intel, and TellTale Games veterans who bring six decades of creative production experience and passion for great storytelling to the table, the studio aims to advance the state of VR with deft precision of skill or by sheer will, if necessary. Known for its grimsical launch title and turn-based strategy game Quar: Battle for Gate 18 as well as Mars Odyssey, a compact educational VR experience set on the red planet, Steel Wool Studios is creating games and imaginative experiences that will transport you into immersive stories in the realest fake environments you've ever set your eyes on.
Press Contact
TriplePoint for Steel Wool Studios
+1 (415) 955-8500
steelwool@triplepointpr.com
….
….