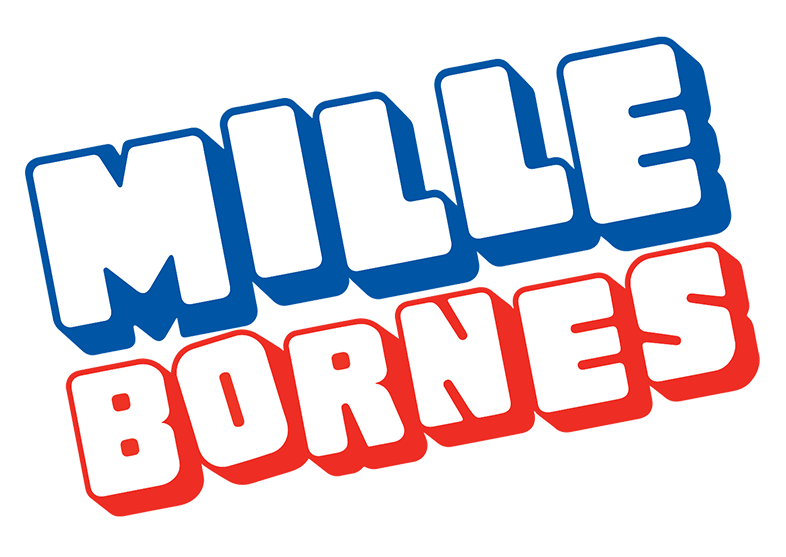 Available on Steam, iOS and Android
Combine speed, caution, and a deft hand at the wheel if you plan to finish first in Mille Bornes!
PARIS – Nov. 23 2017 – Asmodee Digital, leader in digital board game adaptations, and DUJARDIN announced today the release of the new digital version of Mille Bornes on iOS, Android and Steam. Young and old alike can get involved, alone or in a family group, with the digital version of this legendary board game first played in French homes back in 1954! Expect crazy racing, foul play, getaways and more in this classic racing game.
iTunes App Store: https://itunes.apple.com/us/app/mille-bornes/id1250459966?l=fr&ls=1&mt=8
Google Play: https://play.google.com/store/apps/details?id=com.asmodeedigital.millebornes
Steam: http://store.steampowered.com/app/702510/Mille_Bornes/
A new interactive experience
Like the board game, the goal of the digital version is to reach 1,000 miles to win. Players must use their Distance cards to advance, lay their Hazard cards to prevent their opponents from advancing, and ward off dirty tricks from other players to advance as fast as possible. In addition to cards from the physical deck, the digital interpretation has been enriched with new courses like "In the countryside" and exclusive cards incorporating alternative rules to spice up the action. Events squares allow players to double the distance travelled or slow the player down.
Travel the roads, alone or with others
Players can challenge up to three friends in the race through a turn-based mode or simply improve their driving performance by facing the AI. This mode offers different levels of difficulty for an added challenge.
Two new maps expand the original gameplay, with new landscapes and exciting surprises as players take on "In the countryside" and "Desert."
Young and old will love to play
Intended for a younger audience, Mille Bornes is easy to play and attractive for children. The colorful graphics and fun nature of the game will allow them to identify with the different characters and each speed card is represented by a different animal. The game is designed to offer pick-up-and-play gameplay, without having to read too many instructions. The digital version also incorporates more than 20 achievements: the more the player plays, the more he gains in expertise!
Corinne Derudder, General Manager of TF1 Games, welcomes this relaunch: "After first releasing six years ago in 2011, we have made the choice to rework the game in detail to provide an enriched gaming experience. Utilizing its expertise, Asmodee Digital has helped create this new digital version, that exceeds our expectations. Parents will enjoy recognizing the familiar elements of the game, and exploring the roads of Mille Bornes with their children."
Philippe Dao, Chief Marketing Officer of Asmodee Digital, added: "The integration of a game as iconic and timeless as Mille Bornes in the Asmodee catalogue is an opportunity to show the breadth of Asmodee Digital's expertise."
So jump in your car, adjust the mirrors, and get ready to race in Mille Bornes!
Discover the trailer for Mille Bornes: https://youtu.be/AVxESzdAuos
Features  
A game for the whole family, both kids & adults!

Up to 4 players on the same device

Solo play against AI

3 maps to explore:

Classic map based on the original board game

"In the countryside" map with new, exclusive powers (Faery to play another turn; Shortcut to shorten your route; U-turn to go back; Heavy rain to stop your opponents for a turn; x2 to double your distance)

"Through the desert"

map, free to unlock with your Asmodee Digital account and with additional features (Shortcut to shorten your route; Dune to go backwards; Cactus shortcut for a shorter route, but with danger of a flat tire; Mirage to cause all players to discard their hands; Stuck in the sand to pass your next turn; x2 to double your distance; Shield for protection against hazards until your next turn)

More than 20 achievements

Choose between several cars and characters

Available languages: English, French, Italian, German and Spanish
The story of the Mille Bornes game
Inspired by Touring – an American game created in 1906, Mille Bornes was created in 1954 by Edmond Dujardin, a publisher of equipment for driving schools and illustrated by graphic designer Joseph Le Callennec. Made in France, Mille Bornes celebrates its 63rd birthday at the end of 2017. The game is a commercial success that has been exported all over the world, having sold in excess of several million copies!
Since 1985, the game has been adapted digitally. Riding on the historical successes of the game, DUJARDIN first published the digital version in 2011 on iOS and Android, in a version faithful to the physical game.
Mille Bornes press kit: https://drive.google.com/open?id=1YtMj__KUwkvjnztiX4W5TPKDorh0L6VQ
For more information, follow Asmodee Digital via the social channels below:
Facebook: https://www.facebook.com/asmodeedigital
Twitter: https://twitter.com/asmodeedigital
Instagram: https://www.instagram.com/asmodeedigital
You Tube: https://www.youtube.com/asmodeedigital
# # #
About Asmodee Digital
Asmodee Digital, a fully owned subsidiary of the Asmodee Group, is an international publisher and distributor of digital board games with operations located in Europe, North America, and China. Asmodee Digital manages the creation, design, development, publishing, and marketing of board and card games on leading digital platforms for Asmodee studios as well as for third-party publishers. The current Asmodee Digital catalog includes best-selling digital games such as Ticket to Ride: First Journey, Pathfinder, Ticket to Ride, Splendor, Pandemic, Small World 2, Mr. Jack London, Lexigo Rush, Story Cubes, Colt Express, Mysterium, Potion Explosion, Onirim, Jaipur, Spot It! Duel, Smash Up and digital versions of many other well-known board games.
About DUJARDIN
TF1 Games-DUJARDIN develops and distributes board games in France and abroad. With its unmissable brands such as Mille Bornes and Le Cochon Qui Rit and the success of its bestsellers such as Chrono Bomb or Tresor Detector, the company is enriching its catalogue year after year to meet the expectations of all generations. From action games, to TV games and soft toys, TF1 Games-DUJARDIN is now recognized as an innovative creator of content.
# # #
©2017 Asmodee Digital. Asmodee™ and the Asmodee logo™ are properties of Asmodee Group. All rights reserved.
Media Contact
TriplePoint for Asmodee Digital
asmodee@triplepointpr.com
(415) 955-8500