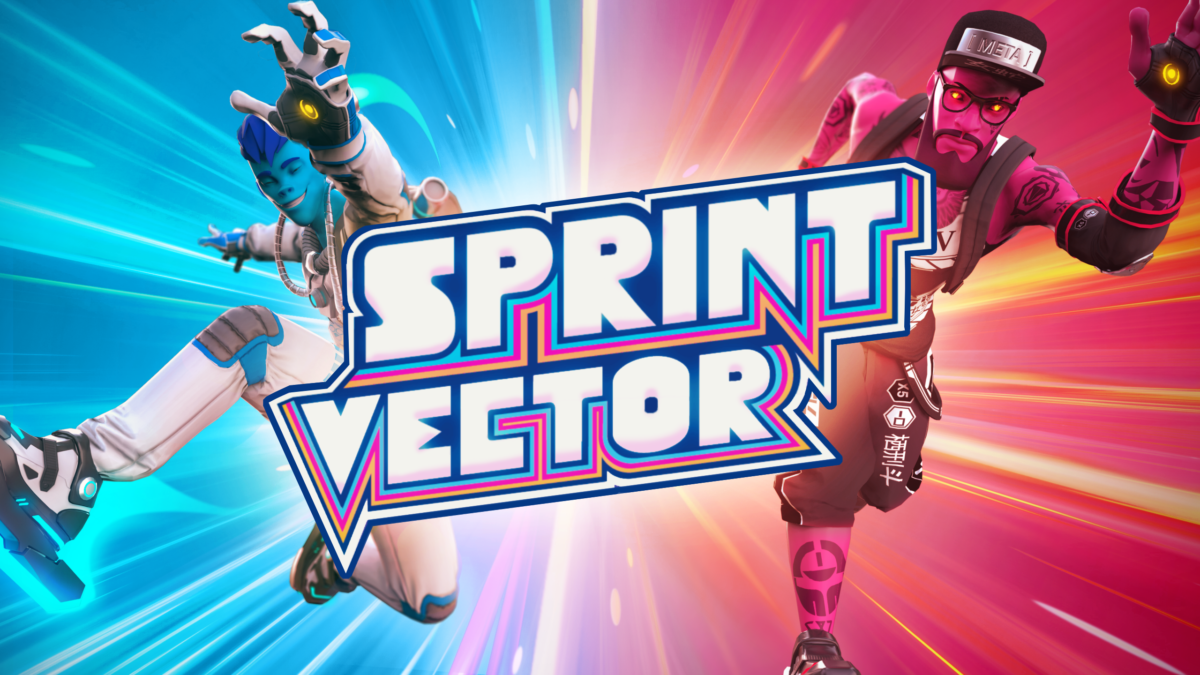 Advancement Maximizes Performance for Multiplayer Adrenaline Platformer—Beta Applications Now Open for HTC Vive and Oculus Rift Gamers
LOS ANGELES (December 7, 2017) – Survios, a global leader in virtual reality (VR) development, today announced it's taking its anticipated adrenaline platformer, Sprint Vector, to the next level of performance and exposure with Intel's multi-core technology. On the heels of Survios' record-breaking VR title, Raw Data, the new Sprint Vector features innovative high-speed Fluid Locomotion™ mechanics created specifically for competitive play.
Prior to launching in 2018, head-to-head Sprint Vector tournaments will take place in arcades around the world, including the ongoing Intel-sponsored Alienware VR Cup. HTC Vive and Oculus Rift gamers can get in on the action early by signing up for the upcoming Sprint Vector beta at www.sprintvector.com/#beta and wishlisting it on Steam. The beta is slated to start in January 2018.
"Survios is one of the pioneers of virtual reality technology for mainstream audiences and we're honored to work with Intel to bring the industry-changing medium of VR to the eSports world," said Nathan Burba, Survios' Co-Founder and CEO. "Sprint Vector, optimized for Intel's most advanced CPUs, will be an important milestone for fans of sports, eSports and VR gaming."
Featuring Survios' intuitive, comfortable Fluid Locomotion™ system, Sprint Vector merges the thrill of high-octane athletic competition with the unhinged energy of zany interactive game shows. Racing downhill at 100 miles per hour, scaling up skyscraper-height walls, diving headfirst off a 1,000-foot tower: the Fluid Locomotion™ system utilizes simple, realistic running and climbing motions to enable players to actually feel the gripping sensations of superhuman speed and daring heights.
Such high-speed gameplay necessitates high performance to attain the smoothest physics and sharpest visual effects. Thanks to enhanced physics and the power of Intel® Core™ i7, Intel® Core™ X-series i9, and Intel® Core™ X-series i7 processors, players can get their heads in the game without worrying about their PC keeping up.
"Intel is excited to support Survios on its new VR game, Sprint Vector," said Roger Chandler, Director of Developer Programs and Initiatives in Intel's Software and Services Group. "By deploying Intel's multi-core technology with the Intel Core i7 and Intel Core X-Series processors, Survios will deliver a state-of-the-art game that fully immerses players and builds further momentum for VR as a fantastic medium for eSports."
…
About Survios
Founded in 2013, Survios is a Los Angeles-based virtual reality studio focused on building connected VR experiences with emergent interactivity, social multiplayer, and visceral play. At Survios, gaming is seen as an art form, and we don't just want to make games more immersive—we strive to make them more human. Our mission is to expand the human experience and unlock our creative potential through the power of virtual reality. For more information, visit www.survios.com.
…
Media Contacts
Maria Gonima
Survios Communications
maria.gonima@survios.com
TriplePoint PR, for Survios
survios@triplepointpr.com
(415) 955-8500
…
…