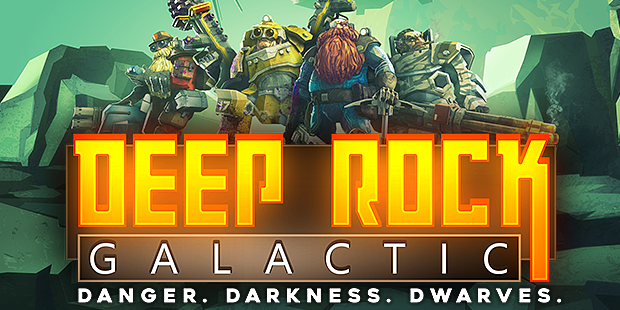 Get ready for some rock-solid co-op as the frenzied FPS and its mighty space-mining dwarves explode onto Steam Early Access and Xbox Game Preview tomorrow!
SKÖVDE, Sweden – Feb. 27, 2018 – Deep Rock Galactic enforcers Coffee Stain Publishing and Ghost Ship Games today announce that Deep Rock Galactic officially opens for business tomorrow! Enterprising dwarves across the globe will be able to join their most ambitious mining operation to date when Deep Rock Galactic digs into Steam Early Access and Xbox Game Preview for $24.99/€22.99.
Watch the launch trailer for Deep Rock Galactic here: https://youtu.be/OgTWmKFuMZ8
In Deep Rock Galactic players take up arms as one of four classes of badass dwarven miners, each with their own invaluable set of skills and gear. The Driller, the Engineer, the Scout and the Gunner must work together to survive a relentless onslaught of ravenous aliens and escape the procedurally generated caves with their bounty intact. Starting tomorrow players can undertake a plethora of different missions in 7 unique regions of Planet Hoxxes, with plenty more content to come.
Key Features:
4-player Co-Op:

Work together as a team to dig, explore, and fight your way through massive cave systems filled with hordes of deadly enemies and valuable resources.

4 Unique Classes:

Mow through enemies as the Gunner, scout ahead and light up the caves as the Scout, chew through solid rock as the Driller, or support the team with defensive structures and turrets as the Engineer.

Fully Destructible Environments:

Destroy everything around you to reach your goal. There is no set path so you can complete your mission your way. But proceed with caution, you don't want to stumble into an alien swarm unprepared!

Procedurally Generated Cave Network:

Explore a network of procedurally generated cave systems filled with enemies to fight and riches to collect.

Light Your Path:

The underground caves are dark and full of terrors. You will need to bring your own lights if you want to illuminate these pitch-black caverns.
Deep Rock Galactic first began recruiting brave space mining dwarves when it entered Closed Alpha on Steam in December 2016. Since then, more than ten thousand test-subjects have played the ever-improving Closed-Alpha builds and delivered invaluable feedback to the team. By popular demand, the team have thus far added upgrades, drones, vanity items, a mini-boss, biomes and refrained from fixing the broken barrel physics!
"Deep Rock Galactic is a gleefully chaotic mix of shooting, mining, fully destructible caves and some super irresponsible corporate management," says Søren Lundgaard, CEO/Co-Founder of Ghost Ship Games. "We're absolutely thrilled to be launching onto Xbox and PC, and we have big plans for the continued development of Deep Rock Galactic – new enemies, new biomes, new upgrades, even new playable classes!"
"Deep Rock Galactic is one of the first titles we're launching as Coffee Stain Publishing and we couldn't be happier to work with Ghost Ship Games," says Anton Westbergh, CEO/Co-Founder of Coffee Stain. "Since the game was revealed at Microsoft's E3 showcase last year, the response has been overwhelmingly positive and we're thrilled that Ghost Ship Games chose us to join them on this wild journey."
Download the press kit here.
Deep Rock Galactic will launch on Xbox Game Preview and Steam Early Access at midnight PST tonight!
RRP:
Steam Early Access – $24.99/€22.99/£18.99
Xbox Game Preview –  $24.99/€22.99/£19.24
The Deep Rock Galactic Soundtrack, 22 full tracks of gut-punching space dwarf synth goodness will also be available via Steam for $7.99/€7.99/£5.79.
To learn more about working for Deep Rock Galactic visit deeprockgalactic.com and follow them on Twitter and Facebook.
About Coffee Stain
Started in Skövde in Sweden back in 2010, Coffee Stain quickly became the talk of the town thanks to the global surprise hit Goat Simulator. In 2016 Coffee Stain started publishing externally developed titles through Coffee Stain Publishing. To read more about Coffee Stain please visit: www.coffeestain.se
About Ghost Ship Games
Ghost Ship Games is a Danish game development studio, founded in the spring of 2016 by a group of veteran game developers after years of working together. Ghost Ship Games' motto is simple: Co-op First. The goal is to take co-operative gameplay to the next level and to make great games, focused on the core gamer. For more information about Ghost Ship Games, please visit: http://www.ghostship.dk
###
US Media Contact:
TriplePoint PR
coffeestain@triplepointpr.com
+1 (415) 955-8500
EU Media Contact:
Natalie Bahbout
Swipe Right PR
E: natalie@swiperightpr.com
T: +44 (0) 75577 72137