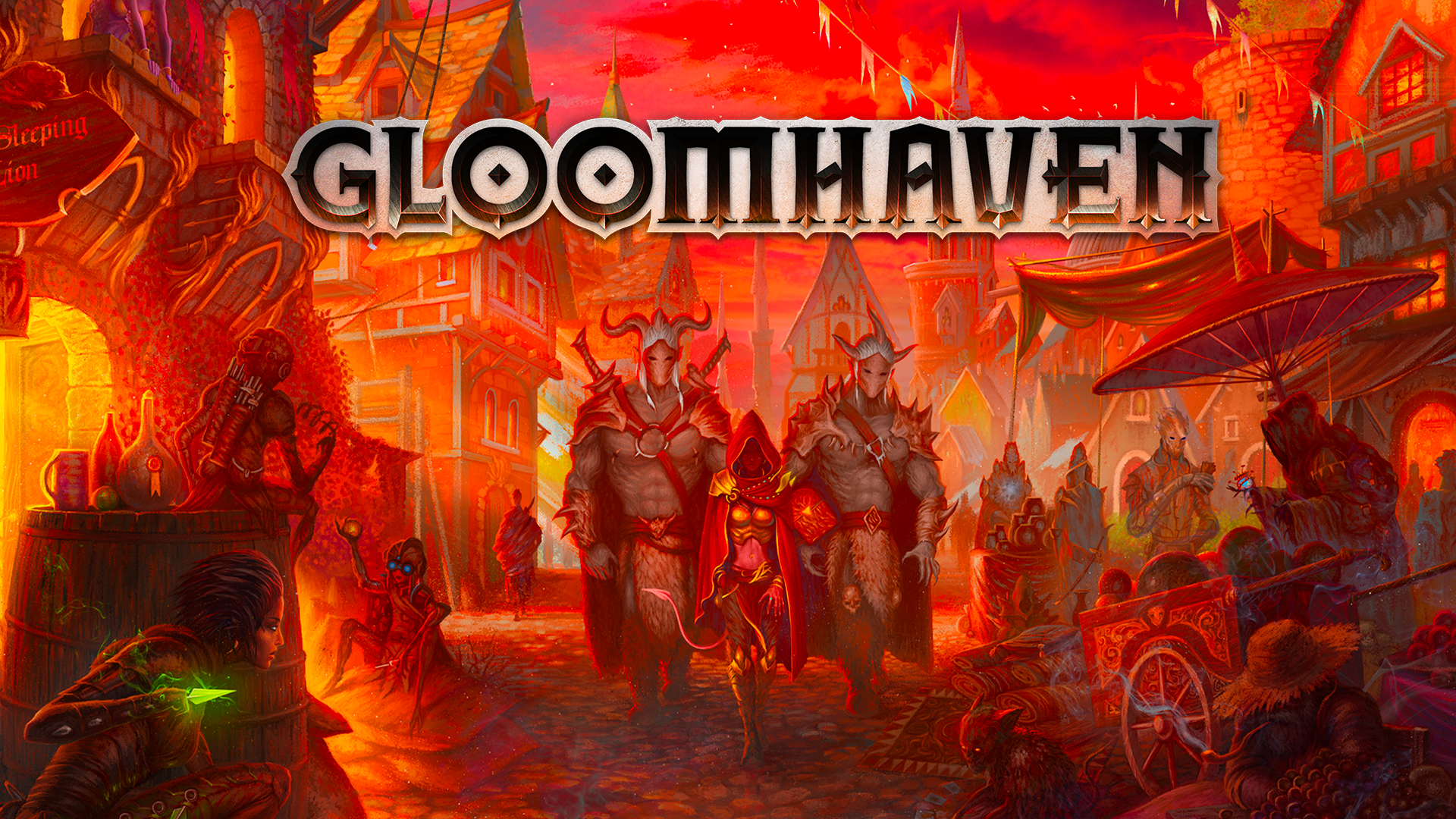 Munchkin, Mansions of Madness: Mother's Embrace, The Lord of the Rings: Living Card Game, Terraforming Mars, Onitama, Five Tribes, Bang! and loads more coming soon with Gloomhaven launching on Steam Early Access in 2019
INDIANAPOLIS — Aug. 2, 2018 — Asmodee Digital, the leader in digital board game entertainment, announced at their Gen Con press conference today that Gloomhaven, the award-winning board game celebrated for its tactical combat and branching narratives, is in development and scheduled to launch on Steam Early Access in Q1 2019. Alongside Gloomhaven, Asmodee Digital provided updates on some of the most anticipated games in their digital catalogue including Five Tribes, Bang!, Onitama, Munchkin, The Lord of the Rings: Living Card Game, and Mansions of Madness: Mother's Embrace, and also console games with the famous Ticket to Ride on Playlink for PS4 and Carcassonne on Nintendo Switch.
Developed by Flaming Fowl Studios, Gloomhaven is a dungeon-crawling RPG featuring tactical turn-based combat, and for the first time, an infinitely replayable roguelike mode that will be available during Early Access launch and beyond. Set in a medieval fantasy world, players will struggle to survive through procedurally generated dungeons filled with deadly enemies, equipment to find, and powerful abilities to unlock, with much more in the works for the full launch.
"We're absolutely thrilled to have the privilege of bringing Gloomhaven to Steam. It's one of the highest regarded games from the tabletop community and is a perfect addition to our digital catalogue," said Pierre Ortolan, CEO of Asmodee Digital. "Flaming Fowl Studios is a young studio with talent whose vast experience includes the Fables series. When paired with our proven track record of creating engaging digital board games, we are confident that Gloomhaven's digital edition will surpass even the most seasoned players expectations."
Designed by Isaac Childres, the Gloomhaven board game launched in 2017, raising $4.4 million between two successful Kickstarter campaigns. Since launch, Gloomhaven has received extremely positive reviews from critics and has been rated the "No. 1 Board Game Of All Time" by BoardGameGeek where it also won six Golden Geek Awards.
"Gloomhaven is, in a lot of ways, inspired by video games so it made sense that there would one day be a digital adaptation of it. Like the physical product, the digital version will be a large project that is more like its own unique game rather than a digital port of a board game," said Isaac Childres, Gloomhaven's designer and co-founder of Cephalofair Games. "I chose to work with Asmodee Digital because they have the most resources and experience to make sure that it got done right. In their hands, Gloomhaven's digital edition could become a fully formed digital implementation of the massive critically successful board game. Working with them has been great and every creative decision runs through me to ensure my vision of the world comes to life in the best way possible."
"We saw a lot of excitement for original games after we announced Mansions of Madness: Mother's Embrace in April. Gloomhaven continues our commitment of expanding our catalog with more original video game experiences based on board game IPs and not just direct 1:1 adaptations of existing board games," said Philippe Dao, Chief Marketing Officer of Asmodee Digital. "Asmodee Digital is still dedicated to bringing faithful recreations to new platforms as well, with games like Carcassonne coming to Switch and classic titles like Five Tribes and Bang coming to mobile devices later this year."
Updates on Asmodee Digital's release calendar can be found below:
Coming Soon
The Lord of the Rings: Living Card Game (Fantasy Flight Games) – Steam – Q4 2018
Lead a fellowship of three heroes through a series of narrative campaigns across Middle-earth and face off against the dark forces of Sauron. Players will forge their own fellowships and build decks comprised of ally, event, and equipment cards to face challenges that test their spirit, lore, tactics, and leadership. Launching onto Steam Early Access on August 28, 2018
Scythe: Digital Edition (Stonemaier Games) – Steam – Q3 2018
Engine-building game set in an alternate history 1920s period where players attempt to earn fortune and claim their faction's stake in the land around a mysterious factory. Currently available on Steam Early Access.
Terraforming Mars (Fryx Games; US Publisher: Stronghold Games) – Steam, iOS, and Android – Q3 2018
A Spiel des Jahres nominee set in the 2400s, The taming of the Red Planet has begun! Corporations are competing to transform Mars into a habitable planet by spending vast resources and using innovative technology to raise temperature, create a breathable atmosphere, and make oceans of water.
Pandemic (Z-Man Games) – Steam – Q3 2018 (already available on Android & iOS)
Work cooperatively to stop the spread of four diseases and cure them before a pandemic occurs. Each player gets a role and must work with — not against — the other players before any of the game-ending conditions are met.
Onitama (Arcane Wonders) – iOS and Android – Q3 2018
An elegant and simple two player, abstract strategy game where you take on the role of a Master, guiding your monk followers, in an attempt to defeat your opponent. Armed only with a handful of moves, your cunning, and your wits, do you have the skill to be victorious?
Bang! (dV Giochi) – Steam, iOS, and Android – Q3 2018
A Wild-West-themed social deduction game in which players recreate an old-fashioned western shootout with each player receiving a random character for special abilities and a secret Role card to determine their goal.
Bananagrams (Bananagrams) – iOS and Android – Q3 2018
Fast and frantic anagram game where players build crosswords without pen, paper, or a board. Perfect for families, multiplayer, or solitaire, and finally making its digital debut.
Gloom (Atlas Games) – Steam, iOS, and Android – Halloween 2018
A competitive deck-building game that challenges its players to outmatch their opponents in a depressive spectacle, vying to undergo the most miserable mishaps while sabotaging the competition with happy occasions.
Five Tribes (Days of Wonder) – Steam, iOS and Android – Q4 2018
A worker placement game where the workers have already been placed, players must carefully cleverly maneuver workers over villages, markets, oases, and sacred places to carve a pathway to victory and control the Sultanate.
Ticket To Ride (Days of Wonder) – PlayStation 4 with Playlink – Q4 2018
A cross-country train adventure where players collect cards of various types of train cars that enable them to claim railway routes connecting cities in various countries around the world. Ticket to Ride will be one of the first games to utilize Sony's Playlink which will allow players to use their phones to privately view their hands, plan their moves, and make actions.
Carcassonne (Hans im Glück) – Nintendo Switch – Q4 2018
Multi-awarded tile-matching game made digital, including solo vs. AI, pass-and-play and online multiplayer modes. Carcassonne will be one of the first Asmodee Digital titles to debut on the Nintendo Switch with more on the way.
In Development
Mansions of Madness: Mother's Embrace (Fantasy Flight Games) – Steam – Q1 2019
Completely original adventure game based on Fantasy Flight Games' Mansions of Madness. Set in a Lovecraftian world, players lead a team of investigators through an eerie mansion and uncover dark secrets.
Munchkin (Steve Jackson Games) – Steam – 2019
A reimagining of Steve Jackson's iconic Munchkin card game into a dungeon crawling digital adaptation. Players cooperate to kill monsters and grab hilarious magic items… but at the end, there is only one winner!
You can view the press kit here: https://drive.google.com/drive/folders/1L5rx4K5IUTIkImGAdIKcWiIf3RtSu1nw?
About Asmodee Digital
Asmodee Digital, a fully owned subsidiary of the Asmodee Group, is an international publisher and distributor of digital board games with operations located in Europe, North America, and China. Asmodee Digital manages the creation, design, development, publishing, and marketing of board and card games on leading digital platforms for Asmodee studios as well as for third-party publishers. The current Asmodee Digital catalog includes best-selling digital games such as Catan VR, Carcassonne, Ticket to Ride, Splendor, Agricola, Mille Bornes, Pandemic, Small World 2, Mr. Jack London, Colt Express, Mysterium, Potion Explosion, Onirim, Jaipur, Spot It! Duel, Abalone, Ticket to Ride First Journey, Catan Stories, Talisman, Fighting Fantasy Legends, Smash Up and digital versions of many other well-known board games.
About Flaming Fowl Studios
Flaming Fowl Studios is an independent studio rising from the ashes of the renowned Lionhead Studios. They love to create games that feature deep and interesting strategic experiences with fascinating twists and always include a healthy dose of humour.
About Cephalofair Games
Cephalofair is a small board game design and publishing company founded by Isaac Childres in Lafayette, Indiana in 2014. Isaac's "magnum opus," Gloomhaven, is Cephalofair Games' second title, published in early 2017. Cephalofair prides itself on creating wonderful, strategic board game experiences that minimize the randomness and maximize the awesomeness.
###
PRESS CONTACT
TriplePoint for Asmodee Digital
asmodee@triplepointpr.com
(415) 955-8500