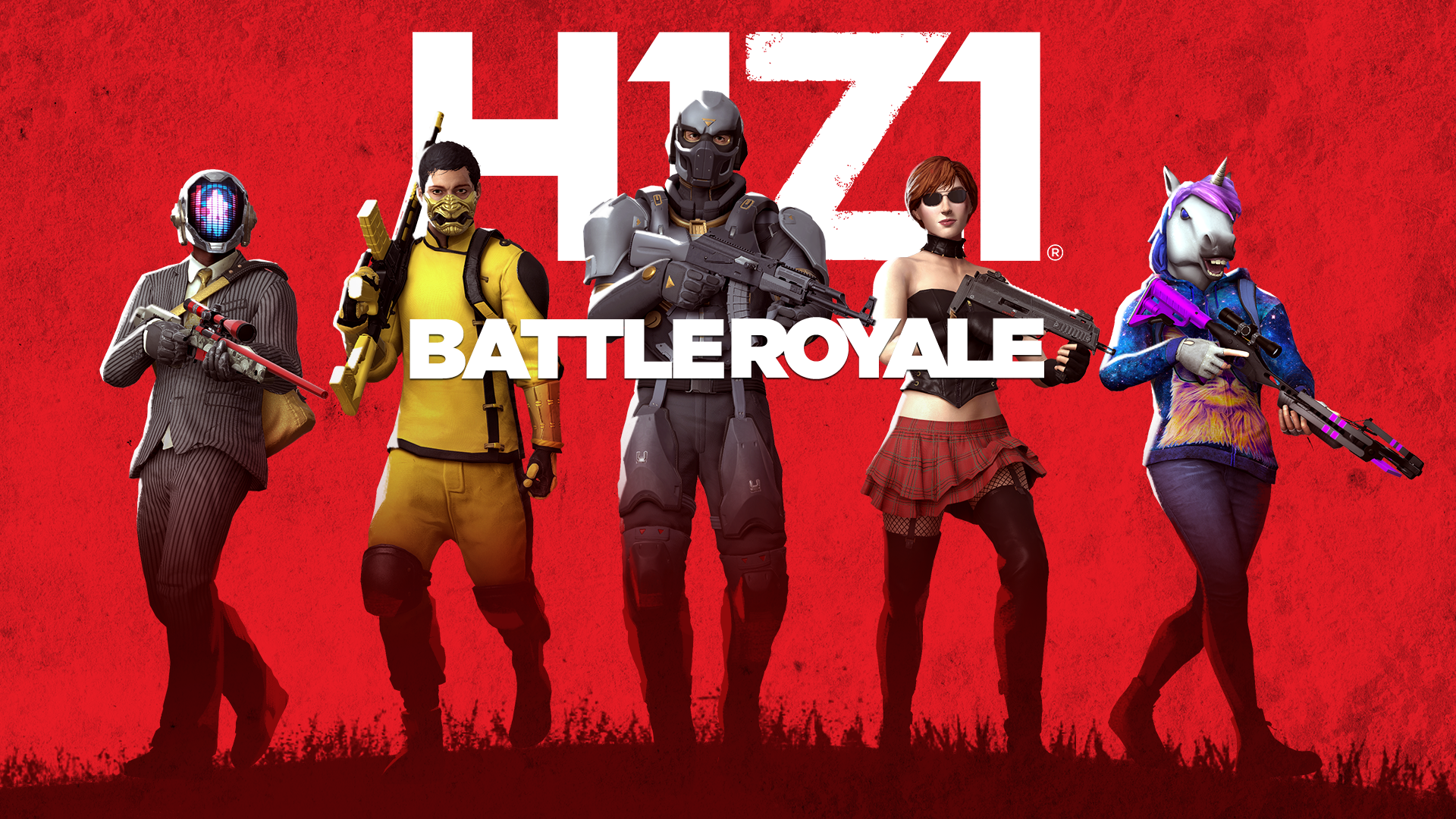 Popular Free-to-Play Battle Royale Shooter Saw 10 Million+ Players in Open Beta; Battle Pass Season One, New Weapons and New Vehicle Highlight Massive PS4 Launch Update
SAN DIEGO — August 7, 2018 — Daybreak Games® today announced that H1Z1: Battle Royale™, the original standalone battle royale shooter, has left Open Beta and officially launched as a free-to-play game on PlayStation®4.
"Everyone here at Daybreak Games is thrilled with the overwhelmingly positive response to H1Z1's debut on PS4," said H1Z1 Producer Terrence Yee. "Ten million new players in our first month in Open Beta is an incredible milestone, and our entire development team has worked tirelessly to build on that early success. We're beyond excited to officially launch H1Z1 on PS4—this is our fully realized vision for battle royale on console."
The official H1Z1 launch update on PlayStation®4 includes:
Battle Pass Season 1: PS4 players can now unlock up to 30 rewards levels across 3 distinct lines (free, premium, and PS Plus). Battle Pass Season 1 premium line can be purchased for $5.49 / €5.49, while all PS Plus members will receive the PS Plus line included in membership. Level progression will carry over between lines.
Two New Weapons: The explosive RPG can be found in gold tier airdrops, and specializes in taking out vehicles. The deadly SOCOM Sniper Rifle can be found in purple tier airdrops, and offers a new tactical option for long-range gunfights.
New Vehicle: The ARV fits a full fives team and includes a hatch for a squad mate to fire out the top – making it the ultimate vehicle for squad-based gameplay.
New Launch Bundles: Players can now customize their character to the max through the new Viper Starter bundle ($4.99 USD / €4.99) or Hardline Deluxe bundle, which includes Premium Battle Pass ($34.99 USD / €34.99). Both Launch bundles are now available at a special launch discount until September 4 on the PlayStation Store.
Since releasing in Open Beta, H1Z1: Battle Royale on PlayStation®4 has seen regular updates and community-requested gameplay improvements, including the addition of Revive, Airstrike Signal, EMP Grenade, Arcade Mode events, new lighting schemes, and additional tuning and balance optimizations to weapons, movement, gas ring timing, and other gameplay mechanics. Built from the ground up for the console shooter fan, H1Z1 on PS4 also features streamlined UI, inventory management, and an overhauled control scheme that emphasizes H1Z1's trademark fast-paced, action-packed battle royale gameplay.
For more information about H1Z1 on PS4, visit H1Z1.com/PlayStation4 , as well as Facebook, Twitter, YouTube and Twitch.
Trailer
https://www.youtube.com/watch?v=RW1LfGnD5uE
Screenshots and key art
https://drive.google.com/open?id=1esuhYMnKCY2wfpCJ6K9sSRI2w8zEeibL
About H1Z1®: Battle Royale
H1Z1®: Battle Royale is a fast-paced, competitive battle royale shooter. Parachute in and search for weapons, ammo, vehicles and supplies to stay alive. As toxic gas compresses the map, develop a winning strategy and prepare for the final showdown. H1Z1 is available for free on Windows PC and PlayStation 4. Visit www.h1z1.com for more information.
ESRB Rating: Rated T for Teen for Violence and Blood.
About Daybreak Games
Daybreak Games is a worldwide leader in massively multiplayer online games and emergent gameplay best known for its blockbuster hits and franchises, including the original standalone battle royale game, H1Z1®, EverQuest®, EverQuest®II, PlanetSide®2 and DC Universe™ Online.  Daybreak also publishes The Lord of the Rings Online™ and Dungeons & Dragons Online® for Standing Stone Games.  The forward-thinking publisher, developer and creator of compelling online entertainment for a variety of gaming platforms is headquartered in San Diego, and has development studios in Austin, TX; Boston, MA; and South Korea.  To learn more, visit: www.DaybreakGames.com.
###
Media Contacts
Stacy Lee
Daybreak Games
smlee@daybreakgames.com
TriplePoint for Daybreak Games
daybreak@triplepointpr.com
415.955.8500