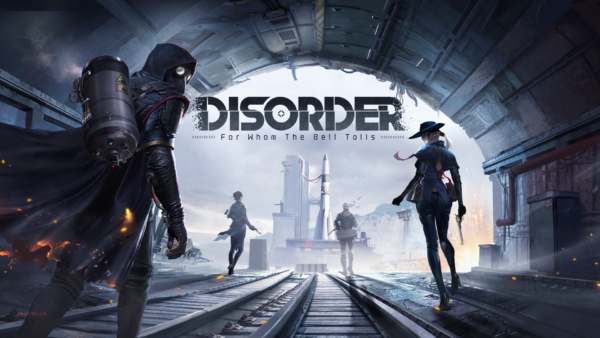 Jump into the post-nuclear wasteland and battle  with the Ghost Puppets, the new faction teased today
GUANGZHOU, China – April. 29, 2019 – NetEase Games has today released a teaser video for the upcoming mobile shooter, Disorder. Set in the year 2030, the world has fallen into post-apocalyptic disarray as a result of ongoing nuclear war. In order to survive the lawless frontier, the player must pledge loyalty to a faction and team up with friends to turn the tide of battle.
Disorder currently offers three distinctive factions. Meet the Ghost Puppets here: https://youtu.be/KBe4U6jFUiQ
In the video, two members of the Ghost Puppets, a group of highly trained special agents, engage in an action-packed confrontation atop a speeding train. The battle ends when one member makes a hasty retreat and swears to fight another day. The video then shows one of the members in a bar amongst a gossiping crowd with two Wanted posters of additional Ghost Puppet members in the distance. Whispers allude that the Ghost Puppets are shrouded in mystery and loyal to no one but themselves.
Disorder features include:
Immersive Settings

– The standard world order has crumbled, and now citizens have become victims of war. The most common job is that of a soldier, where you must fight to survive amongst the somber remnants of society. Navigate through armed factions and waves of the undead to find a possible end to the war.

Unique Characters

– Each member of the armed factions have their own exhaustive backstory for the player to uncover. Different weapon preferences hint at the distinctive personality of each faction. Each character's unique story and ability contributes to the success of the mission.

Strategic Co-op Gameplay

– Online communication enables the player to link up with four teammates to compete against 19 enemy groups. For the current map, players have 10 to 20 minutes to work with their teammates and establish a plan of action to secure the area's missile silo. Under the pressure of time, every decision matters.
For more information and to pre-order Disorder today, follow us online:
Official website: https://www.playdisorder.com/en/
Facebook: https://www.facebook.com/playdisorder/
Twitter: https://twitter.com/letsdisorder/
You can find assets here.
About NetEase
NetEase, Inc. (NASDAQ: NTES) is a leading internet technology company in China. Dedicated to providing online services centered around content, community, communication, and commerce, NetEase develops and operates some of China's most popular PC-client and mobile games, advertising services, e-mail services and e-commerce platforms. In partnership with Blizzard Entertainment, Mojang AB (a Microsoft subsidiary) and other global game developers, NetEase also operates some of the most popular international online games in China. For more information about NetEase, please visit: http://ir.netease.com/. For more information about NetEase Games, please visit www.netease-na.com.
Media Contact
TriplePoint PR
netease@triplepointpr.com
+1.415.955.8500