Open-world action MMORPG offers in-game rewards and other benefits with Standard, Deluxe, or Ultimate Edition purchase
MANHATTAN BEACH, Calif. – July 2, 2019 – Pearl Abyss today launched PlayStation Store pre-orders for Black Desert, the open-world action MMORPG, and announced that it will be officially released on PlayStation®4 (PS4) on August 22, 2019. Players can join the adventure to become their true selves with Standard ($29.99 USD), Deluxe ($49.99 USD) and Ultimate ($99.99 USD) Editions, which offer various in-game rewards. Deluxe and Ultimate Editions will also allow 48-hour early access to the full game.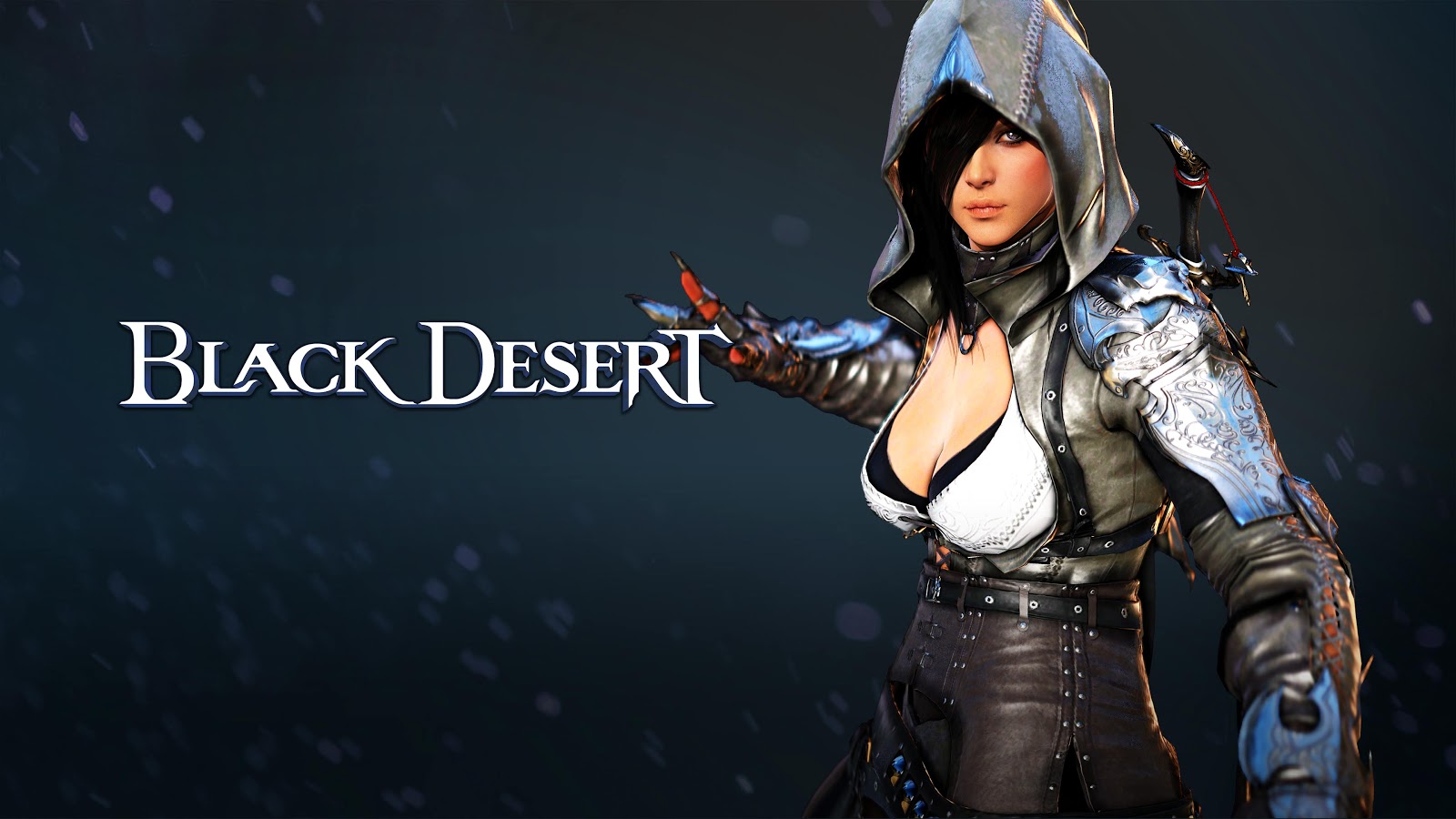 Standard, Deluxe, and Ultimate Editions are now available for pre-order on the PlayStation Store: https://bit.ly/2ROGc38
Watch the PS4 pre-order trailer: https://youtu.be/UvQ0KK3r85k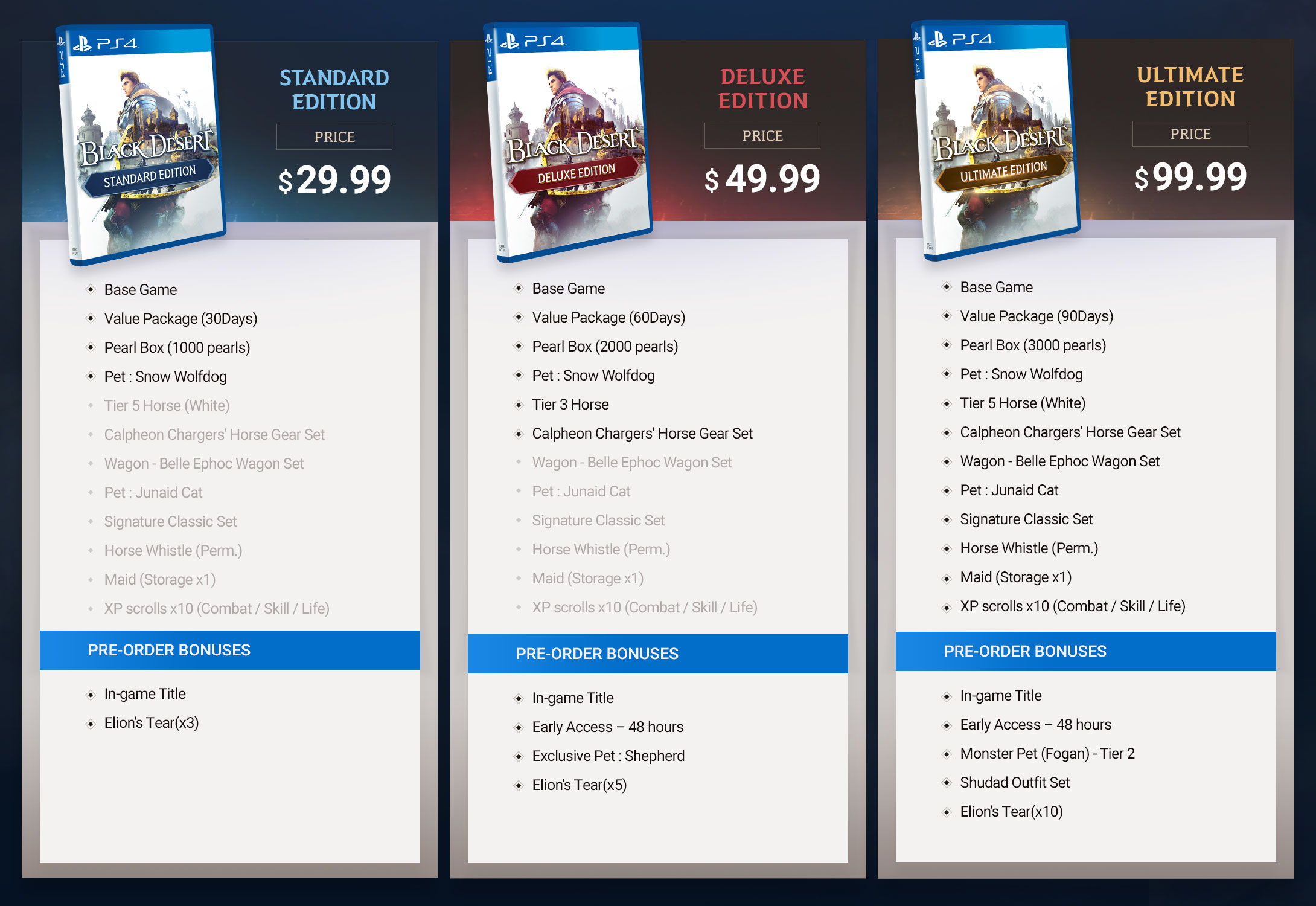 While all Black Desert pre-order editions will include limited character buffs, Pearl currency, and the Snow Wolfdog pet, the Ultimate Edition unlocks exclusive rewards including mounts, pets, costumes and consumables. PlayStation Plus members will receive a 10% discount on all pre-order editions.
Black Desert boasts next-generation visuals and skill-based, real-time combat that has been optimized for responsive controls on PS4. Players can choose from six character classes at launch to create their perfect Adventurers using the robust customization tool. With 4K resolution support for PS4 Pro, experience stunning visual environments in a player-driven economy and an expansive, living world.
For more information about Black Desert, visit the official website and connect with us on Facebook, Twitter and YouTube.
A press kit for Black Desert on PS4 can be found here.
About Black Desert
Black Desert is an open-world action MMORPG with cutting-edge visuals and skill-based combat that redefines the genre. Black Desert has the most developed character customization system of any game that is currently on the market. This feature allows users to break out of the norm and make unique characters that truly represent each and every player. Its intuitive controls, beautifully designed world and extensive lore will excite both newcomers and veterans of MMO games and action RPGs. Black Desert has been successfully launched in over 150 countries, is available in 12 languages and has 20 million registered users.
About Pearl Abyss
Best known for the MMORPG franchise Black Desert, Pearl Abyss is a leading developer in the game industry. Established in 2010, Pearl Abyss has since developed Black Desert for PC, mobile and console. With all their games built on their proprietary engine, their games are renowned for their cutting-edge graphics. The company has two new projects in the works and is poised to continue its growth through 2019 and beyond to maintain its position as one of Asia's leaders in game development. More information about Pearl Abyss is available at: www.pearlabyss.com.
Media/ PR Contact:
TriplePoint on behalf of Pearl Abyss
(415) 955-8500