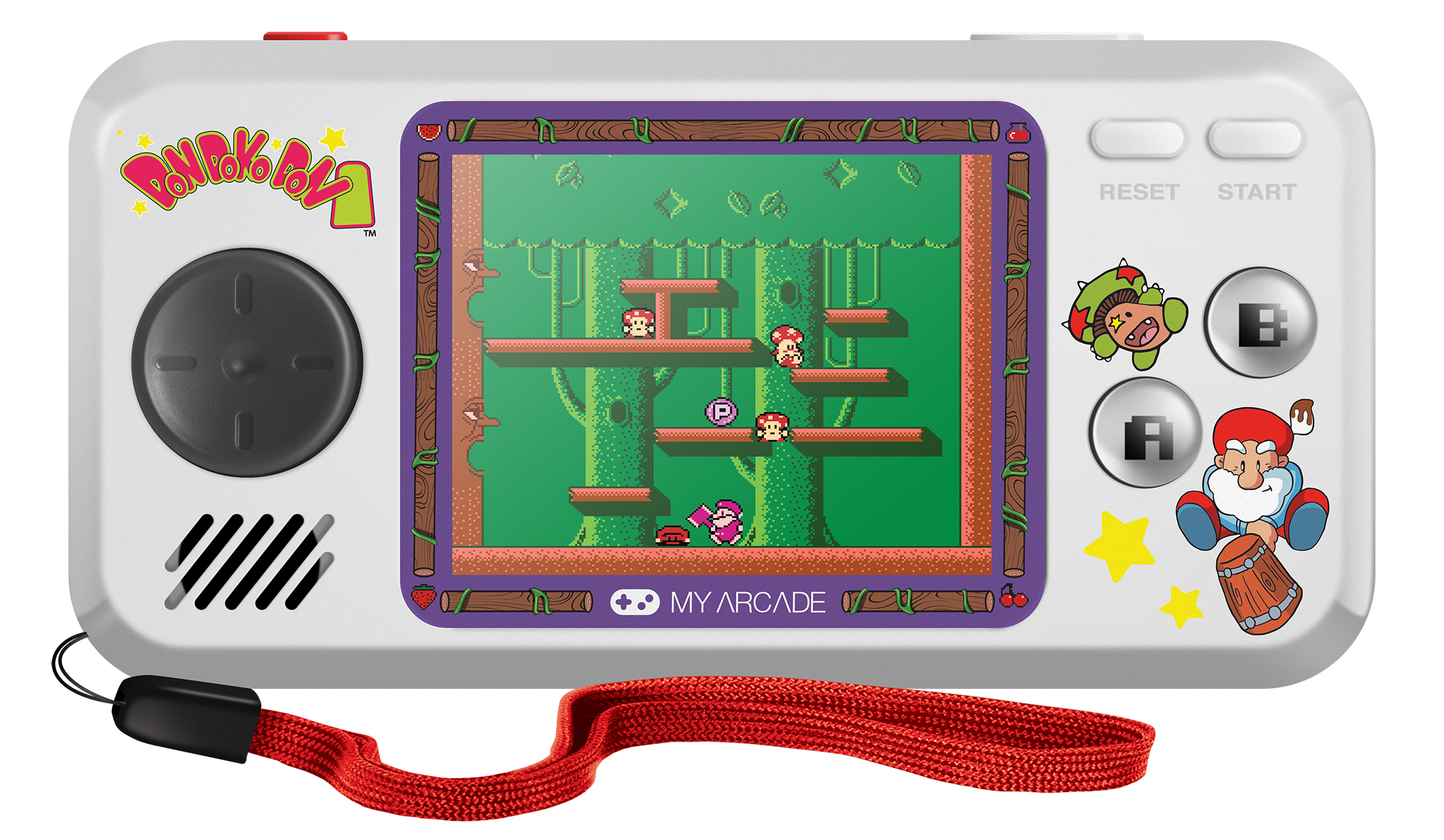 Limited to 3000 units globally, this licensed Pocket Player features Don Doko Don™ and hard-to-find gems Don Doko Don 2™ and Chack'n Pop™
LOS ANGELES, CA –Dec. 19, 2019 – My Arcade, a leading manufacturer in licensed retro gaming collectibles, today opened pre-orders for its limited edition Don Doko Don™ Pocket Player for $34.99. The pre-order window will end on January 1, 2020. Limited to 3,000 units worldwide, the Don Doko Don™ Pocket Player will launch on January 15, 2020 and is the first to debut in My Arcade's line of limited edition collectibles.
Don Doko Don™ Pocket Player features a 2.75″ full color backlit display, a headphone jack and a front-facing speaker on a compact handheld that is built for dwarf boppin' action on-the-go. In addition to its namesake game, this collectible Pocket Player will include the Japan-exclusive Don Doko Don 2™ and hard-to-find Chack'n Pop™. A brief overview on each game is below:
DON DOKO DON™

– In this 2D platformer, help the dwarves defeat all the enemies to move onto the next level.

DON DOKO DON 2™

– The prince of the land has been turned into a frog and it is up to the dwarves to save the day in this side-scrolling platformer.

CHACK'N POP™

– Help Chack'n complete all the mazes so he can marry his girlfriend, Miss Chack'n.
"In addition to the high profile classic titles that we support, we felt it was important to bring light to some of the lesser known, but amazing titles that never properly made it to this side of the pond," says Amir Navid, SVP Product Development and Creative Director, at My Arcade. "Don Doko Don is a title that we felt would be a great candidate to lead our Limited Edition series. It features addictively fun game play, cool characters, and enough levels to stay challenging and fun even after repeated play.  We made these with the most hardcore collectors in mind, and are limiting production to 3000 units worldwide. Each unit is individually numbered with a holographic sticker, and once they are gone they will not be available again".
Assets for Don Doko Don™ Pocket Player are available here.  
About My Arcade
My Arcade is a retro-focused gaming accessories manufacturer that offers an exciting array of portable handhelds, Mini Arcades, Plug N' Play gaming devices, collectibles and unique accessories for classic consoles. My Arcade is dedicated to becoming a go-to source for all things retro. For more information on My Arcade and its wide selection of retro gaming products, check out myarcadegaming.com, follow on Instagram @MyArcadeRetro and Twitter @MyArcadeRetro.
About TAITO Corporation
TAITO Corporation (TAITO) is a wholly-owned subsidiary of Square Enix Holdings Co., Ltd. With headquarters in Tokyo, Japan, TAITO operates core businesses such as game arcade operations, coin-operated game machines, and mobile phone content services. A seminal part of gaming history, TAITO caused a worldwide sensation with its arcade legend, SPACE INVADERS, and developed such fan favorites as PUZZLE BOBBLE (BUST-A-MOVE) and ARKANOID. Today, TAITO continues to thrill game lovers of all generations by offering both classic and new family-oriented titles on the latest gaming platforms. TAITO delivers a wide range of entertainment experiences with the goal of providing consumers with fresh surprises and new discoveries. 
More information on TAITO can be found on the Internet at http://www.taito.com/.
# # #
Press Contact
TriplePoint PR for My Arcade
myarcade@triplepointpr.com
+1-415-955-8500