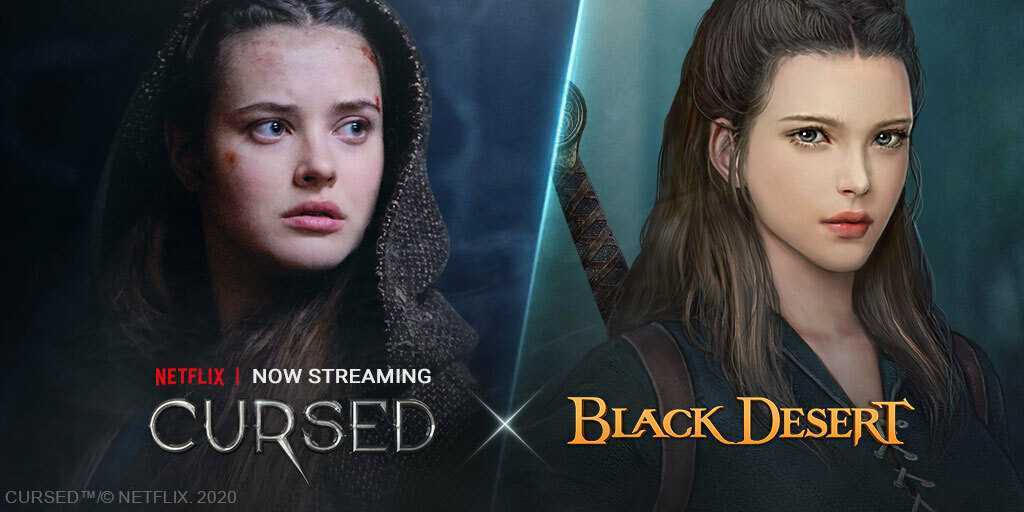 Seoul, South Korea, July 28, 2020—Pearl Abyss and Kakao Games launched today in Black Desert crossover content with Netflix Original Series, Cursed, which recently premiered on the popular streaming service. The content features a new Cursed-themed questline that will be rolled out on all platforms.
Black Desert Online for PC will release the Cursed content on the 29th of July. To celebrate the crossover with Cursed and to allow everyone to participate, Black Desert Online is currently free to download from blackdesertonline.com. If new adventurers are able to reach level 50 before August 5th, the game is theirs to keep.
Xbox One and PlayStation 4 versions will get the Cursed content on the 5th of August.
Adventurers who play Black Desert on mobile will be pleased to learn that they can start this exciting new quest today!
The mysterious new quest features series characters and focuses on Nimue and the fearsome Red Paladins who have been mysteriously transported to the world of Black Desert. Players are tasked with defending Nimue against the Red Paladin threat and assisting her in returning to her world.
Upon successfully completing the quest, Adventurers will receive tokens which can be exchanged for special in-game items.
For more information on this crossover, Kakao Games' level-up event, the latest news and events, please visit the dedicated website per platform:
Black Desert Online official website
Black Desert Console official website
Black Desert Mobile official website
For more information on Netflix's Cursed, please visit the official page.
About Cursed
Based on the upcoming book of the same name, Cursed is a re-imagining of the Arthurian legend, told through the eyes of Nimue, a teenage heroine with a mysterious gift who is destined to become the powerful (and tragic) Lady of the Lake. After her mother's death, she finds an unexpected partner in Arthur, a young mercenary, in a quest to find Merlin and deliver an ancient sword. Over the course of her journey, Nimue will become a symbol of courage and rebellion against the terrifying Red Paladins, and their complicit King Uther.
The series was adapted by comic book legend Frank Miller and screenwriter Tom Wheeler and stars Katherine Langford (13 Reasons Why), Devon Terrell (Barry) and Gustaf Skarsgård (Vikings).
About Black Desert   
Black Desert is Pearl Abyss' open-world action MMORPG with cutting-edge visuals and skill-based combat that redefines the genre. With the most developed character customization system of any game currently on the market, users can break out of the norm and make unique characters that truly represent themselves. Its intuitive controls, beautifully designed world, and extensive lore will excite both newcomers and veterans of MMO games and action RPGs.
About Pearl Abyss   
Best known for the MMORPG franchise Black Desert, Pearl Abyss is a leading developer in the game industry. Established in 2010, Pearl Abyss has since developed Black Desert for PC, mobile, and console, and is developing Shadow Arena for PC and console. All of Pearl Abyss' games are built on the company's own proprietary engine and are renowned for their cutting-edge graphics. The company is also developing Crimson Desert, DokeV, and PLAN 8 and is poised to continue its growth through 2020 and maintain its position as one of Asia's leaders in game development. More information about Pearl Abyss is available at: www.pearlabyss.com. 
About Kakao Games
Kakao Games is a leading publisher of online and mobile games. Kakao Games is responsible for servicing a variety of games, including Pearl Abyss's Black Desert Online (serviced in North America, Europe), Krafton's PlayerUnknown's Battlegrounds (serviced in Korea), and Elyon: Ascent Infinite Realm (scheduled to be serviced in North America and Europe).