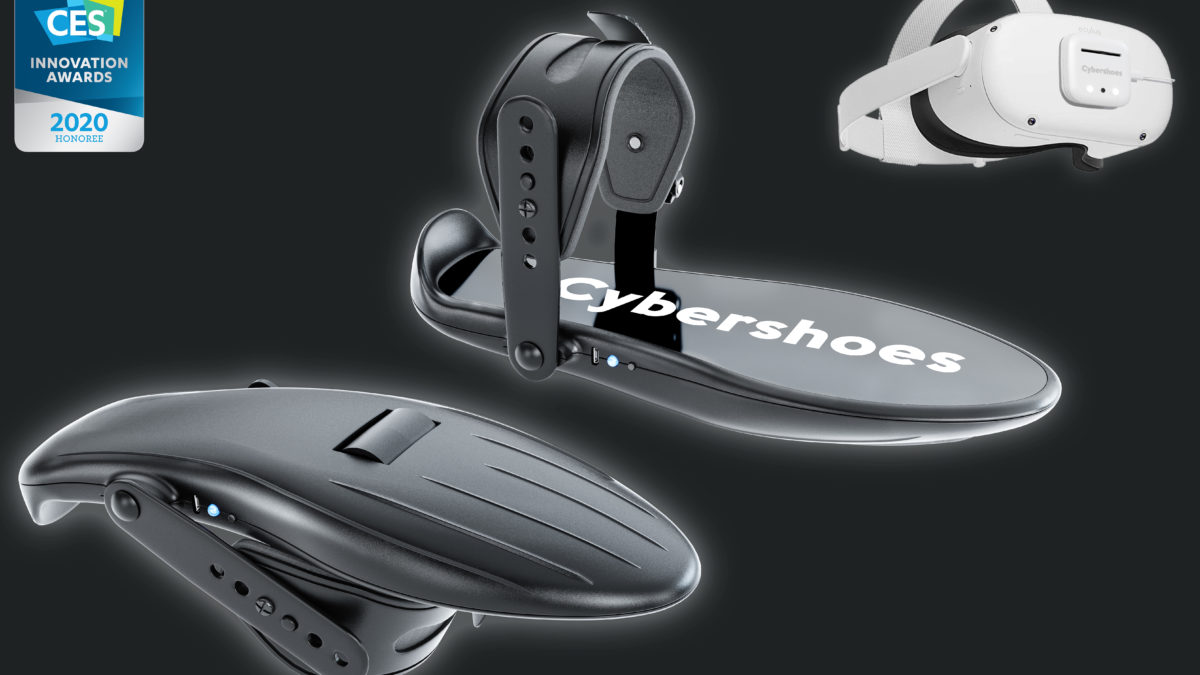 Partners with Vertigo Games to Integrate VR Movement Accessory into Arizona Sunshine
VIENNA – October 15, 2020 – Cybershoes, the world's first shoes for walking and running in VR, has today revealed a wireless version coming soon for Oculus Quest and Quest 2 headsets. Previously only available in wired models, this must-have VR accessory straps to the player's feet and enables active gaming in virtual worlds. A Kickstarter campaign for wireless Cybershoes for Quest will open for pre-orders later this year, and a Software Development Kit (SDK) is now available for native integration of this technology into games.
Wireless Cybershoes connects to a Quest headset via Bluetooth and features an inside-out tracking system. Sitting in a swiveling stool and sliding Cybershoes forward and backward allows users to control their direction and speed with their own movement while also encouraging physical activity.
"Movement and locomotion has been a consistent issue in VR gaming. The main movement mechanics available today – smooth movement via joystick or teleportation – can be jarring and lead to motion sickness," said Michael Bieglmayer, CEO of Cybershoes. "By translating natural movement to in game motion, Cybershoes addresses motion sickness while increasing immersion, activity, and enjoyment."
The company has also partnered with leading VR game developer Vertigo Games to integrate Cybershoes in Arizona Sunshine. With natively integrated games, setup is as easy as strapping on Cybershoes, booting up the headset, and selecting the in-game locomotion option.
"It is one of our core values to allow players to fully customize their preferred way to play," said Richard Stitselaar, Managing Director at Vertigo Games. "We have a few people in our office who are sensitive to motion sickness so we take comfort very seriously. Arizona Sunshine already supports a wide range of comfort options and Cybershoes provides an intuitive way to bring the player's physical motion into the game, allowing our players to experience VR however they like."

Developers interested in integrating Cybershoes into their Oculus Quest games are encouraged to get in touch with the Cybershoes team at mail@cybershoes.io.
Stay informed on the upcoming Kickstarter campaign and all things Cybershoes by following @CybershoesVR on Twitter.
Download a press kit here.
About Cybershoes
Cybershoes GmbH is a Vienna-based consumer electronics company changing the way people interact with and move within virtual worlds. The company's first product, Cybershoes, allows users to walk through virtual reality experiences with their actual feet, without leaving the comfort of home. Providing a new and innovative solution to the problem of locomotion in VR, a Bluetooth-enabled version of Cybershoes for the Oculus Quest line of headsets will launch in 2021.For more information, please visit cybershoes.i​o.​
About Vertigo Games
Vertigo Games is a multi-platform VR entertainment company with offices in Rotterdam, The Netherlands and Los Angeles, California. With teams in the areas of development, publishing and LBE (location-based entertainment) distribution, the company offers a growing portfolio of quality VR games that provide novel, powerful and full-featured gaming experiences both in- and outside of the home. Current games include Vertigo Studios' evergreen brand Arizona Sunshine®, critically acclaimed VR titles such as A Fisherman's Tale, and LBE-exclusive VR experiences like Ghost Patrol® VR. Among six upcoming releases for 2020/2021 is VertigoStudios' next VR action FPS game After the Fall®. www.vertigo-games.co​m
About Arizona Sunshine
Built from the ground up for VR, Arizona Sunshine is a full-feature game that puts you in the middle of a zombie apocalypse as if you were really there. Freely move around and explore a post-apocalyptic southwestern America in a desperate search for human contact in campaign mode, join forces with a friend in co-op multiplayer, or jump into the endless multiplayer Horde mode for up to 4 players. Handle weapons with real-life movements, freely explore a post-apocalyptic world, and put your survival skills to the test in untethered VR – putting the undead back to rest is more thrilling and satisfying than ever before. arizona-sunshine.com
Media Contact
TriplePoint PR, for Cybershoes GmbH: cybershoes@triplepointpr.com