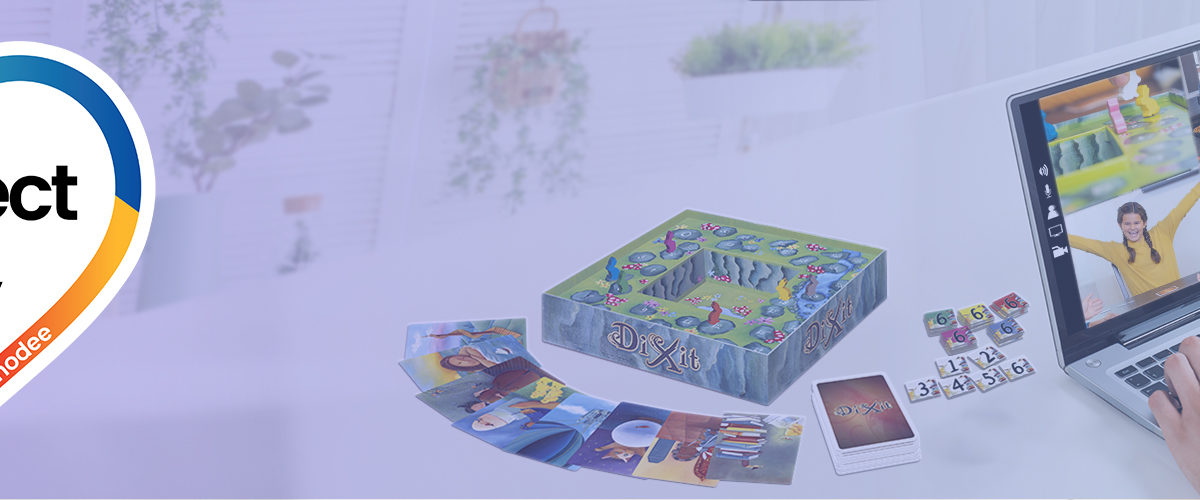 Industry-leading publisher to give board game walkthroughs on how to play their favorite games over video chat following the success of "Print & Play"
November 5, 2020 – Asmodee, a leading board game publisher behind iconic titles like Catan, Pandemic, Ticket to Ride, and Spot it! today launched Connect & Play, an initiative to help people learn to virtually play board games with friends and family during quarantine. Expanding on Asmodee's Print & Play campaign launched earlier this year, the Connect & Play campaign provides players with written step-by-step instructions on how they can play each game remotely over video conferencing services like Zoom, Google Meet and Skype. 
This spring, as the pandemic rocked the world and left families sequestered at home, Asmodee launched the Print & Play campaign – available for anyone in the world to download, print and play multiple classic board games, free. As of October, the Print & Play campaign has received nearly four million downloads.
"We thought about ways to bring socially distant relatives together, and truly believe that tabletop games are the best social entertainment there is" said Ruby Nikolopoulou, Head of US Marketing, Asmodee USA. "Connect & Play gives friends and families who can't physically be together a way to have fun and laugh, a must in these trying times and just in time for many of the upcoming holidays."
Check out the Connect & Play walkthroughs here: https://connect-and-play.asmodee.fun
Connect & Play games available free via Print & Play includes:
Spot It – Test your observational skills and your reflexes with the award-winning gameplay of Spot It! A game of lightning-fast choices for two to eight players. With dozens of awards and possible versions married to elegant gameplay, Spot It! ensures that the game will be different every time you play!
Dixit – Dixit is the lovingly illustrated game of creative guesswork, where your imagination unlocks the tale. In this award-winning board game, players will use the pictures on their cards to bluff their opponents and guess which image matches the story.
Sherlock Holmes – Sherlock Holmes is a cooperative game where players try to solve mysteries by interviewing suspects, poring through newspapers, and searching the streets of London for clues.
Additional Connect & Play games:
Just One – Just One is a cooperative party game in which you play together to discover as many mystery words as possible. Find the best clue to help your teammate. Be unique, as all identical clues will be cancelled!
Supported languages for all Connect & Play games include English, French, Spanish, German and Italian.
Paired with Print & Play, offering free printable versions of Catan, Ticket to Ride, Spot It/Dobble, Pandemic: Hot Zone – North America and Dixit, Connect & Play gives players a new accessible way to come together and play games, virtually. Board game fans can download the Print & Play versions of the games here.
You can find assets for Connect & Play here.
To learn more about Asmodee North America, check out the website, and social channels on Facebook, Twitter and Instagram.
###
About Asmodee USA
Asmodee's mission is to tell amazing stories through great games. The company's roots are in publishing and distributing board games, including Catan, Ticket to Ride, Pandemic, Arkham Horror, Splendor, Keyforge, Dobble/Spot It and Star Wars: X-Wing, selling tens of millions of games in more than 50 countries. Over the last few years, the company has expanded its scope to create multimedia experiences for players across multiple physical and digital platforms such as books, clothing lines and video games. Asmodee operates in Europe, North America, South America and Asia, with its headquarters based in Guyancourt, France. For more information visit corporate.asmodee.com.
Media Contacts
TriplePoint on behalf of Asmodee USA