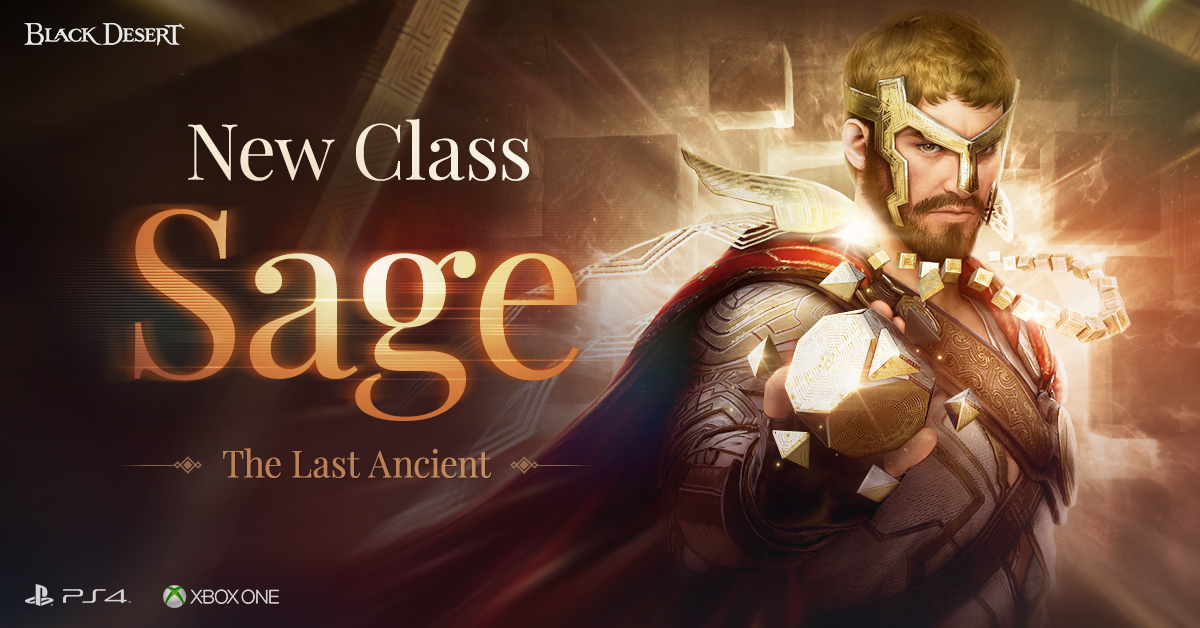 Manhattan Beach, California — March 31, 2021 — Today, Pearl Abyss announced that the new Sage class is available to the Black Desert Console, with special events also coming to the world of Black Desert to celebrate.
Meet Sage! The time has come! After sealing himself away for the past 49 years, the new Sage class awakens in Black Desert Console! Sage is a caster-type class, the master of space and time who can manipulate both to bring destruction to his foes. Wielding the cube-shaped ancient weapon Kyve, Sage can open rifts in space to summon powerful magic forces and unleash them for major damage.
View the Sage trailer here, his combat trailer here and watch the Sage developer commentary video for even more information here. Assets can be found here.
Abilities – from his past of researching astrology and ancient weapons, Sage possesses unprecedented skills and abilities:
Spatial Collapse unleashes destruction to inflict massive damage to enemies in the area and weaken their DP
Rift Chain can instantly move short distances, even past obstacles that stand in his way.
Sage is the only class in Black Desert who can access Hystria Ruins and Aakman Temple dungeons without entry items – giving adventurers an early head start on some of the game's most rewarding encounters.
Lore – Sage, a scholarly denizen of an ancient civilization, was the first person to discover the Black Spirit as it hurtled through space toward the earth. To prepare and protect the world, Sage built an ancient weapon research facility: Atoraxxion. With 49 years until the Black Spirit comet crashed to earth, Sage sealed himself away to face the force in his prime. From Sage's scholarly research, he has secret knowledge granting him access to the ancient Hystria Ruins and Aakman Temple without the required entry items.
Black Desert Console events
Huge rewards are waiting for Adventurers who play Sage on consoles:
After completing the quests designed for Sage, adventurers will get great rewards such as a 7 days value package, Eyes of the Wise, Atoraxxion Chandelier, and Trainer's Flute.
There are special rewards for Adventurers who manage to grow Sage to level 62 before April 28th. Rewards include highly sought after items for crafting and character enhancement such as Cron Stones, Advice of Valks, Gold Bars, Artisan Memory, Laila's Petal, and Shakatu's Rare Chest.
Pearl Abyss has also dropped the ancient Kyve into hunting grounds. Adventurers lucky enough to track him down will receive an enormous buff of 300% more skill EXP and 100% combat EXP when they encounter Ancient Kyve. Kyve will be appearing randomly in the hunting ground.
For more information on Sage and Black Desert's special Easter events on PC and Console please visit the official website.
About Black Desert 
The Black Desert franchise is Pearl Abyss' open-world action MMORPG franchise with cutting-edge visuals and skill-based combat that redefines the genre. With the most developed character customization system of any game currently on the market, users can break out of the norm and make unique characters that truly represent themselves. Its intuitive controls, beautifully designed world, and extensive lore will excite both newcomers and veterans of MMO games and action RPGs. Pearl Abyss is currently servicing the Black Desert franchise, which has gained 40 million players across the world on PC, mobile, and console.  
About Pearl Abyss
Established in 2010, Pearl Abyss is a leading developer in the game industry with its renowned MMORPG franchise Black Desert. Pearl Abyss services the Black Desert franchise across all platforms and its action-packed PvP Shadow Arena on Early Access on Steam. All of Pearl Abyss' games are built on the company's proprietary engine and are renowned for cutting-edge graphics. Pearl Abyss is currently developing Crimson Desert, DokeV, and PLAN 8 using its next-generation game engine and is poised to grow its overseas market. More information about Pearl Abyss is available at: www.pearlabyss.com
Media Contact
Pearl Abyss America
Chastity C. Irizarry
chastity@pearlabyss.com
TriplePoint on behalf of Pearl Abyss
pearlabyss@triplepointpr.com
+1-415-955-8500