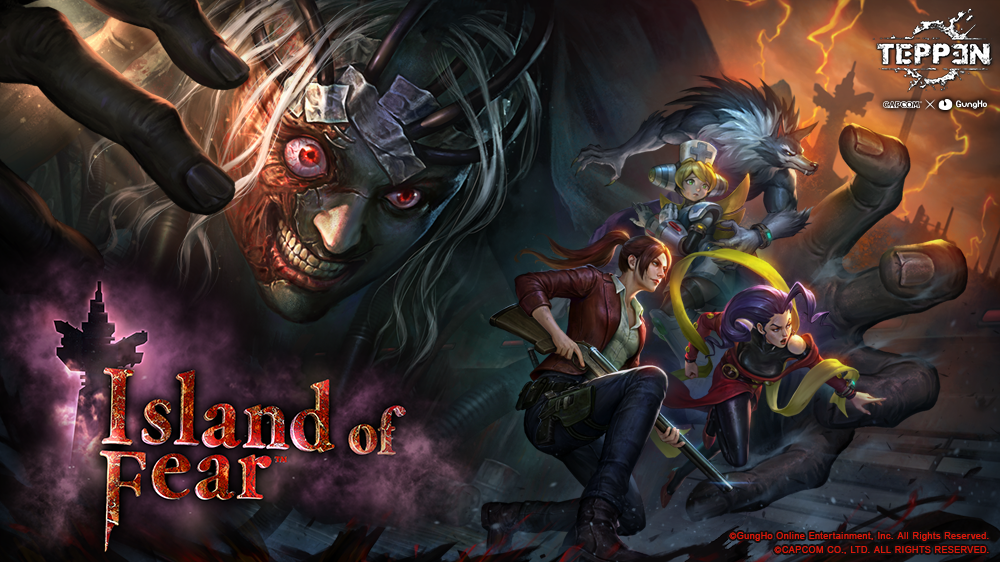 Hunt or be hunted with the characters from Resident Evil: Revelations 2
TOKYO, Japan – September 1, 2021 – Beginning today, TEPPEN's newest expansion brings players to the "Island of Fear"—a deadly deserted isle hosting characters from Resident Evil: Revelations 2 and more.
Visitors to the "Island of Fear" can uncover a life-and-death story featuring characters from the Street Fighter, Mega Man X, Darkstalkers, and Resident Evil series. Survivors are pitted against blood-thirsty killers in a terrifying experiment, and each wears a special bracelet that reacts to fear. If they become too afraid, the bracelet color gradually changes from green, to yellow, and to red, and a curse of death activates. Collect the four Crests hidden around the island to escape and earn exclusive rewards, like the Secret Card "The Only Escape."
These characters, including the Purple card 'Killing Machine Nechku,' Black card 'Orthrus,' Red card 'Resolute Survivor Claire,' and Green card 'Lone Wolf Survivor Jon,' are ready to do what it takes to kill or be killed in this game. Here's a look at 'Resolute Survivor Claire':
Type: Unit
Tribe: Human
MP: 5
Attack: 3
HP: 5
<Rush> Speeds up first attack after the card is played.
Decimate: Explore for Shotgun
When exploring: Gain +1/+1 and <Art Charge 2>
The chances of survival are uncertain, but these Jewel Sets may help ward off danger:
"Island of Fear" Survivors JEWEL SET for 730 Jewels

New Icon "Nurse Survivor Cinnamon"
1 "Island of Fear" Pack Ticket
1 "DAY OF NIGHTMARES" Pack Ticket
"Island of Fear" Killers JEWEL SET for 730 Jewels

New Icon "Cooldown"
1 "Island of Fear" Pack Ticket
1 "DAY OF NIGHTMARES" Pack Ticket
Throughout the event players can get Secret Cards as special anniversary login bonuses:
Nico (ADA 026)

8/29 5:00 PM – 9/5 4:59 PM (PDT)
Wendy Oldbag (AVP 001)

9/5 5:00 PM – 9/12 4:59 PM (PDT)
Komuso (BOA 054)

9/12 5:00 PM – 9/16 4:59 PM (PDT)
TEPPEN players have more to look forward to in October when new cards arrive at the Soul Shop. The "Adventures of a Tiny Hero" card set rotates out of Standard Mode with the introduction of "Island of Fear." The following card sets are no longer allowed in Standard Mode:
Adventures of a Tiny Hero
DAY OF NIGHTMARES
The Devils Awaken
The Force Seekers
Haunted by Memories
Assets for "Island of Fear" can be found here.
For more information about TEPPEN, visit the official website, Twitch, Youtube, and Twitter.
Download TEPPEN on the App Store, Google Play and the Amazon Appstore.
###
ABOUT TEPPEN
There's only one way to Rise to the Top – playing TEPPEN! TEPPEN is the Ultimate Card Battle game where units you command operate in real time, featuring dynamic action with over-the-top attacks blowing up your screen. With astonishing graphics and a cutting-edge battle system, TEPPEN is the card game to end all other card games! Command popular Heroes (characters) from Monster Hunter, Devil May Cry, Street Fighter, Resident Evil, and other series in All-Star action from Capcom's finest!
© GungHo Online Entertainment, Inc.
©CAPCOM CO., LTD. ALL RIGHTS RESERVED.
©CAPCOM U.S.A., INC. ALL RIGHTS RESERVED.
ABOUT CAPCOM
Capcom is a leading worldwide developer, publisher and distributor of interactive entertainment for game consoles, PCs, handheld and wireless devices. Founded in 1983, the company has created hundreds of games including ground-breaking franchises Resident Evil™, Street Fighter™, Monster Hunter™, Ace Attorney™, Mega Man™ and Devil May Cry™. Capcom maintains operations in the U.S., U.K., France, Germany, Tokyo, Taiwan, Hong Kong and Korea, with corporate headquarters located in Osaka, Japan. More information about Capcom and its products can be found at www.capcom.com or www.capcom-unity.com.
Capcom, the Capcom logo, Ace Attorney, Devil May Cry, Mega Man, Monster Hunter and Resident Evil are trademarks of Capcom Co., Ltd., in the U.S. or other countries. Street Fighter is a trademark of Capcom U.S.A., Inc.
ABOUT GUNGHO ONLINE ENTERTAINMENT AMERICA
GungHo Online Entertainment America, Inc. (GOEA) is a multiplatform publisher dedicated to delivering the best titles, content, and support for the online gaming community. Established in 2012 and led by former Square Enix U.S.A. and XSEED Games executive Jun Iwasaki, GOEA is the US division of GungHo Online Entertainment (GOE), an established Japanese publisher. GOEA's content partners include leading developers Grasshopper Manufacture, SUPERTRICK GAMES, Game Arts, Acquire, and Gravity, all of which are subsidiaries of GOE. GOEA publishes and distributes network-oriented games for console, handheld, mobile, tablet, and MMO-style games for PC. GOA is located in El Segundo, CA. For more information, visit www.gunghoonline.com.
MEDIA CONTACT
GUNGHO ONLINE ENTERTAINMENT AMERICA
Natsuki Nishikawa
Senior Communications Coordinator
natsuki@gunghoonline.com 
TriplePoint on behalf of GOEA
gungho@triplepointpr.com
+1-415-955-8500