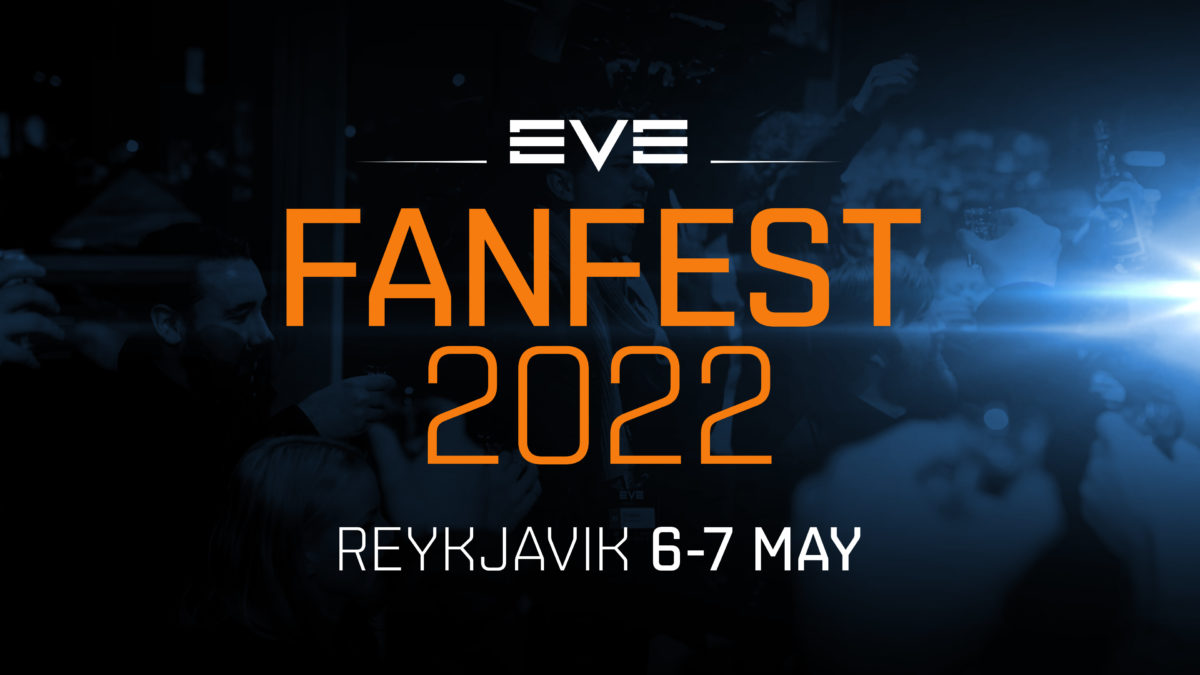 CCP Games works to create a COVID-19 safe event in the city of Reykjavik, tickets on sale now
REYKJAVÍK – November 4, 2021 – CCP Games today announced that EVE Fanfest will return to Reykjavík, Iceland on May 5 – 8, 2022. The first in-person EVE convention to take place since the EVE Invasion World Tour in 2019, EVE Fanfest 2022 is going back to its roots and will be held at the iconic Laugardalshöll Sport Center, home to classic Fanfests as well as this year's League of Legends Mid-Season Invitational and Championship. Early Bird tickets are available now at a discounted price of $150 USD until sold out. Afterward, standard tickets will be available for $295 USD.
The EVE Fanfest Trailer can be viewed here.
Since 2004, EVE Fanfest has served as a gathering place for EVE Online players to put faces to the names of peers, rivals, and the EVE team that has kept New Eden running for over 18 years. In 2022, CCP is bringing together players from around the world to Reykjavík once more for an epic event offering keynote presentations, developer panels, legendary parties, and more in celebration of the vast spaceship MMO enjoyed by over 24 million players since launch.
CCP is working with local authorities and taking COVID-19 safety measures for EVE Fanfest 2022. To attend the event, proof of vaccination is required. CCP is actively monitoring the COVID-19 pandemic and will provide further guidance according to Iceland's national guidelines as the event grows closer.
"Fanfest is finally back in our home country, and we are taking this opportunity to reunite with our community and celebrate EVE Online better than ever before," said Bergur Finnbogason, EVE Online's Creative Director. "It has been almost two years since the end of the Invasion World Tour. Meeting in person after all this time will be a completely different and incredible experience. As vaccinations roll out here in Iceland and abroad, we look forward to seeing our community safely in one place again. At last, the gate is green!"
EVE Fanfest 2022 will include:
Presentations, roundtables, networking opportunities, ceremonies, and a special tournament from CCP
Reykjavik's largest pub crawl and cocktail events to meet virtual friends and foes
Alliance/Corporation dinners for fleet feasts
The legendary party at the top of the world
A guest appearance by YouTube celebrity Scott Manley
Attendees can look out for the full schedule of events and future updates here.
Tickets are available now at Eventbrite.
EVE Online can be downloaded for free by visiting www.eveonline.com. For all the latest information about the game, please visit EVE News. You can find the press kit here.
###
About EVE Online®
EVE Online (PC/Mac) is a compelling, community-driven sci-fi MMO game where players can build and pilot a wide variety of spaceships, traversing vast solar systems for free and choosing their own path from countless options, experiencing space exploration, immense PvP and PvE battles, mining, industry and a sophisticated player economy in an ever-expanding sandbox. EVE is a captivating game in which hundreds of thousands of players compete for riches, power, glory and adventure, forging their own destinies in a single thriving universe. For more information, visit www.eveonline.com.
About CCP
CCP is a leading independent game developer that has been praised for its artistry, technology and game design that facilitates emergent behavior, empowering players with compelling means of self-expression. Founded in 1997 on the principle of pushing the envelope and breaking new ground on all levels, CCP is on a mission to create virtual worlds more meaningful than real life. With the launch of EVE Online in May 2003, CCP established itself as a pioneer of cutting edge massively multiplayer games, winning numerous awards and receiving critical acclaim worldwide. CCP is headquartered in Reykjavik, Iceland, and has additional studios in London and Shanghai. For more information, visit www.ccpgames.com.
Media Contact
Journalists seeking information about CCP or its products, wanting to set up interviews or needing further assets should contact media@ccpgames.com.