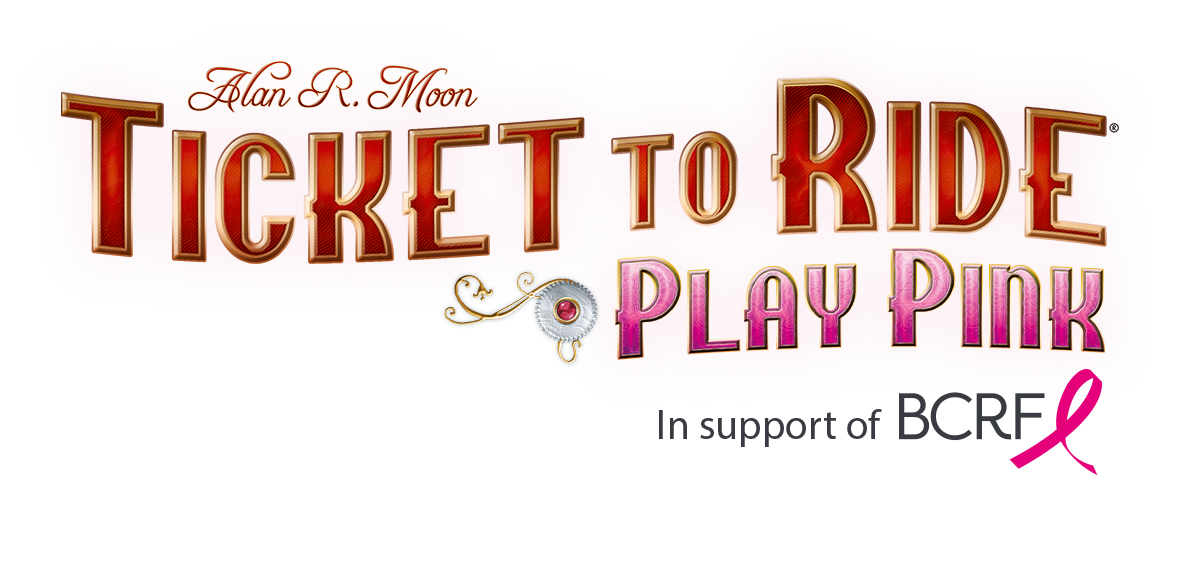 More than 40,000 copies of Ticket to Ride Play Pink train sets and 67,000 Asmodee Digital's Play Pink bundles sold will support lifesaving research
Paris, France – Dec 14, 2021 – Asmodee, the industry-leading board game publisher, and Days of Wonder, the studio behind best-selling board game Ticket to Ride®, announced today that their Play Pink initiative has raised over $184,000 USD for the Breast Cancer Research Foundation (BCRF). Funds raised correspond to 100% of the profits of a limited edition Ticket to Ride: Play Pink train set created by Days of Wonder as well as a contribution chosen by players on Play Pink Humble Bundle from Asmodee Digital to support critical research to end breast cancer.
Asmodee's Play Pink Initiative By The Numbers:
Over 40,000 copies of physical Ticket to Ride: Play Pink train sets were sold
18 countries participated in Asmodee's Play Pink
France, Italy, Belgium, and Poland sold out of Play Pink train sets in 10 days
Over 67,000 digital Play Pink Bundles were sold on Humble Bundle
"We have been humbled by everyone's response to the Play Pink initiative and are incredibly happy of the commitment of our players to support this charity," Stéphane Carville, CEO of Asmodee, said. "We're so glad to bring our players together around such a great cause – breast cancer affects millions of women around the globe. We are honored to have made an impact supporting the BCRF's cause, and all the amazing work they do."
"This year, breast cancer became the most common cancer in the world," said BCRF President and CEO Myra Biblowit. "By partnering with BCRF, Asmodee/Days of Wonder is supporting groundbreaking, lifesaving science at a time when the need has never been greater—ensuring that research funded today is there for our loved ones tomorrow. Together, we will bring the end of breast cancer into focus."
Ticket to Ride: Play Pink released to retailers around the world in October for a suggested retail price of $5 USD / €5 Euro, with $2 / €2 of each sale corresponding to the entire profits going to BCRF – with the charity project continuing where supplies last. Asmodee Digital offered a digital bundle through Humble Bundle with each consumer giving any percentage of their pledge to the foundation.
###
About Ticket to Ride
Ticket to Ride, published by Days of Wonder, is a franchise that is enjoyed by more than 80 million players worldwide. Ticket to Ride can be enjoyed by new players and experts alike with its easy-to-learn strategic gameplay, making it a staple in family board game nights. Since Ticket to Ride made its debut in 2004, the game has expanded beyond the table and now has digital versions available on iOS, Android, PC, and home video game consoles. Overall, more than 10 millions copies of Ticket to Ride have been sold. An international phenomenon, Ticket to Ride has been translated into 33 different languages and is distributed in more than 40 countries.
About Days of Wonder
Days of Wonder develops and publishes unique games in their genre. The company's "Play Different" slogan reflects its vision of publishing: Days of Wonder limits its productions to very few new games, focusing on quality rather than quantity, and developing highly refined digital adaptations. The unparalleled successes—such as Ticket to Ride®, the world's best-selling train game; Small World® and its epic conquests in a fantastic universe; and Memoir '44®, the World War II reference game with over twenty expansions—motivate Days of Wonder to raise the bar ever higher. Days of Wonder board games are distributed in 40 countries and their digital versions are available on the App Store, Google Play, Steam, and the Days of Wonder website at www.daysofwonder.com.
Days of Wonder, Corinth, Yamataï, Quadropolis, Five Tribes, Ticket to Ride, Small World, Memoir '44 are all trademarks or registered trademarks of Days of Wonder, Inc. All other trademarks are the property of their respective owners.
About the Breast Cancer Research Foundation
Breast cancer is a complex disease with no simple solution. Research is the key to stopping it in its tracks. Founded in 1993 by Evelyn H. Lauder, the Breast Cancer Research Foundation is the largest private funder of breast cancer research in the world. We invest in the best minds in science—from those investigating prevention to metastasis—and foster cross-disciplinary collaboration. Our approach accelerates the entire field and moves us closer to the answers we urgently need. We can't stop now. Join us in fueling the world's most promising research. With you, we will be the end of breast cancer. Learn more and get involved www.bcrf.org.
About Asmodee
Asmodee Group is a leading international games publisher and distributor committed to telling amazing stories through great games with over 39 million games sold in more than 50 countries. Through our portfolio of iconic game titles, including Catan, Ticket to Ride, Pandemic, Dead of Winter, Splendor, 7 Wonders, Just One, Dobble/Spot it!, KeyForge and Star Wars: X-Wing, we create a dynamic transmedia experience for players across a variety of digital and physical platforms. Asmodee also creates inspiring and innovative products in partnership with leading entertainment and technology companies. With a global workforce of over 2000 people, Asmodee operates in Europe, North America, South America and Asia. Asmodee is headquartered in Guyancourt, France. Learn more at corporate.asmodee.com.
About Asmodee Digital
Asmodee Digital, a fully owned subsidiary of the Asmodee Group, is an international publisher and distributor of video games. Asmodee Digital manages the creation, design, publishing, and marketing of video games for Asmodee Group and third-party creators on PC (Steam, Epic), consoles (Nintendo Switch, Sony PlayStation, Microsoft Xbox), mobile and VR. Asmodee Digital aims at bringing passionate people together around memorable video gaming experiences. These include best-selling products with a board game DNA such as Gloomhaven, CATAN, Ticket to Ride, The Lord of the Rings: Adventure Card Game, Pandemic or Carcassonne. Asmodee Digital also publishes exciting indies' gems such as Ember Knights or Innchanted, with more yet to be announced.
About Humble Bundle
Since 2010, Humble Bundle has forged a path for indie developers to have a platform for their projects and voices. It has been and always will be a priority for Humble to build bridges between indie video games and consumers, all while pursuing the universal desire to be a force for good. The combined efforts of Humble with their supportive developers and enthusiastic community has amounted to over $200 million raised for charity to date. This is the DNA of Humble and has influenced every decision since its inception.