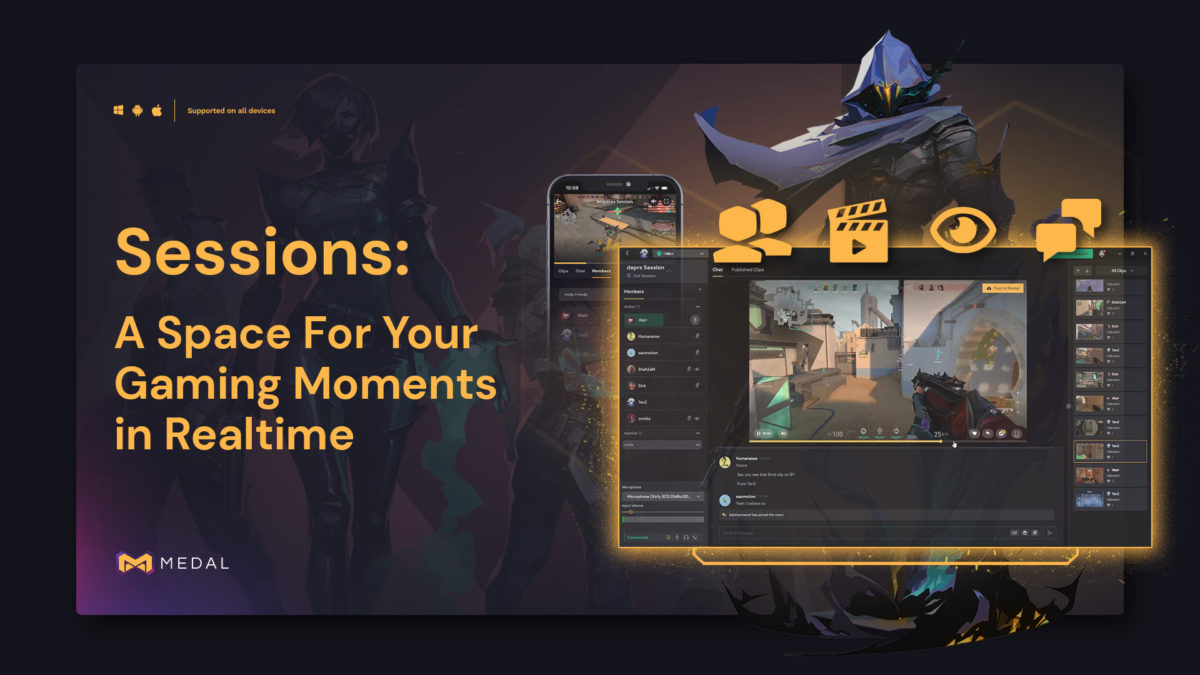 Introducing 'Sessions' – a way to clip with friends in real time – and the most powerful game clips editor on PC and mobile
LOS ANGELES, Calif. – December 14, 2021 – Medal.tv, the largest game clipping and sharing platform, is today transforming it's clip-sharing app into a community platform for gamers. The new and improved platform, dubbed Medal 3.0, will serve as a central hub with everything gamers need to capture and share their favorite gaming moments, but also experience them together in more meaningful ways.
Medal 3.0 is changing how players connect with friends as they're gaming. Medal now includes new ways for users to clip together while they play together. Once a solitary act, gamers can now record gameplay clips in real-time with other gamers, see and edit each other's clips as they happen, and share that content across social media platforms and profiles. There is no longer the need to stream, capture, edit, and share across multiple different platforms.
"Medal 3.0 is the end product of years of effort to create a place where people can come together and connect over their favorite gaming moments and experiences," said Pim de Witte, Medal CEO. "As gaming has moved online it has become inherently social. Today, we connect with each other over Steam, Xbox, and PlayStation. Medal is the place where you create memories with friends when you're apart."
New social-focused features changing how gamers use Medal include:
– Sessions: A dedicated space for users to play games with one another and share clips from that session in a designated public or private space.
Users in a Session can interact with each other through voice and text chat as well as editing each other's clips and reposting to their own accounts in real-time.
Users can also join to see what other players have captured from the most recent session and then engage with those clips and socialize with one another.
Everything is happening in real-time, taking up less resources than traditional clipping.
– Multiple Clip Syncing: Coming shortly after launch, when one person in a session clips, everyone playing with that person in-game, clips at the same moment to provide multiple-perspectives for a complete view of the given moment.
Game clips are automatically uploaded to the Sessions cloud so players can view every clip taken immediately once they have ended the session.
– Chat Features: New voice and text chat features have been added throughout, including new emotes, custom reactions, and more.
– Import Features: Players who use other recording tools—such as Shadowplay, Lowkey, or Moments—can automatically transfer their clips to Medal or manually upload them into a Session after it concludes.
The new super-powered editor makes Medal the most powerful game clips editor in the market with features including:
– Local Clip Sync: Clips captured on desktop are automatically sent to phones directly over wifi without having to manually download and move them.
– Game Clip Add-Ons: Players will have the option to add external videos, external photos, stickers, or community-created templates and filters onto their clips for added personalization
– A Full Suite of Effects: No longer are external tools such as After Effects or Premiere needed. Medal 3.0's new simple, yet powerful, editing platform introduces even more editing features such as: slowmo, speed up, zoom, freeze frame, blur, loop, color editing, transitions and more.
DMCA-free music from a massive library of music.
Meme templates and filters made by the community to help create the best looking clips.
– Game Clip Editing on Mobile: Editing on iOS and Android brings even more incredibly powerful editing to users' fingertips. Editing and sharing captured clips is now even easier. And users don't even have to worry about transferring their clips thanks to Local Clip Sync.
The new Medal editing suite is now live on mobile devices and in Early Access for desktop users.
Medal has grown rapidly since its founding in 2017. What began as a way to help burned out streamers connect with their audiences in a less intense way, has now evolved into a community platform where people capture and share millions of videos each day. In the last year that growth has accelerated: the company has doubled headcount; acquired Rawa.tv, GifYourGame, and Fuze.tv; and announced the recent raise of $60 million across two funding rounds. The acquisitions have given Medal the talent and resources to expand beyond clipping and into a full-fledged social and content network.The company will continue to grow through strategic acquisitions, expanded R&D, hiring the best talent, and more.
For more information visit Medal.tv.
About Medal.tv
Medal.tv is the largest platform for sharing short-form gaming content with friends. Founded in 2018 by game developers trying to get their game discovered, Medal has grown into a platform used by millions of users to share exciting gaming moments with their friends. With the acquisitions of livestreaming platform Rawa.tv, gameplay editing tools GifYourGame and Fuze.tv, and mobile SDK startup Megacool.co, Medal has expanded globally and across PC, console and mobile in recent years. For more information, please visit Medal.tv.