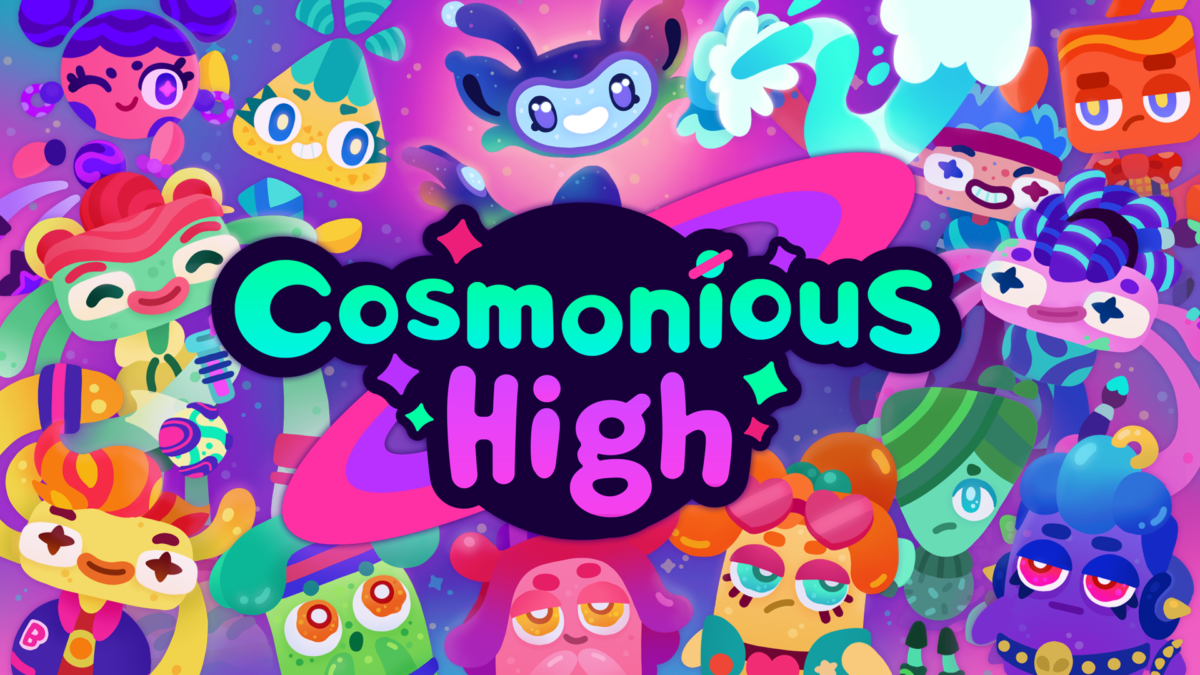 Jump into the vibrant and responsive alien high-school from the creators of Job Simulator and Vacation Simulator
AUSTIN, TEXAS – March 31, 2022 – Cosmonious High, the highly-anticipated VR alien adventure from Owlchemy Labs, is available now on Meta Quest 2 and SteamVR for a suggested retail price of $29.99. To celebrate Cosmonious High's launch, Owlchemy will kick off a livestream at 1 p.m. Central on Twitch where members of the team will provide developer commentary while showcasing gameplay.
Check out the Cosmonious High launch trailer here.
Cosmonious High is an alien adventure where players take the role of a Prismi, a rare alien species that can adapt to any situation, who crash lands into their first day of high school. The school is troubled by mysterious malfunctions and chaos. As a Prismi, players will adapt awesome alien abilities to restore Cosmonious High to its former glory while also taking classes and making friends with their quirky classmates.
Characters and environments in Cosmonious High are dynamic; players can interact with nearly every object, and their classmates will respond to changes in the world. Characters communicate with the player using a new emoji speech system, and each have unique responses to natural VR gestures like fist bumps, waves, and high-fives. Players are encouraged to find creative ways to interact with the environment and see how the world reacts to their actions.
"As a studio, we really pride ourselves on meeting and exceeding player expectations. We had a lot of fun making sure interactions in the game felt intuitive and real, and we ended up with a world filled with characters who felt alive with their own personalities and agendas," said Chelsea Howe, Product Director at Owlchemy Labs.
Owlchemy believes that VR is for everyone. They apply this philosophy in Cosmonious High to ensure as many people as possible can play, without sacrificing gameplay. This includes a mindful color palette, height-adjustable stations, dynamic subtitles, and more. Similar to Job Simulator and Vacation Simulator, Cosmonious High is made for everyone and is Owlchemy's most complex game to-date.
"Cosmonious High pushes the boundaries of what players come to expect from a VR game. From the responsive VR gestures, character interactions, reactive environments and engaging narrative, we built our largest and most intuitive game yet. We cannot wait to see what chaos players can create at Cosmonious High," said Devin Reimer, CEO (Chief Executive Owl) of Owlchemy Labs.
Cosmonious High Key features:
Living Characters – Experience the latest level of VR interaction with dynamic characters that respond to natural gestures. High five, fist bump, and converse with a quirky cast of characters!
Juicy, Responsive World – The entire school is one big interactive playground for your powers. Just remember: having fun with powers is no excuse for skipping class!
Unprecedented Exploration – Explore the biggest space Owlchemy Labs has ever built! Hang with your friends in the Grand Hall, perform experiments in Chemosophy, and get creative in Visualetics.
Gorgeous Visuals – Enjoy the vibrant, colorful world of Cosmonious High in an art style as unique and playful as the school!
A Hand Full of Powers – Unlock alien powers to help explore and engage with the world around you!
For more information about Cosmonious High, please visit the completely redesigned Owlchemy Labs website: https://owlchemylabs.com/
Assets for Cosmonious High can be found here.
---
About Owlchemy Labs
Owlchemy Labs is an XR studio with a passion for polished, playful VR games and experiences. Founded in 2010 and based out of Austin, TX, we believe that natural, spatial interactions make virtual reality the ultimate destination for new forms of gameplay and immersion. We love building experiences for everyone: oozing with style, absurdly funny, and with ground-breaking accessibility to bring more joy to more people. Our titles include the award-winning, platinum-selling VR launch title "Job Simulator", the Emmy-nominated "Rick and Morty: Virtual Rick-ality", and our latest top ten VR title "Vacation Simulator". Owlchemy was acquired by Google in 2017 and continues to share its pioneering experiments and VR best practices through blog posts, white papers, and talks around the globe.
More information about Owlchemy Labs can be found at https://owlchemylabs.com.
Media Contact
TriplePoint on Behalf of Owlchemy Labs
owlchemy@triplepointpr.com