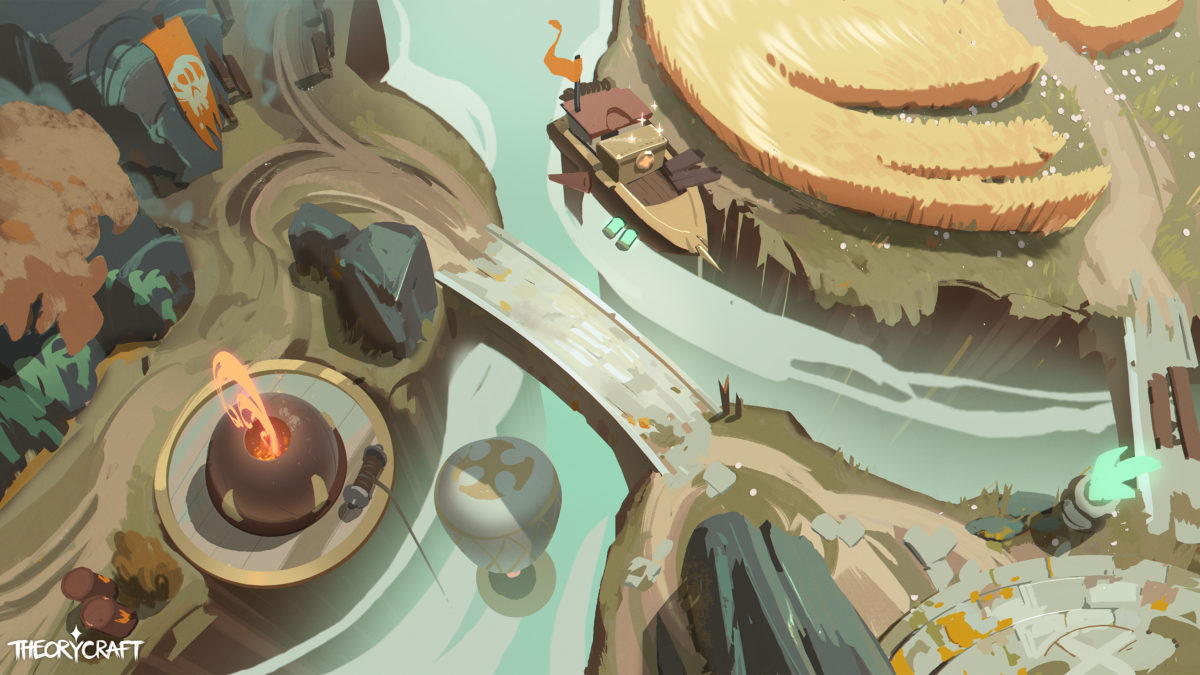 Legends of Runeterra game director Andrew Yip and Arcane art supervisor Kévin Le Moigne join Theorycraft Games' dream team to make the next great 10,000-hour game
LOS ANGELES, USA – May 6, 2022 – Theorycraft Games today announced the hiring of Andrew Yip as lead systems designer and Kévin Le Moigne as concept artist for the studio's unannounced game, codenamed Loki. Yip and Le Moigne expand Theorycraft Games' epic roster of industry talent, which includes key figures behind the secret sauce of multiplayer hits like League of Legends, VALORANT, Overwatch, Destiny, and Halo. Theorycraft Games' superteam is combining its creative forces to make Loki a 10,000-hour game that puts players first. After only a year of development, the studio is already deep into playtesting the game to build an experience catered to the community's needs.
Concept art for Loki's "pop-apocalyptic" world set in the sky, as well as photos of Yip and Le Moigne, can be found here: https://drive.google.com/drive/folders/14CoYEceFaxWr3VReXOQnQRaLscl0H2TS?usp=sharing.
"At Theorycraft Games, we're building a team of creators who not only helped make some of the best works in their medium, but drove their most beloved elements," said Joe Tung, CEO of Theorycraft Games. "Together, we are combining our professional strengths and personal loves for different genres to forge something entirely new with Loki. Andrew's knowledge of deep gameplay systems and Kévin's ability to bring fantastical worlds to life will further our mission to make Loki the rewarding, imaginative experience that we've envisioned since its inception."
Yip and Le Moigne will help shape the world of Loki to make something both mechanically rich and visually striking. Before joining Theorycraft Games, Yip served as game director of Legends of Runeterra at Riot Games, where he translated the magic of physical card games to the digital space. Yip will bring his signature style of strategy-minded design, which helped propel Legends of Runeterra to award-winning heights, directly to the development of Loki's gameplay sandbox.
"I joined Theorycraft Games not only to work with a small team of highly-empowered individuals, but to work with this team's specific skill set," Yip said. "At Theorycraft, each person's vision helps make a great whole, and I can already see that from Loki's playtests. The game feel and polish blew me away, especially given the team's just over a year into development. I can't wait to shape how player actions affect both each other and the world."
Le Moigne joins Theorycraft Games after working as an art supervisor and matte painter for League of Legends' critically acclaimed Netflix show, Arcane. His work on concept art, visualization, and universe development for the first and second seasons directly contributed to the rich visual style of Arcane's setting, and his world-building expertise will be seen in Loki.
"Even from a young age, I've been fascinated with the immersive worlds that can only be realized in games," Le Moigne said. "This is the first time I get to help build something from scratch – and with such an accomplished art team. Their genre blending sparked my imagination, and I'm excited to work with them in fully realizing Loki's world."
Theorycraft Games will continue to grow its talent-dense team of 34 as it makes Loki. For more information on Theorycraft Games and Loki, visit theorycraftgames.com. For North American PC players interested in playtesting Loki, visit theorycraftgames.com/community.
About Theorycraft Games
Theorycraft Games is an independent game studio on a mission to make deep, 10,000-hour games that are just better when played with friends. Theorycraft was founded in December 2020 by Joe Tung, Mike Tipul, Michael Evans, Areeb Pirani, and Moby Francke – former studio leaders at Riot Games, Bungie, Blizzard, and Valve Software. Collectively they led the development of games such as League of Legends, Halo, Destiny, Overwatch, VALORANT, DotA 2, and Team Fortress 2.
Theorycraft Games is a fully remote studio, with roots in Los Angeles, Irvine, and Seattle.