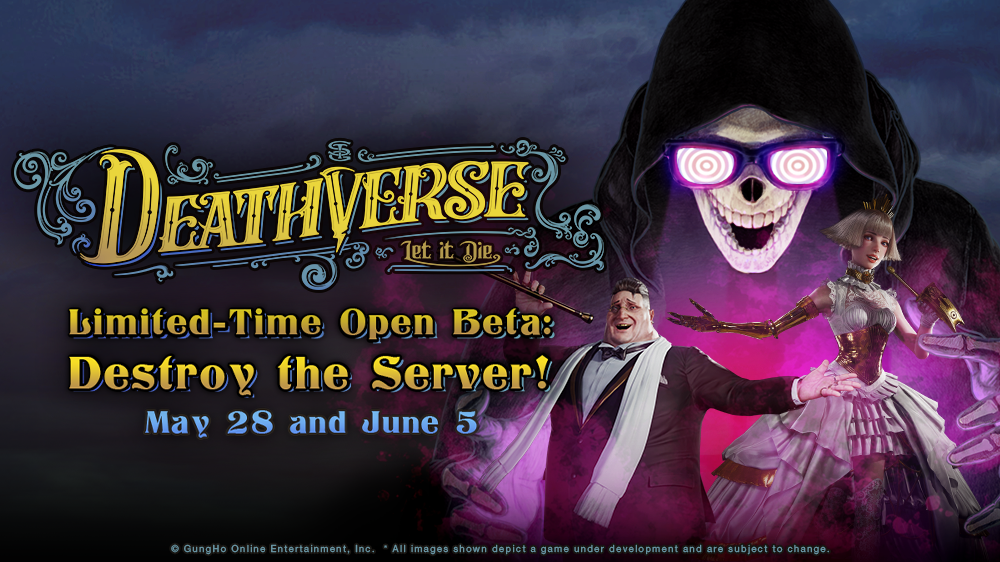 Get a first look at DEATHVERSE and rock out with Uncle Death for a limited-time
TOKYO, Japan – May 18, 2022– GungHo Online Entertainment and SUPERTRICK GAMES will kick off an open beta for its upcoming multiplayer survival action game DEATHVERSE: LET IT DIE on May 28 from 1-7 p.m. PDT and June 5 from 1-6 a.m. PDT. PlayStation 4 and PlayStation 5 players can pre-download the game today from the PlayStation Store and test their survival skills in this Limited-Time Open Beta: Destroy the Server! The beta will be available in multiple languages and regions.
Fight to Survive
In DEATHVERSE: LET IT DIE, players compete in a 16-player survival battle arena as a contestant in the world-renowned television program Death Jamboree. Flanked by your trusty robot companion, Wilson, you must fight off player-controlled and CPU enemies in PvPvE mayhem.
During the Limited-Time Open Beta, players learn the ropes in the game's Tutorial, hone their skills in Training, and prove their strength against others in Ranked Matches online.
In this kill-or-be-killed combat, players face more than just each other. Bloodcurdling Cryptids roam the battlefield, and when the cutthroat Hunters enter the area, there are only two options: run or die.
Transform your Wilson into one of five different weapon types, including the Machete, Buzzsaw, and–Uncle Death's favorite–the Katana. If you get tired of one weapon, swap to another killer playstyle.
The landscape of the arena changes between rounds, with multiple Battlefields to traverse. Take advantage of the terrain and catch foes by surprise from the high ground.
No one likes a battle that drags on. To keep rounds short, areas of the map become contaminated. Players that linger in these areas will lose health, making their attacks less deadly. With Hunters prowling the battlefield, staying in a contaminated area is a surefire way to seal your doom. 
Pick up items like Materials, Mushrooms, and Sub-skills to modify your abilities and boost your chances for survival. Items are dropped when you kill enemies or break boxes scattered across the field.
The best way to get ahead in this world is to kill the competition. Players that slaughter their foes in a flashy way, whether its fellow competitors or Cryptids, can grow their fanbase and earn Glory Points from the Death Jamboree audience. GP increases attack power, so we mean it when we say that fame saves lives! GP collectors can also pick up points from Killing Brands, which are dropped when a Hunter kills a competitor–but be careful, or you might be the next to die.
Like any respectable, bloodstained celebrity, develop your personal identity with a wide range of customization options. With tons of outfits, face paints, weapon and Wilson skins, and emotes, you can give yourself a murderous makeover. You can even deck out your Player Room, the area where you wait between matches. It'll either be your green room or your grave…
To give the fans a dramatic final battle, the Showdown Zone opens toward the end of each match. Duke it out one-on-one to be the last competitor standing in this restricted area.
Welcome to the Jamboree
In 2026, society collapses following a seismic calamity known as "Earth's Rage." Scarred by the horrors they've faced, a fractured humanity fulfills their need for bloodshed with a deadly reality show: Death Jamboree. Anyone can compete to win fortune and favor, but remember: no one makes it to the top without getting their hands dirty.
Tell Them What They've Won…
Everyone who participates in the Limited-Time Open Beta is a winner… at least when there are free bonuses involved. Jump into the beta to "destroy the server" and earn a TEST PILOT title, a "T" Pose Emote, and a Premium Uncle-D2 Decal. Additionally, those who've reached the fourth level of the Tower of Barbs in LET IT DIE will receive the coveted title of SENPAI.

You can find assets for DEATHVERSE: LET IT DIE here. You can find more information on DEATHVERSE: LET IT DIE on the official website here.
---
ABOUT SUPERTRICK GAMES
SUPERTRICK GAMES, a studio of GungHo Online Entertainment, was established in 2013 by Shuji Ishikawa, Shin Hideyuki, and the development team behind the hit survival action game LET IT DIE. With over seven million lifetime downloads, LET IT DIE continues to be supported by the team. Now, SUPERTRICK GAMES is taking on a gloriously gorey new project to expand the franchise: DEATHVERSE: LET IT DIE.
ABOUT GUNGHO ONLINE ENTERTAINMENT AMERICA
GungHo Online Entertainment America, Inc. (GOEA) is a multiplatform publisher dedicated to delivering the best titles, content, and support for the online gaming community. Established in 2012 and led by former Square Enix U.S.A. and XSEED Games executive Jun Iwasaki, GOEA is the US division of GungHo Online Entertainment (GOE), an established Japanese publisher. GOEA's content partners include leading developers SUPERTRICK GAMES, Game Arts, Acquire, and Gravity, all of which are subsidiaries of GOE. GOEA publishes and distributes network-oriented games for console, handheld, mobile, tablet, and MMO-style games for PC. GOEA is located in Redondo Beach, CA. For more information, visit www.gunghoonline.com.
MEDIA CONTACTS
GUNGHO ONLINE ENTERTAINMENT AMERICA
Natsuki Nishikawa
Senior Communications Coordinator
TriplePoint on behalf of GOEA
+1-415-955-8500