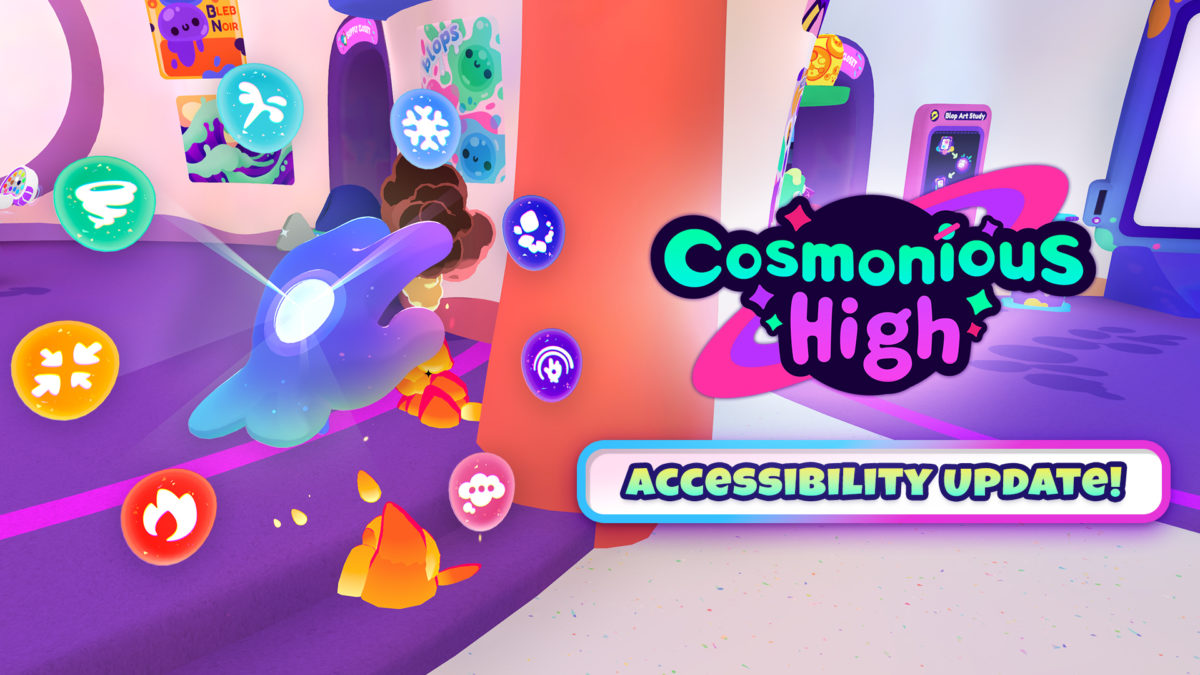 Owlchemy Labs releases a major update to improve gameplay for everyone for their latest VR adventure, introducing one-handed mode, seated gameplay, and more
AUSTIN, TEXAS – June 9, 2022 – Today, Owlchemy Labs announced a major Accessibility Update for their latest VR adventure, Cosmonious High, is now available on Meta Quest 2 and Steam VR. Building on Owlchemy's "VR for Everyone" design philosophy, the update introduces one-handed mode, dynamic height adjustments, localization improvements, and more. These improvements are beneficial for all players and makes Cosmonious High accessible to more people without sacrificing gameplay. 
Check out a video from Owlchemy discussing accessibility and showcasing the update's features here. Tune in tomorrow for a deep dive on the update with Owlchemy Labs and Unity on the Unity Twitch channel at 12 PM EST / 11 AM CST.
Features included in the Accessibility Update include:
One-Handed Mode: Allows users to play with one-hand, automatically detecting if only one controller is present. One-handed mode is also great when a controller battery dies. 
Play Seated: The game can detect and adjust automatically to player's eye levels—adjusting hand orientation for players and characters, changing character animations so they're at the right height, and more. All credits can also be obtained in Cosmonious High even if a player is seated. 
Enhanced Object Interactions: Interactable objects are easier to identify, including color changes and in-game effects. Less precise movements are now needed to interact with objects, making certain items easier to grab and manipulate. 
Tutorials: Reminder tutorials now activate if the game detects the user hasn't played in a long time or if certain powers are not being used. Great for players who jump in after being away or for those who need guidance on how to use powers in Cosmonious High. 
More Icons: Cosmonious High features more icons to illustrate instructions, interactions, and abilities in-game. These icons effectively communicate complex instructions at a glance without having to read lots of text.
"These features are not just for those with accessibility needs, but for everyone. More options on how to play a game improves the quality of life for all players and makes Cosmonious High accessible to folks who need them," said Peter Galbraith, Accessibility Engineer leading this update at Owlchemy Labs. 
In addition to expanding Cosmonious High's accessibility features, this update includes improvements to localization and inclusivity. Character pronouns now appear in speech bubbles whenever a player engages in conversation and on the back of photos after using the in-game camera. Players will also find "Small Human Mode" switches at the Registration desk and in their backpack, allowing it to be activated at any point while playing. More information about the Accessibility Update and localization improvements can be found on the Owlchemy Labs blog owlchemylabs.com/blog/accessibilityupdate.
"VR for Everyone is our vision statement at Owlchemy and we are always thinking about accessibility when designing our games from start to finish," said Andrew Eiche, COOwl of Owlchemy Labs. "We want players from all walks of life to be able to experience VR and our work on accessibility is making that happen. It doesn't matter if a player has limited mobility, cognitive disability, or trouble reading, our mission is to provide a fun and welcoming environment that is accessible to everyone."
For more information about Cosmonious High, please visit the completely redesigned Owlchemy Labs website: https://owlchemylabs.com/. Assets for Cosmonious High can be found here.
---
About Owlchemy Labs
Owlchemy Labs is an XR studio with a passion for polished, playful VR games and experiences. Founded in 2010 and based out of Austin, TX, we believe that natural, spatial interactions make virtual reality the ultimate destination for new forms of gameplay and immersion. We love building experiences for everyone: oozing with style, absurdly funny, and with ground-breaking accessibility to bring more joy to more people. Our titles include the award-winning, platinum-selling VR launch title "Job Simulator", the Emmy-nominated "Rick and Morty: Virtual Rick-ality", and our latest top ten VR title "Vacation Simulator". Owlchemy was acquired by Google in 2017 and continues to share its pioneering experiments and VR best practices through blog posts, white papers, and talks around the globe.
More information about Owlchemy Labs can be found at https://owlchemylabs.com.
Media Contact
TriplePoint on Behalf of Owlchemy Labs