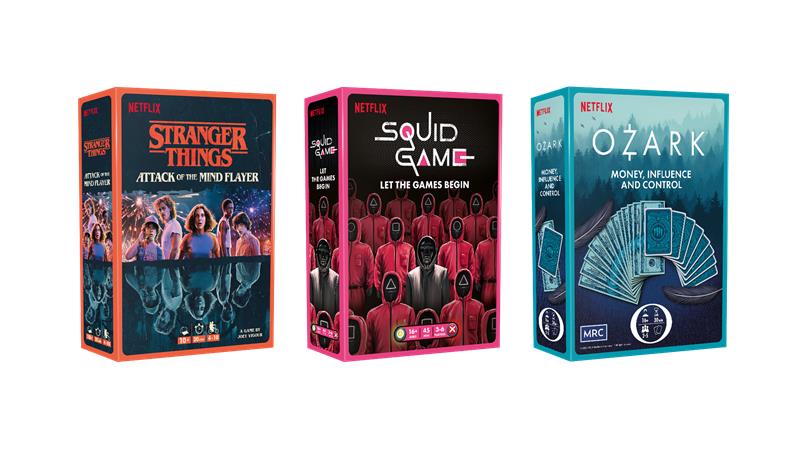 Three critically-acclaimed Netflix franchises meet board game night on July 30, exclusively at Walmart
Roseville, MN – July 14, 2022 – Today, Asmodee and Netflix announced a partnership to adapt three of the streaming service's celebrated franchises – Ozark, Squid Game and Stranger Things – to board and/or card based games. Each title features fun, easy-to-learn gameplay based on themes and locations found in each series, creating an accessible and immersive experience for fans and newcomers. Ozark, Squid Game and Stranger Things: Attack of the Mind Flayer will launch on July 30 exclusively at Walmart retailers around the United States. Eager fans can pre-order the games at Walmart.com now.
"We couldn't be more excited to partner with Netflix and Walmart for these releases," said Steve Horvath, Asmodee North America president and head of publishing. "With how much the series have resonated with viewers, our goal was to make these titles accessible to as many fans as possible. Partnering with Walmart was a natural choice to accomplish that."
Ozark
Ozark is a territory control game for 2-5 players. Choose a faction, vie for money, and then influence and control locations from the series like Lickety Splitz and the Missouri Belle. The player with the most stashed money at the end of the game wins! Who can launder the most money, you or the Byrdes? Ozark is developed by Mixlore and will launch with an MSRP of $24.86.
Squid Game
Bring home the international sensation, competing for victory and survival in Squid Game. In this 3-6 players game, each contestant has a team of up to 12 members and competes in six games featured on the show: Red Light/Green Light, Dalgona, Tug of War, Marbles, Glass Bridge and Squid Game. The first team member to reach the Squid Head after completing all the games wins. Squid Game is developed by Mixlore and will launch with an MSRP of $24.86.
Stranger Things: Attack of the Mind Flayer
Stranger Things: Attack of the Mind Flayer brings the terrifying psychic powers of the Mind Flayer to the social deduction genre for an Upside Down good time. A hidden role game designed for 4-10 players, two teams go head-to-head and uncover who is sane and who has been possessed by the Mind Flayer. Stranger Things: Attack of the Mind Flayer is developed by Repos Production and will launch with an MSRP of $24.86.
Assets for Ozark, Squid Game and Stranger Things: Attack of the Mind Flayer can be found here.
---
About Netflix
Netflix is the world's leading streaming entertainment service with 222 million paid memberships in over 190 countries enjoying TV series, documentaries, feature films and mobile games across a wide variety of genres and languages. Members can watch as much as they want, anytime, anywhere, on any internet-connected screen. Members can play, pause and resume watching, all without commercials or commitments.
About MRC Television
MRC Television is a leading independent studio, which sources, finances, develops, and produces shows in partnership with the industry's foremost creative artists. The studio's series have been nominated for 94 Emmy® Awards and 18 Golden Globe® Awards. The current slate includes "Ozark," starring Jason Bateman, Laura Linney and Julia Garner, on Netflix; "The Great," starring Elle Fanning and Nicholas Hoult, on Hulu; "The Terminal List," starring Chris Pratt and from director Antoine Fuqua and writer David DiGilio, with Amazon Studios; "Shining Girls," starring Elisabeth Moss for Apple TV+; "Poker Face," with T-Street and starring Natasha Lyonne for Peacock. For more information please visit: www.mrcentertainment.com.
About Mixlore
Founded in 2018, Mixlore is a France-based publisher dedicated to hunting the latest and hottest trends to convert them into fun and accessible games for everyone. Some of their most famous games are Ramen Fury, The Shining, The Queen's Gambit and many more to come!
About Repos Production
Founded in 2004, Repos Production is today one of the key players on the global board game scene, having published multiple award-winning games. To mention a few examples, 7 Wonders has received the first Kenner Spiel; Just One has won the 2019 Spiel des Jahres, known as the Oscar of the board game industry. The Belgian publisher designs games for all kinds of players that become best sellers around the world.
About Asmodee USA
Asmodee USA Distribution is a sales, marketing, and distribution arm of the global Asmodee Group, a leading international company dedicated to bringing great games and amazing stories to all corners of the world. Asmodee USA Distribution represents the strongest portfolio of board games in the industry, including such favorite titles as CATAN, Ticket to Ride, Spot It!, Pandemic, Just One, Dixit, X-Wing™, Dead of Winter, and many more.