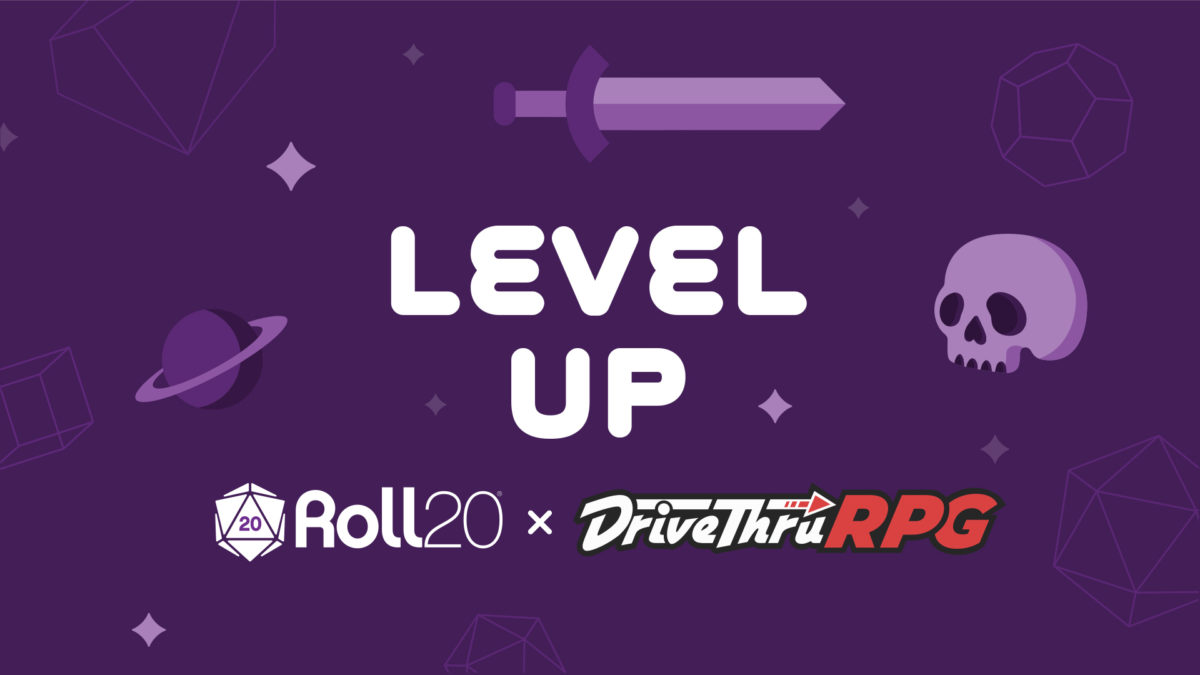 Digital tabletop juggernauts combine powers to create an industry-leading platform for digital play, promising a seamless future of cross-platform PDF support and synchronized content libraries on the largest virtual tabletop.
Las Vegas, NV (July 13, 2022) – Today, Roll20 and OneBookShelf announced their plans to join forces, bringing together two of the world's leading digital tabletop roleplaying (TTRPG) content platforms. Roll20 is already the world's most popular virtual tabletop platform for roleplaying games, providing a digital space for over 10 million users to play TTRPGs daily. OneBookShelf manages eleven ecommerce marketplaces, most notably DriveThruRPG and Dungeon Masters Guild, and is the premier online vendor for the TTRPG industry. The deal empowers players to manage content across platforms for nearly any tabletop game, connect more easily with other players, and step into games immediately, all in one place.
This change forges an unprecedented alliance of industry experience in the TTRPG space, fusing more than a century of combined executive leadership with publisher and community relationships to create the best tabletop platform experience. TTRPG publishers and creators can now easily reach audiences in the virtual game space where they most often play, allowing customers to seamlessly find, share, and play their favorite games.
The joint venture brings together a party of 40 technical wizards dedicated to improving product, code, and user experience. In the coming weeks, the new entity will add PDF support to Roll20's virtual tabletop (VTT), giving GMs and players the ability to upload, read, share, and immediately play using any PDF in the VTT. At a later date, the companies will make OneBookShelf PDF libraries accessible within the Roll20 virtual tabletop experience, and are committing to ensure that OneBookShelf PDFs will not count toward Roll20 storage quotas.
"Joining forces with OneBookShelf creates the best place to purchase, peruse, and play TTRPGs online, period," said Ankit Lal, CEO of Roll20. "Since 2012, Roll20 has been the industry leader in virtual tabletop gaming, hosting content from some of the biggest publishers in the space, including Wizards of the Coast, Paizo, and Chaosium. With this deal, we gain significant progress on several of our user promises that dramatically improve the VTT, and will work together to continue adding new and exciting features to our already industry-leading platform."
"Our mission from the get-go has always been to make it easier for publishers and creators to reach a wider audience of roleplaying fans," said Steve Wieck, CEO of OneBookShelf. "By combining forces with Roll20, we empower game makers to present content across a wider variety of formats, whether character creators, virtual tabletop, digital editions, or print. Customers will be able to support their favorite games, in any format they desire, with one economical purchase, and they will be able to use their content on roleplaying's most trusted platform."
Following the closure of the deal, Ankit Lal will continue as CEO, having been promoted from President of Roll20 in January 2022. He brings 14 years of experience leading strategy, product, analytics, and marketing teams across several industries, most recently at Google and ClassPass. OneBookShelf CEO Steve Wieck will join the Roll20 governing board and executive team, bringing 35 years of experience across the TTRPG industry. Wieck's credits are numerous: he co-founded White Wolf Publishing, producers of Vampire: the Masquerade and other World of Darkness properties, founded DriveThruRPG in 2004 (which later combined with RPGNow to form OneBookShelf, Inc), and later served on the CCP Games Board of Directors following the company's White Wolf acquisition. Together, the two combine a wealth of product development and industry-specific knowledge.
Roll20 partnering with OneBookShelf is the latest move under Ankit Lal's leadership to help realize a new vision for the platform. Since Lal assumed the CEO position, Roll20 has added features highly demanded from fans including Dark Mode, one-way barriers with Dynamic Lighting, and updated compendium sharing. The platform's performance-improving initiative, Operation Fire Bolt, has reduced in-game load times by 57% and boosted launch speeds by up to 50% for almost all games. Over the rest of 2022, Roll20 users can look forward to continued VTT improvements, faster dice results, more Dynamic Lighting updates, improved character creation and character sheets, and more.
A press kit with additional assets, including a preview of PDF support in Roll20's VTT, can be found here.
About OneBookShelf
OneBookShelf and its family of premiere online marketplaces, including Dungeon Masters Guild, DriveThruRPG, DriveThruComics, Pathfinder Infinite, and more, have been selling digital and print-on-demand roleplaying games, war games, comic books, and fiction since 2001. Tens of thousands of publishers — from big names you've seen in print, such as Wizards of the Coast, Valiant Comics, Modiphius, and Chaosium, to our industry's many talented small press innovators — have come together to list hundreds of thousands of titles, so you can be sure to find what you want whenever you want it.
About Roll20
Roll20 is the all-in-one solution for organizing and playing tabletop games online, allowing you to play your games anywhere and share them with anyone virtually. With the ability to choose from a number of popular titles built ready for your virtual tabletop, your adventures are limitless and you can get started playing with little to no prep. Dive into advanced features like Dynamic Lighting or explore macros and APIs to add some extra depth to your game. Roll20 lets you play your tabletop games, your way. For more information, please visit https://roll20.net/.
For more information:
TriplePoint on behalf of Roll20 and OneBookShelf
roll20@triplepointpr.com