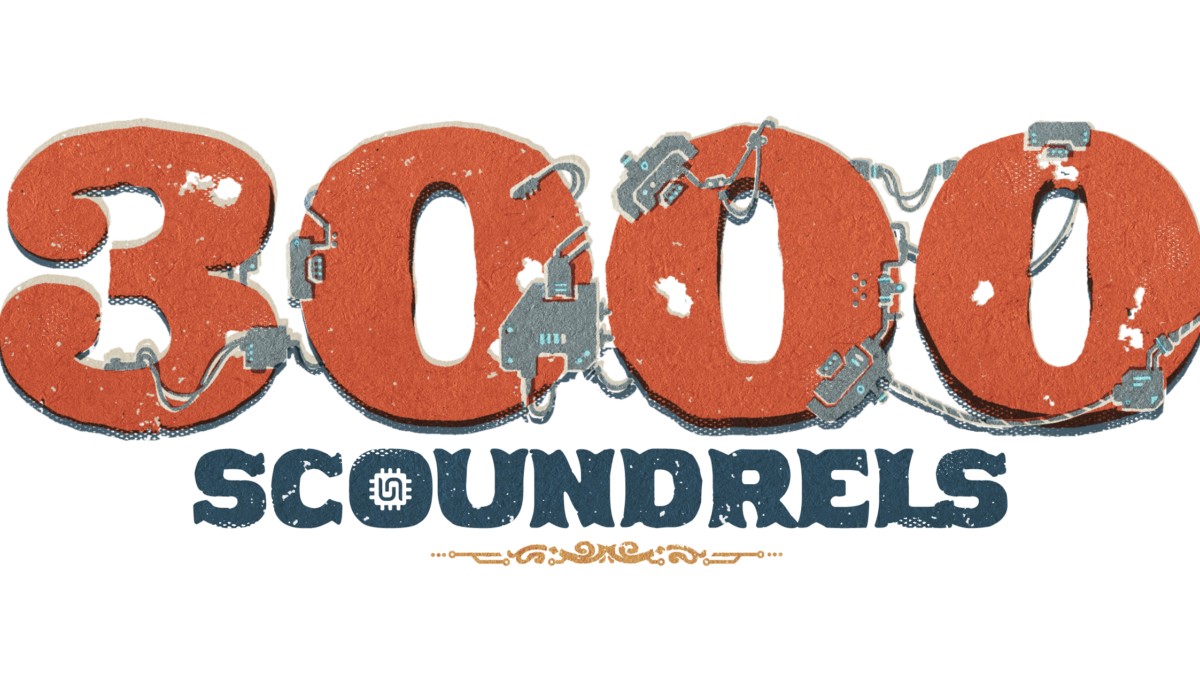 Create your army of Scoundrels to loot, steal, and bluff your way to victory
ROSEVILLE, Minn. — September 23, 2022 — Unexpected Games today announced the October 7 release date for 3000 Scoundrels in select retailers worldwide. 3000 Scoundrel's Wild West engine-building game is full of beautiful art and larger-than-life characters that players can endlessly customize for hours and hours as they loot, steal and bluff their way to victory. Players can pre-order 3000 Scoundrels on the Asmodee website for a suggested retail price of $49.95 USD. 
In 3000 Scoundrels, 2-4 players enter an alternative history Wild West, assuming the roles of rival crew leaders attempting to steal futuristic technology left behind by a mysterious man known only as the Traveler. During the game, players build their crew of scoundrels by layering transparent "job cards" with "trait cards," making a team that's ideally suited for their strategy. Each turn, they'll play a poker card face down, then use all of their scoundrels that match that card – but they don't have to tell the truth… and savy players will understand the power of bluffing their way to the top. At the game's end, the player with the most tech will claim victory and determine the fate of the American Frontier.
3000 Scoundrels Key Features:
Mix-and-Match Potential: 3000 Scoundrels includes 60 clear job cards, 50 trait cards, 4 leader sheets, 28 Poker cards, 8 strategy cards, 1 game board, and more. Transparent job cards and trait cards can be mixed and matched to create thousands of scoundrels, meaning no two games will ever be the same.
Unique Characters: Players create their wacky crew of scoundrels, each with a unique name and ability, like gaining money or stealing technology. Build your engine by using cards to form the ultimate heist crew.
Breathtaking Artwork: 3000 Scoundrels features beautiful Wild-West-and-Sci-fi-inspired artwork, dripping with personality on every card. Each player gets a leader sheet that comes with a unique comic showing their side of the conflict, giving tons of lore and backstory in the game's patented quirky style.
Cards for Every Strategy: With thousands of combinations, any player can draft a crew of scoundrels that synergizes with their strategy and helps inform what cards they'll play and bluffs they'll use.
Satisfying Victories: To succeed, players need to outsmart their foes by careful bluffs and killer insight. The winner is the one that collects the most technology by outplaying rival leaders, not just by bluffing but also by misleading their opponents. Trick your foe into stealing a weak technology, or take a chance to steal a powerful one from right under their nose. If you win, you should feel like a criminal mastermind.
3000 Scoundrels designer and head of studio Corey Konieczka started his career at Fantasy Flight Games in 2005 and is best-known for his work on such beloved games as Battlestar Galactica: The Board Game, Star Wars™: Rebellion, and Mansions of Madness: First
Edition. Konieczka departed his role as VP of Research & Design to found Unexpected Games in 2019. He's gone on to launch the commercially and critically successful titles The Initiative, which reached #1 on BGG's Hotness List and #1 on Amazon.com's Best selling New Board Games List within the first two weeks of release, and Voices In My Head.
Assets for 3000 Scoundrels can be found here. For more information, visit the official website here.
---
About Asmodee
Asmodee Group, part of Embracer Group, is a leading international games publisher and distributor committed to telling amazing stories through great games with over 43 million games sold yearly in more than 50 countries. Through our portfolio of iconic game titles, including Catan, Ticket to Ride, Pandemic, Dead of Winter, Splendor, 7 Wonders, Just One, Dobble/Spot it!, KeyForge and Star Wars: X-Wing, we create a dynamic transmedia experience for players across a variety of digital and physical platforms. Asmodee also creates inspiring and innovative products in partnership with leading entertainment and technology companies. With a global workforce of over 2000 people, Asmodee operates in Europe, North America, South America and Asia. Asmodee is headquartered in Guyancourt, France. Learn more at corporate.asmodee.com.
About Unexpected Games
Unexpected Games is a studio focused on innovation and idea incubation. Unexpected Studio creates games that are novel, fun, and accessible—surprising people with experiences they've never had before. They can be found at UnexpectedGames.com
Media Contact
TriplePoint on behalf of Asmodee
Asmodee@triplepointpr.com