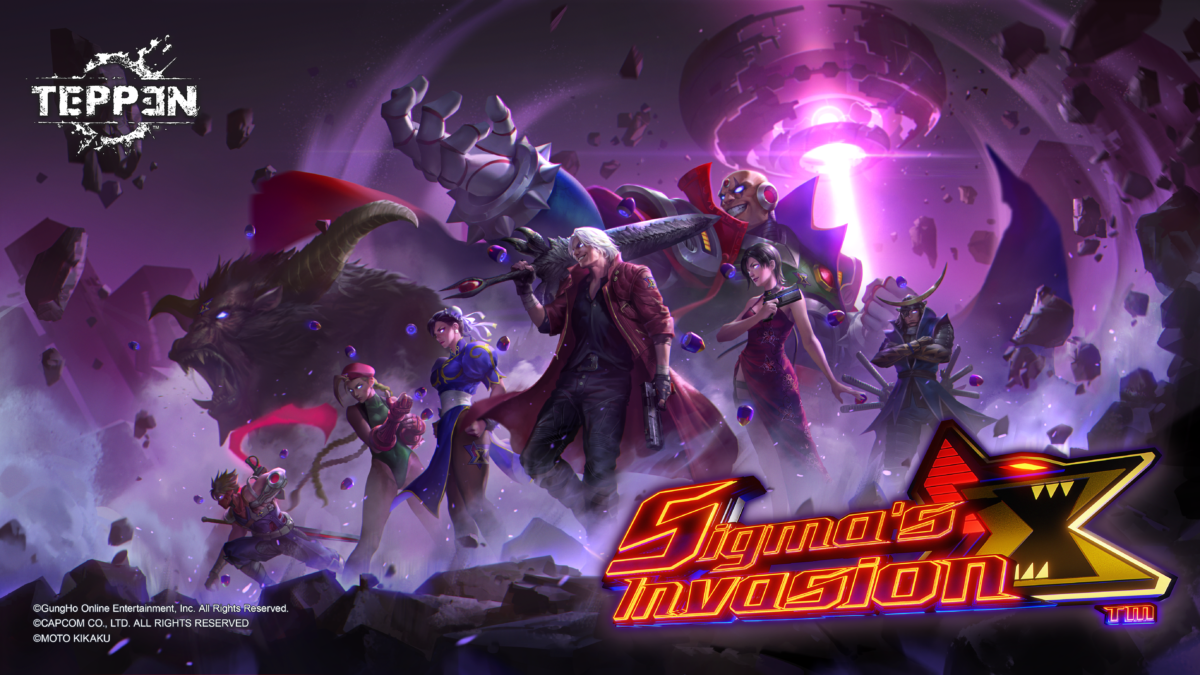 Robot duplicates of TEPPEN heroes attack as the latest trilogy draws to a close
TOKYO, Japan – January 5, 2023 – The Reploid Army may have been defeated, but their menacing leader poses a new threat as the "Sigma's Invasion" expansion launches in TEPPEN today. The final chapter of the "Echoes of the Lost Civilization" trilogy brings new characters from the arcade rhythm series crossbeats REV. SUNRISE and super-powered, robotic clones of beloved heroes from the Monster Hunter series, Street Fighter series, Mega Man X series, and more.
You can watch the full trailer for "Sigma's Invasion" here.
Heroes Are Seeing Double
After the Anti-Machine Special Forces (ASMF) destroys the last fighters of the Reploid Army, the true invasion begins. The mastermind Sigma from the Mega Man X series moves to the final stages of his plan to exterminate all of mankind. Using Akatsuki from crossbeats REV. SUNRISE, the highest CPU that controls the Reploid Army, Sigma creates dangerous replicants based on battle data from ASMF heroes. These Mirage Soldiers attack civilians and heroes alike, forcing the ASMF to infiltrate Sigma's Mirage Colosseum Fortress. Will they be able to defeat the Reploid Mastermind, or will mankind fall to the super-civilization?
New Cards
It's hard to tell who is friend or foe, so build your deck with care! The Black card "Masterwork MS Zangief," the Purple card "Mother Computer Akatsuki," the Red Card "Sonic Vanguard Guile," and the Green Card "Rainbow Bomber R. Mika" have joined the battle, but can you spot the Mirage Soldiers among the real heroes? Here's a look at Mother Computer Akatsuki:
Type: Unit
Tribe: Machine
Rarity: Legendary
MP: 6
Attack: 2
HP: 5
Effects:

This unit cannot attack. When played, seize control of 1 random enemy unit and give it "Mark of Akatsuki".
When leaving the field, all friendly units with Mark of Akatsuki lose Mark of Akatsuki and the opponent seizes control of them.
The Dark Slayer Emerges
Players will have a chance to find a rare Extra Skin based on Vergil from the Devil May Cry series by purchasing Special Packs. This Extra Skin for "Zero" is set for a mid-January release, so keep your eyes peeled!
3.5 Years of TEPPEN
TEPPEN celebrates 3.5 years with a special Anniversary Sale. Players can pick up a free season pass from the Soul Shop from January 5 to February 21. Characters will also get three Secret Spheres and ten card packs just for logging on between January 5 and February 28. Additional cards Secret "Sanada Yukimura", Secret "The Princess", and Secret "Hsien-Ko" will be given out as login bonuses throughout the anniversary celebrations.
Sigma's Popularity Thanksgiving Event
To honor Sigma winning the TEPPEN Popularity Poll: Legendary, a special event will be held to honor the villainous mastermind. Players that complete the ranked Sigma Mission can take home prizes like a Sigma's Invasion Pack Ticket and a 3.5 Year Anniversary Pack Ticket. Players that log in during the event will receive a newly drawn "Dark Civilization Sigma" card, Epic Card "Vassals of Darkness", and Player Icon "Civilization Rebel Sigma". There will also be a Mini Jewel Set and limited-time BGM in the Soul Shop, and the "Sigma Love Quiz" that rewards pack tickets for knowledge of Sigma.
Card Rotation
The "Breath of RESISTANCE" card set rotates out of Standard Mode with the introduction of "Sigma's Invasion." The following card sets are no longer allowed in Standard Mode:
DAY OF NIGHTMARES
The Devils Awaken
The Force Seekers
Haunted by Memories
Adventures of a Tiny Hero
The Tale of Amatsu no Kuni
The Battle of Amatsu no Kuni
A Dark Agenda
Ace vs. The People
Dragons of War
Breath of RESISTANCE
Assets for "Sigma's Invasion" can be found here.
For more information about TEPPEN, visit the official website, Twitch, Youtube, and Twitter.
Download TEPPEN on the App Store, Google Play and the Amazon Appstore.
---
ABOUT TEPPEN
There's only one way to Rise to the Top – playing TEPPEN! TEPPEN is the Ultimate Card Battle game where units you command operate in real time, featuring dynamic action with over-the-top attacks blowing up your screen. With astonishing graphics and a cutting-edge battle system, TEPPEN is the card game to end all other card games! Command popular Heroes (characters) from Monster Hunter, Devil May Cry, Street Fighter, Resident Evil, and other series in All-Star action from Capcom's finest!
©GungHo Online Entertainment, Inc.
©CAPCOM CO., LTD. ALL RIGHTS RESERVED.
ABOUT CAPCOM
Capcom is a leading worldwide developer, publisher and distributor of interactive entertainment for game consoles, PCs, handheld and wireless devices. Founded in 1983, the company has created hundreds of games including ground-breaking franchises Resident Evil™, Street Fighter™, Monster Hunter™, Ace Attorney™, Mega Man™ and Devil May Cry™. Capcom maintains operations in the U.S., U.K., France, Germany, Tokyo, Taiwan, Hong Kong and Korea, with corporate headquarters located in Osaka, Japan. More information about Capcom and its products can be found at www.capcom.com or www.capcom-unity.com.
Capcom, the Capcom logo, Ace Attorney, Devil May Cry, Mega Man, Monster Hunter and Resident Evil are trademarks of Capcom Co., Ltd., in the U.S. or other countries. Street Fighter is a trademark of Capcom U.S.A., Inc.
ABOUT GUNGHO ONLINE ENTERTAINMENT AMERICA
GungHo Online Entertainment America, Inc. (GOEA) is a multiplatform publisher dedicated to delivering the best titles, content, and support for the online gaming community. Established in 2012 and led by former Square Enix U.S.A. and XSEED Games executive Jun Iwasaki, GOEA is the US division of GungHo Online Entertainment (GOE), an established Japanese publisher. GOEA's content partners include leading developers SUPERTRICK GAMES, Game Arts, Acquire, and Gravity, all of which are subsidiaries of GOE. GOEA publishes and distributes network-oriented games for console, handheld, mobile, tablet, and MMO-style games for PC. GOA is located in Redondo Beach, CA. For more information, visit www.gunghoonline.com.
MEDIA CONTACT
GUNGHO ONLINE ENTERTAINMENT AMERICA
Natsuki Nishikawa
Senior Communications Coordinator
TriplePoint on behalf of GOEA
+1-415-955-8500