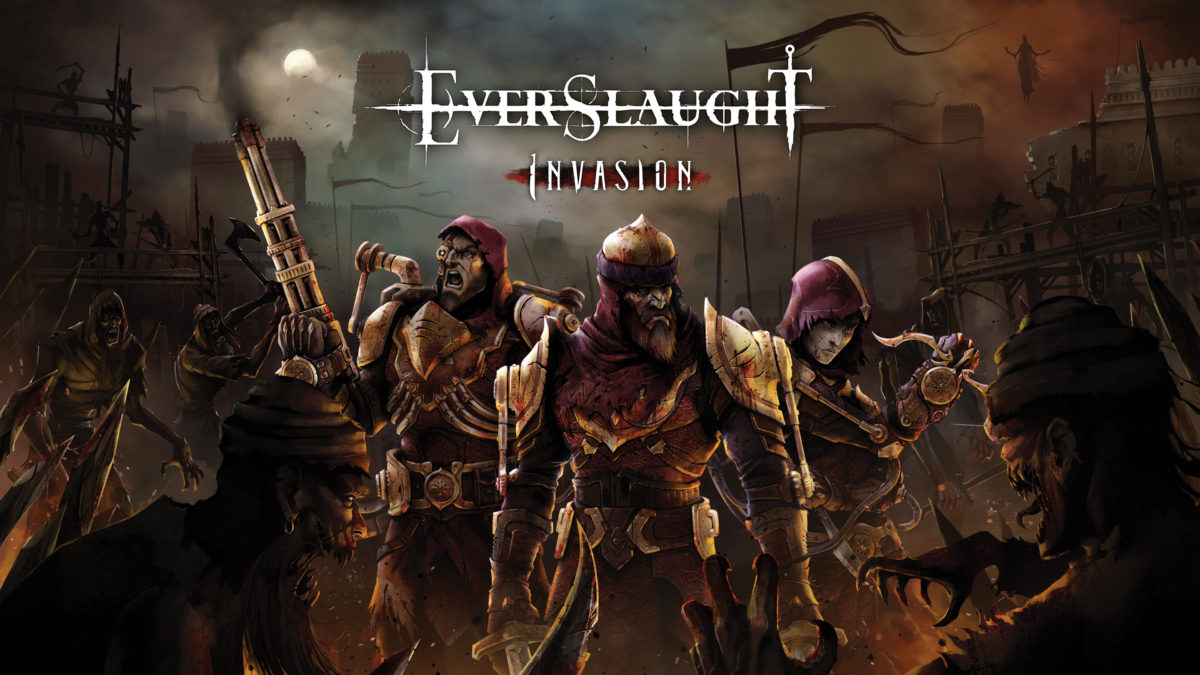 Team up and battle the onslaught of the Great Corruption in MobX Games' high-Octane co-op action title
STOCKHOLM – May 11, 2023 – Fast Travel Games and developer MobX Games today announced that EVERSLAUGHT Invasion, the co-op action VR game, will launch on May 25, 2023, for $24.99 on Meta Quest 2. Players will join forces as Warriors, Rogues, or Vanguards to combat the impending calamity of the Great Corruption in a dark, immersive fantasy world. Wishlist the game or pre-order for a 10% discount today on the Meta Quest Store.
Get a taste of the adrenaline-fueled gameplay in the action-packed narrative trailer here: https://youtu.be/IM6TGLgTK9I
EVERSLAUGHT Invasion transports players into a realm of chaos and conflict where they choose from one of three distinct classes – Warrior, Rogue, or Vanguard – each boasting its unique playstyle and toolset. Explore and traverse the map using the versatile hookshot while gathering vital resources and loot to enhance your chances of survival. The game's deep progression system allows players to upgrade character skills and weaponry, ensuring a strategic edge on the battlefield.
Gihad Chbib, Founder at MobX Games, stated, "We put our hearts and souls into creating EVERSLAUGHT Invasion. Our team is like a gang of old-school gamers who grew up playing fast-paced shooters like Doom, Quake, and UT, and absolutely loved the tactical elements of Gears of War's horde mode or Black Ops Zombies. We wanted to ensure players would feel this incredible adrenaline rush when they team up for intense, cooperative combat. Fluidity is super important – we've got this awesome hookshot and the freedom to run, jump, and dash without limits. And for the tactical side of things, we've got this engaging melee combat and a fantastic variety of unique ranged weapons. We can't wait for everyone to experience this in VR when the game launches!"
Features include:
HIGH-MOBILITY ACTION: Experience complete freedom of movement in awe-inspiring, hand-crafted environments. Run, dash, jump, and grapple without any restrictions.
ARMY OF TWO: Take on the invading hordes alone or with a friend to complement each other's skills and weapons for endless replay value.
DISTINCT CLASSES: Choose between the Warrior, Rogue, or Vanguard classes and unleash your character's unique gauntlet weapon to keep the enemy at bay.
DEEP PROGRESSION SYSTEM: Unlock weapons, maps, lore items, gauntlet upgrades, and character skills to increase each class's power level.
Download the media kit here.
For the latest information, visit the game's website and follow EVERSLAUGHT Invasion on Twitter and Facebook.
---
About Fast Travel Games
Fast Travel Games is a VR exclusive games developer and publisher based in Stockholm, founded by industry-leading veterans and behind critically acclaimed VR titles such as Apex Construct, The Curious Tale of the Stolen Pets, and Wraith: The Oblivion – Afterlife. Our mission is to create high-quality VR games with believable interactions, set in immersive worlds and populated with memorable characters.
About Mobx Games
MobX Games is an independent game development studio with a passion to create high-quality VR games that push the limits of this new and exciting medium. Exploring fun and creative mechanics designed specifically for VR is what makes the team at MobX tick. Their games are fully geared towards a VR hardcore gaming audience, as seen in their first released title EVERSLAUGHT.
Media Contact
TriplePoint for Fast Travel Games
fasttravelgames@triplepointpr.com
(US+1) 415-955-8500