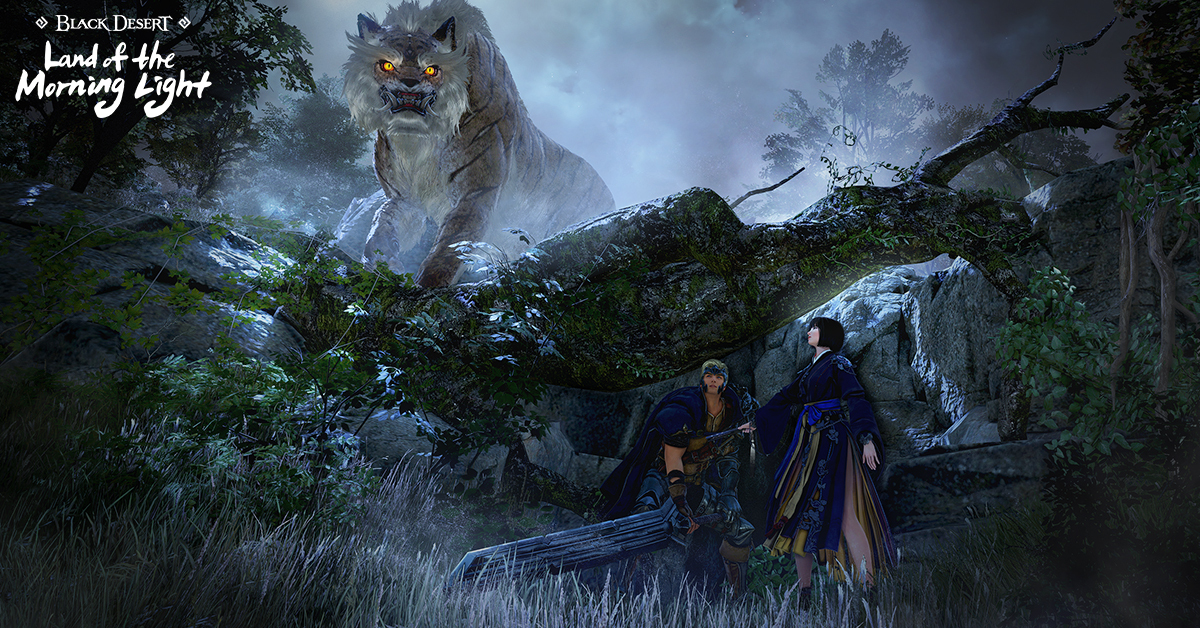 Pearl Abyss Partners with Korean Tourism Organization and Korean Celebrity Singer for Unique Cross-Promotional Trailer
Manhattan Beach, CA — May 16, 2023 — Following Pearl Abyss' recent 'light' video reveal last week, the popular Korean developer and publisher showcases the 'darker side' of the upcoming Land of the Morning Light expansion in the second part of the sneak peak trailer. Where beauty gleams, mysteries lurk in the darkness.
Coming to PC this June, Land of the Morning Light is a new expansion comprising unique terrain, storyline, characters, bosses, and valuable rewards for a new MMORPG experience. Going beyond Black Desert Online's medieval fantasy setting, the new expansion will introduce adventurers to a continent that exudes Korea's rich history and culture. The new trailer reveals brutal bosses Adventurers will need to defeat in the new region.
Download

the Sneak Peek Trailer Pt. 2 here

Watch

the Sneak Peek Trailer, Pt. 2 on YouTube here

Watch

So-hee Song's video on YouTube here
Pearl Abyss also has collaborated with famous Korean singer So-hee Song and the Korean Tourism Organisation to produce a unique promotional video inviting travelers to enjoy the cultural wonders of Korea.
The video "Journey to Utopia" combines sweeping real-world footage from 12 locations in Korea, many of which have been expertly incorporated into the upcoming Land of the Morning Light expansion with idyllic scenes of So-hee Song's soaring rendition of the song.
To celebrate Land of the Morning Light's June arrival, Pearl Abyss offers Adventurers limited-time benefits including in-game buffs and a cute pet. See more details in the GM Note.
For more information about this update and the game in general please visit the official website or follow Black Desert Online on Twitter, Facebook and Instagram.
ABOUT LAND OF THE MORNING LIGHT EXPANSION
Black Desert Online's latest expansion takes players on a perilous journey through the mythical Land of the Morning Light. Along the way, Adventurers will become embroiled in a crisis engulfing the continent, falsely accused of wrongdoing and forced to prove their innocence. After defeating powerful foes, they will discover the true evil lurking in the shadows.
Explore breathtaking landscapes filled to the brim with life, marvel at intricate architecture inspired by the Joseon period characteristic for medieval Korea, and experience thrilling combat with unique boss monsters that resemble villains and characters from traditional Korean folklore and myth. Dolswe, a new trusty companion, will join Adventurers on this exciting journey and offer advice and assistance along the way.
ABOUT BLACK DESERT IP
The Black Desert IP is Pearl Abyss' open-world action MMORPG franchise with cutting-edge visuals and skill-based combat that redefines the genre. With the most developed character customization system of any game currently on the market, users can break out of the norm and make unique characters that truly represent themselves. Its intuitive controls, beautifully designed world, and extensive lore will excite both newcomers and veterans of MMO games and action RPGs. Pearl Abyss is currently servicing the Black Desert IP, which has gained 50 million players across the world on PC, mobile, and console. 
ABOUT PEARL ABYSS
Established in 2010, Pearl Abyss is a leading developer in the game industry with its renowned MMORPG franchise Black Desert, which is available on PC, mobile, and console. All of Pearl Abyss' games are built on the company's proprietary engine and are renowned for cutting-edge graphics. Pearl Abyss is currently developing Crimson Desert, DokeV, and PLAN 8 using its next-generation game engine and is poised to grow its overseas market. More information about Pearl Abyss is available at: www.pearlabyss.com.