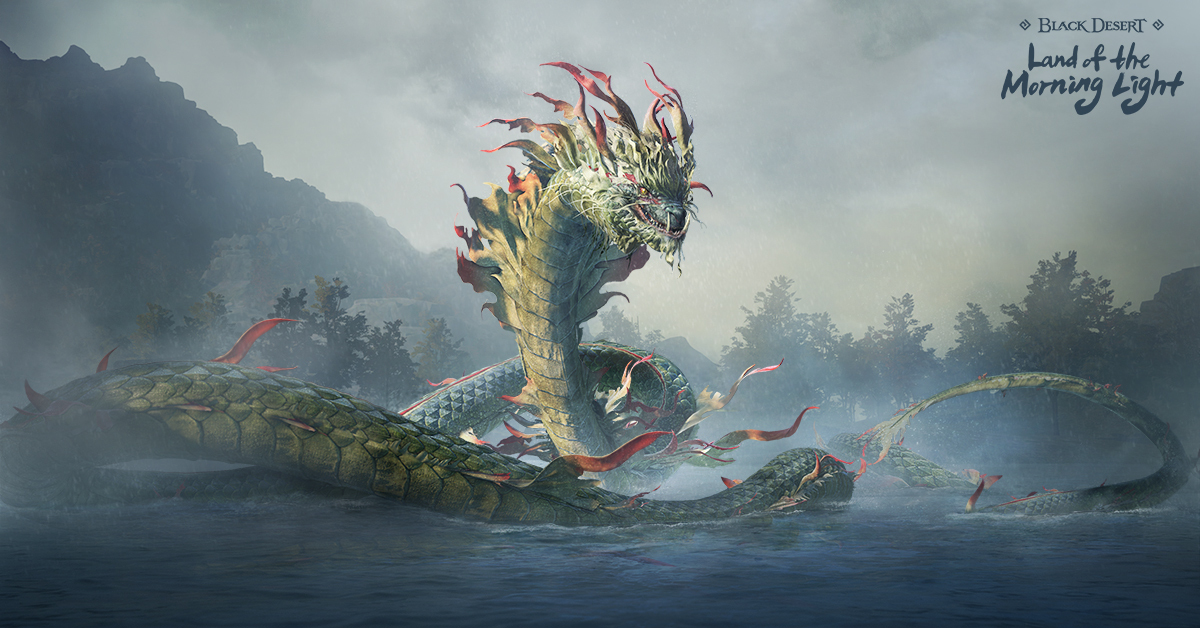 Trailer Reveals the Powerful Boss Imoogi, Coming to Black Desert's Biggest Expansion of the Year
Manhattan Beach, CA — June 8, 2023 — Korean developer and publisher Pearl Abyss released an exclusive Summer Game Fest trailer today for Land of the Morning Light, Black Desert Online's biggest 2023 expansion, revealing the serpentine boss, Imoogi. Launching globally on Wednesday, June 14, Land of the Morning Light transports players to a huge region inspired by the Korean medieval Joseon era, where they must face an array of mythical bosses based on Korean folklore.
Download the trailer and key art here
Watch the Summer Game Fest trailer on YouTube
Pre-order the Land of the Morning Light Edition DLC package on Steam or buy it directly in the in-game Pearl Shop
IMOOGI, THE POWERFUL BOSS OF LAND OF THE MORNING LIGHT
Featuring fearsome fangs and a spine-chilling roar, Imoogi, to be released after launch, is a new boss players will encounter in their journey through the Land of the Morning Light. Imoogi (which means "giant snake" or "huge serpent" in Korean mythology) can be challenged after players successfully defeat each of the other bosses that lurk in Land of the Morning Light. Imoogi's story has varied across generations, but Korean legends say it is a gigantic serpent-like creature aspiring to become a full-fledged dragon.
FACE OFF WITH FOLKLORE IN LAND OF THE MORNING LIGHT
Imoogi is one of many folklore-inspired characters awaiting players in Land of the Morning Light. Drawing from ancient myths and fables, the expansion pits players against unique boss monsters who must be defeated to uncover the true evil lurking in the region's shadows.
Players will meet the ferocious tiger lord Sangoon, vicious Golden Pig King, vengeful ghost Songakshi, and more throughout the expansion's nonlinear questline. Players can choose the order in which they face the bosses, enabling them to make their own adventure in a mature storyline featuring 80 cutscenes, 40 vignettes, and 6,000 fully-dubbed lines.
NEW GAME CHALLENGE: 'BOSS BLITZ'
For the first time ever, Black Desert Online moves away from monster grinding by introducing boss fights and a special new boss challenge,'Boss Blitz'. Once a boss is defeated in this new mode, players can jump straight into the action and fight that boss in customized difficulty levels for a chance to rank in weekly charts.
Each boss, including Imoogi, is built with distinct battle mechanics and combat strategies that ramp up in difficulty with each level, so players must adapt their tactics and invest wisely in Light Orbs (customizable points earned through story progression) to defeat each one. Players can put their boss-fighting skills to the test by competing with other players for the highest score, organized by class, on a weekly basis.
Assets for Land of the Morning Light, including all trailers, key art and screenshots, are available here. For more information on Black Desert Online, please visit the official website. To stay up to date with the latest happenings in Black Desert, follow the game on Facebook, Twitter and YouTube.
ABOUT BLACK DESERT IP
The Black Desert IP is Pearl Abyss' open-world action MMORPG franchise with cutting-edge visuals and skill-based combat that redefines the genre. With the most developed character customization system of any game currently on the market, users can break out of the norm and make unique characters that truly represent themselves. Its intuitive controls, beautifully designed world, and extensive lore will excite both newcomers and veterans of MMO games and action RPGs. Pearl Abyss is currently servicing the Black Desert IP, which has gained 50 million players across the world on PC, mobile, and console. 
 ABOUT PEARL ABYSS
Established in 2010, Pearl Abyss is a leading developer in the game industry with its renowned MMORPG franchise Black Desert, which is available on PC, mobile, and console. All of Pearl Abyss' games are built on the company's proprietary engine and are renowned for cutting-edge graphics. Pearl Abyss is currently developing Crimson Desert, DokeV, and PLAN 8 using its next-generation game engine and is poised to grow its overseas market. More information about Pearl Abyss is available at: www.pearlabyss.com.
---
MEDIA CONTACTS
TriplePoint on behalf of Pearl Abyss
pearlabyss@triplepointpr.com
Douglass Perry
Head of Public Relations, Pearl Abyss America
douglass.perry@pearlabyss.com