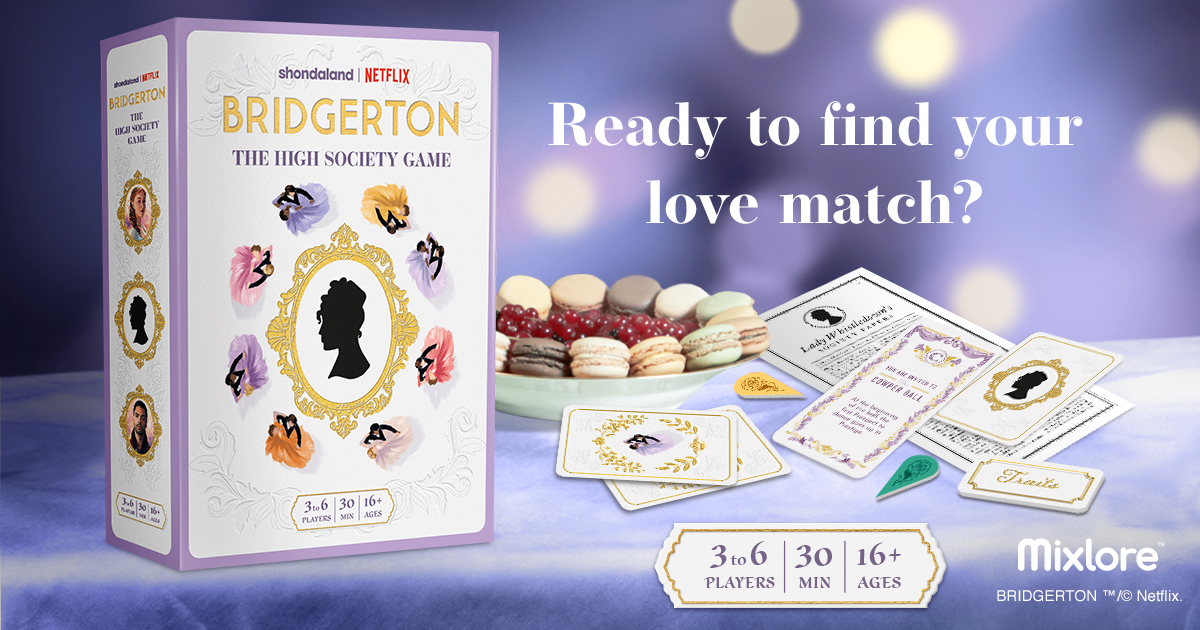 Guyancourt, France—June 28, 2023—Mixlore, an Asmodee studio, is proud to announce the launch of its highly anticipated new game based on Shondaland's global hit series Bridgerton, Bridgerton: The High Society Game. The studio's fourth partnership deal with Netflix and first with Shondaland, the game will be available for purchase on August 1 exclusively at Walmart in the US and available globally later in 2023.
Bridgerton: The High Society Game is a card game for three to six players. Players will dance with eligible prospects and discover their best match based on prestige, desirability, and love. They must then secure a marriage proposal by the end of the game, and the player with the highest score wins. Bridgerton: The High Society Game features characters from the Emmy-nominated Netflix original and is sure to be a hit with fans of the novel and television series.
Bridgerton: The High Society Game is expected to be a major success, cementing Mixlore's position as a leading developer of innovative and exciting licensed games.
For more information on Bridgerton: The High Society Game, Mixlore, and Asmodee please visit www.corporate.asmodee.com.
---
About Mixlore
Founded in 2018, Mixlore is France based publisher dedicated to hunting the latest and hottest trends to convert them into fun and accessible games for everyone. Some of their most famous games are Ramen Fury, The Shining, The Queen's Gambit, Squid Game and many more to come!
About Asmodee
Asmodee is an entertainment leader specialized in boardgames, committed to bringing people together through great games and amazing stories.
Thanks to its global and passionate workforce of over 2,500 people, players around the world enjoy one of the largest board game IP catalogs with CATAN, Ticket to Ride, Dobble/Spot it!, Exploding Kittens and 365 more across a variety of digital and physical platforms.
Headquartered in France (Guyancourt), Asmodee operates across Europe, North America, South America and Asia.
Asmodee is a part of the Embracer Group AB, which is publicly listed on Nasdaq Stockholm under the ticker EMBRAC B. (EMBRAC B).
About Shondaland
Shondaland is the global media company founded by award-winning writer and producer Shonda Rhimes. The company fearlessly entertains through storytelling with content for film, streaming, audio, digital and editorial as well as brand partnerships, merchandise and experiences. Shondaland has an exclusive partnership with Netflix where it produces streaming content for the media company, including the record-breaking series "Bridgerton," "Queen Charlotte: A Bridgerton Story," "Inventing Anna," "Dance Dreams: Hot Chocolate Nutcracker," and the highly anticipated upcoming series "The Residence". In 2017, Shondaland launched the editorial website Shondaland.com followed by the creation of Shondaland Audio in 2019. Shondaland was launched in 2005 with the groundbreaking series "Grey's Anatomy."
Media Contacts
TriplePoint on behalf of Asmodee
Asmodee@triplepointpr.com