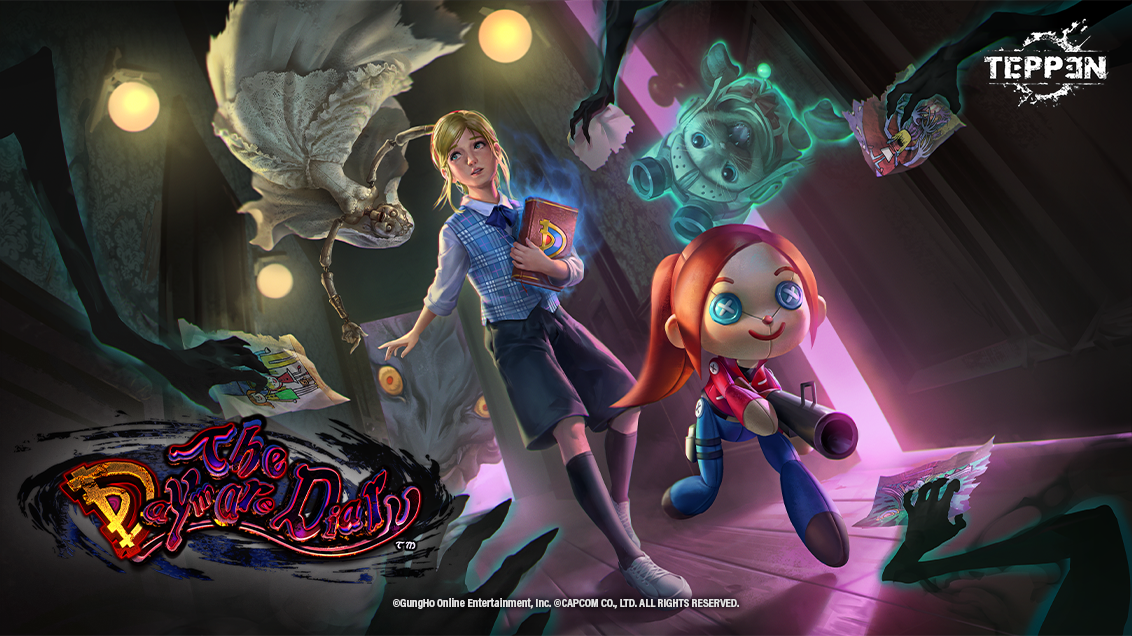 A new card set and story centered around the Resident Evil series starts today
TOKYO, Japan – September 1, 2023 – Evade nightmarish threats and harness their powers as "The Daymare Diary" card pack launches in TEPPEN today. This spine-chilling update introduces terrifying denizens from the Resident Evil series, joining iconic characters from the Monster Hunter series, Devil May Cry series, Mega Man series, and more.
Watch the trailer here.
Night Terrors
Resident Evil's Sherry Birkin reads a picture diary belonging to a mysterious girl and is transported to a ghastly mansion. She realizes she's been reverted to a child and comes across a doll, Angie (from Resident Evil Village), who directs her to collect the diary's torn pages in order to escape. While navigating this haunted place, Sherry encounters Monster Hunter's Felyne as a naughty ghost, Mega Man X's Vile as a tin toy, and other wicked foes from across Capcom titles. Among the chaos, a cute plushie resembling Resident Evil's Claire offers to help. Sherry relives the horrors of her childhood as she collects the book's missing pages, not knowing if the diary will bring relief—or more suffering.
New Ability
The Daymare Diary expansion introduces the new <Frenzy> ability. Make the most of your mounting madness by inflicting various insanity-fueled benefits, as detailed below:
When playing units with the <Frenzy> ability, certain other units with <Frenzy> in your hand, EX Pocket, and deck will become <Frenzied>. This only applies to units with 1 more MP than the played card and are not already <Frenzied>.
The attack power of <Frenzied> units will go up. Units will receive an attack boost equivalent to half the MP cost of the unit played and will round down.
Certain card effects require the card to be <Frenzied> to activate.
New Cards
Avoid your greatest fears or use them to gain the upper hand. The Red card "Katherine Warren," the Green Card "The Limb Reaper," the Purple Card "Puppet Mage Waka," and the Black Card "Trauma Chief Brian Irons" are all a part of this ghoulish dream! Here's a look at Katherine Warren:
Type: Unit
Tribe: Human
Rarity: 4
Attack: 0
HP: 4
Effects:

<Frenzy>: This unit cannot attack.
Death: Deal 4 damage to the unit in front, then Explore for Corrosion. Additionally, if this unit is <Frenzied>, give that card -2 MP.
<Immolate>: Give "Attacking: Give all Unit Cards with <Frenzy> in your hand and EX Pocket -1 MP." (MP costs cannot drop below 1.)
Events and Missions
In October, the limited-time Main Quest "The Daymare Diary" encourages players to collect and exchange candies for rewards. Players can also enjoy the return of "Turnabout Festival" as a returning event in September. Furthermore, they have the opportunity to collect one Secret Sphere from each of three missions occurring at different times:
September 1 (post-maintenance) – September 18 at 4:59 p.m. PT
September 8 – October 2 at 4:59 p.m. PT
September 18 – October 2 at 4:59 p.m. PT
Campaign Exclusives
Pick up TEPPEN Special Pack 23 to acquire new Skins and Secret Cards. The special pack will be available from September 14 to October 1. Other pack sets, including the New Pack Celebration JEWEL SET with two "The Daymare Diary" Pack Tickets and the Mini Jewels & Extras Set, are available from September 1 to September 15. Additionally, players can find limited-time BGMs, Resident Evil Village's Promenonsnous dans les bois, and Resident Evil 2's Escape in the Soul Shop until October 2.
Card Rotation
The "Jurassic Rampage" card set rotates out of Standard Mode with the introduction of "The Daymare Diary."
Assets for "The Daymare Diary" can be found here.
Download TEPPEN on the App Store, Google Play, and the Amazon Appstore.
###
ABOUT TEPPEN
Immerse yourself in the All-Star action with TEPPEN – the ultimate card battle experience! Co-developed by GungHo Online Entertainment and Capcom, TEPPEN combines real-time gameplay and eye-catching visuals with explosive action. TEPPEN's state-of-the-art battle system sets it apart from other card games, and the beautifully designed cards allow players to take command of iconic Heroes from renowned Capcom franchises such as the Monster Hunter series, Devil May Cry series, Street Fighter series, Resident Evil series, and more. For more information, visit the official website: teppenthegame.com.
© GungHo Online Entertainment, Inc.
©CAPCOM CO., LTD. ALL RIGHTS RESERVED.
ABOUT CAPCOM
Capcom is a leading worldwide developer, publisher and distributor of interactive entertainment for game consoles, PCs, handheld and wireless devices. Founded in 1983, the company has created hundreds of games including ground-breaking franchises Resident Evil™, Street Fighter™, Monster Hunter™, Ace Attorney™, Mega Man™ and Devil May Cry™. Capcom maintains operations in the U.S., U.K., France, Germany, Tokyo, Taiwan, Hong Kong and Korea, with corporate headquarters located in Osaka, Japan. More information about Capcom and its products can be found at www.capcom.com or www.capcom-unity.com.
Capcom, the Capcom logo, Ace Attorney, Devil May Cry, Mega Man, Monster Hunter and Resident Evil are trademarks of Capcom Co., Ltd., in the U.S. or other countries. Street Fighter is a trademark of Capcom U.S.A., Inc.
ABOUT GUNGHO ONLINE ENTERTAINMENT AMERICA
GungHo Online Entertainment America, Inc. (GOEA) is a multi-platform developer and publisher dedicated to delivering fun & unique titles like Puzzle & Dragons, Ninjala, and LET IT DIE. GOEA is the US division of GungHo Online Entertainment (GOE), whose studios include leading developers SUPERTRICK GAMES, GAME ARTS, Acquire, and Gravity. GOEA distributes games for consoles, handhelds, mobile devices, and PC. GOEA is located in Redondo Beach, CA. For more information, visit www.gunghoonline.com.
MEDIA CONTACTS
GUNGHO ONLINE ENTERTAINMENT AMERICA
Natsuki Nishikawa
Senior Communications Coordinator
natsuki@gunghoonline.com
TriplePoint on behalf of GOEA
gungho@triplepointpr.com
+1-415-955-8500