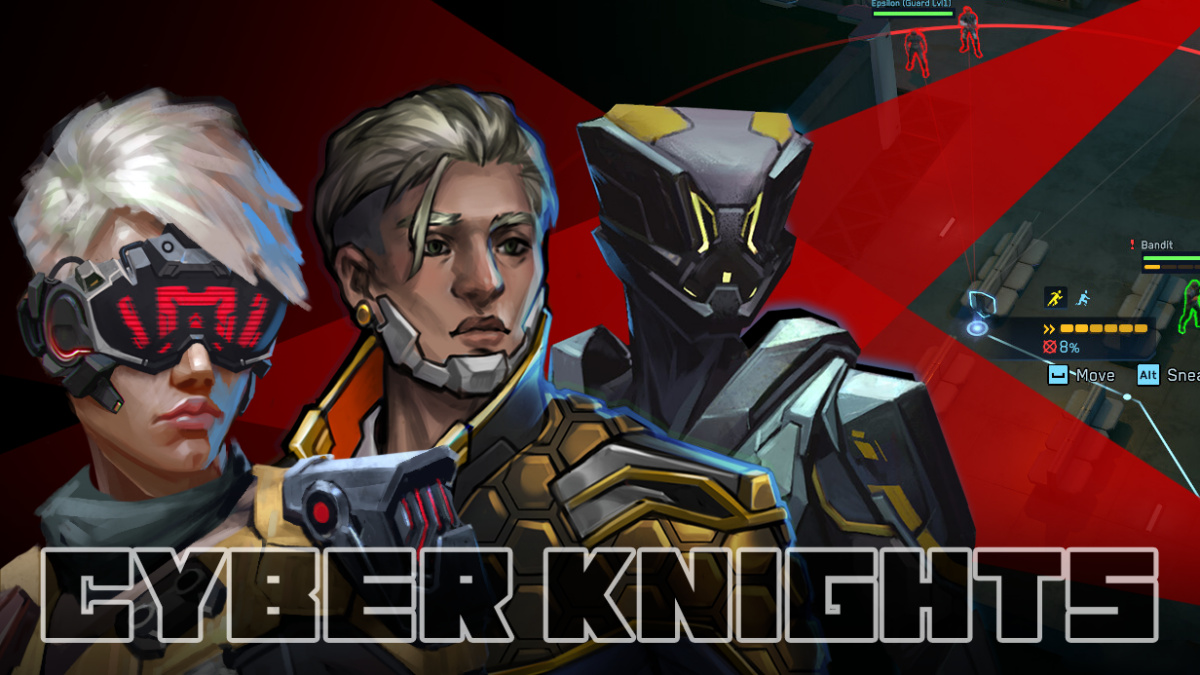 Trese Brothers expanding the bounds of squad tactics and cyberpunk with their new RPG
Philadelphia – SEPTEMBER 21, 2023 – Award-winning indie developer Trese Brothers Games today announced that Cyber Knights: Flashpoint, the squad-based stealth and tactics RPG set in a unique cyberpunk far-future, will launch on October 17, 2023, for PC, Mac and Linux.
Find the game on Steam for 10% off the week of Early Access launch; wishlist today!
"Cyber Knights: Flashpoint is our ninth and most ambitious game yet. We're combining our favorite elements of turn-based squad tactics with deep RPG mechanics and player-driven stories to create a game with great replayability," said studio co-founder Andrew Trese. "We've spent more than a decade developing the game's setting, drawing from our roots in tabletop RPGs; it's a high-tech, low-life world and we can't wait to see RPG and tactics fans dive into it."
In Cyber Knights: Flashpoint, players become a cybernetics-powered street mercenary in the dystopian future of 2231. To survive the sprawling New Boston Zone, players must assemble a crew to take on dangerous heists, as they try to carve out a better future. Key features include:
[The Heist Experience]: Choose your jobs to build your rep without taking on too much heat. Work your network of underworld contacts to trade favors, pay bribes, and gain advantages before taking on a heist. Plan your path through multi-stage missions, and commit your crew to legwork that could reveal new opportunities or threats.
[Deep Character Builds]: Use powerful cyberware, stealth, hacking, and firepower to overcome enemies. Extensive talent trees, multiclassing, weapon modding, safehouse upgrades, evolving traits and more combine to give players endless ways to build a crew that can take on any heist.
[Power-Player Strategy]: Choose wisely who to trust and who to use. Each squad members' and contacts' stories will become interwoven with the player's own as they navigate competing factions and personal agendas.
[Dynamic Stories, Endless Replays]: The custom-built 'Casting Director' story engine fits player-created squad members and NPCs into world events and storylines. Who will end up a betrayer, a friend in need, or the villain this time? Create new characters, discover new stories, and watch how your choices make it all fit together.
[A New Kind of Cyberpunk]: Set in a post-eco-collapse world sheltering in domed megacities. Artificial consciousness has been created, killed, and outlawed at a global level. Megacorporations, nanotech and quantum computing have radically altered the world… and the player is one of the few equipped to handle it.
"The support of our backers and community have helped evolve Cyber Knights: Flashpoint into one of the most unique squad tactics games created," said Cory Trese, studio co-founder. "All of the excitement and feedback from our alpha and demo players has been great. We know from all of our previous games that Early Access really takes it to a new level, and we're looking forward to seeing players dive into all the new content and features."
For more information about Cyber Knights: Flashpoint, visit the game on Steam and connect with the studio on Discord and Twitter.
---
About Trese Brothers
Trese Brothers Games makes deep, highly-replayable strategy games & RPGs. Led by two brothers, Andrew and Cory Trese, we're an indie studio going 10+ years strong, known for titles like our award-winning sci-fi captain RPG, Star Traders: Frontiers. We punch above our weight through a commitment to craft and putting players first: regularly-updated, long-lifespan games; no exploitative monetization or dark patterns; personal involvement in player communities.
For Media Inquiries
TriplePoint on behalf of Trese Brothers