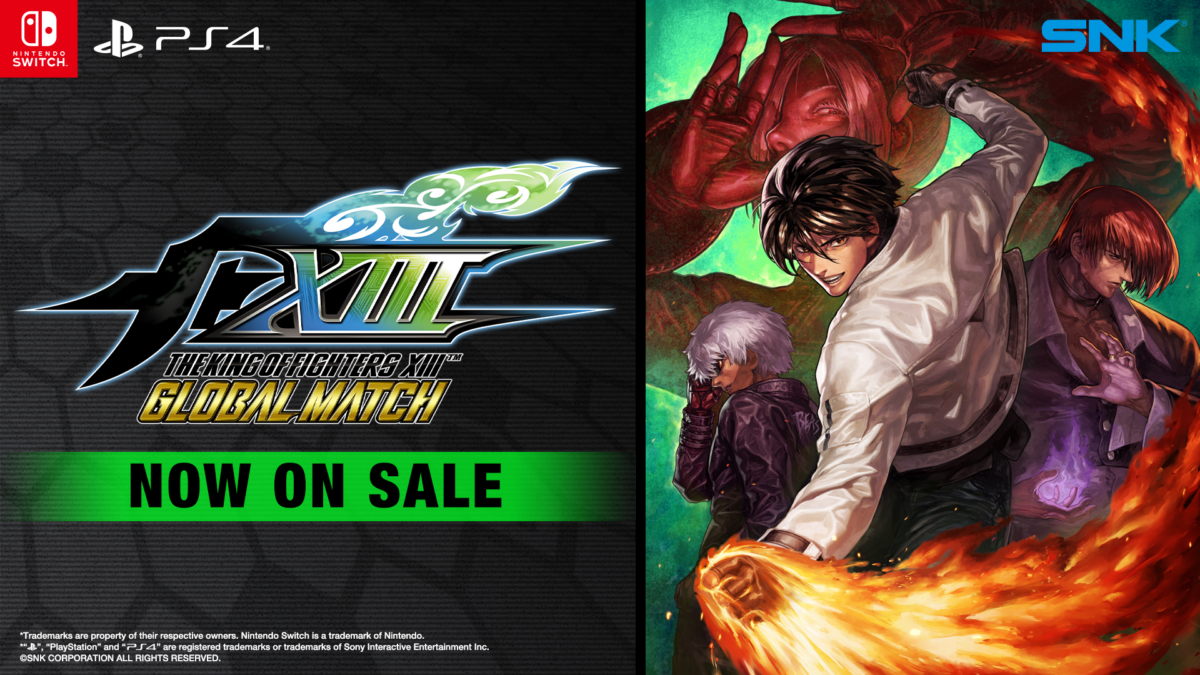 Deluxe Edition also available, including 100-page Digital Art Book and KOF XIII Digital Soundtrack
OSAKA, Japan – November 16, 2023 – Today, SNK CORPORATION announced that THE KING OF FIGHTERS XIII GLOBAL MATCH (KOF XIII GM) is available exclusively for PlayStation®4 and Nintendo Switch™. KOF XIII GM is an enhanced version of THE KING OF FIGHTERS XIII, the iconic 2D versus battle fighting game, introducing rollback netcode for fast-paced online matches, online lobbies accommodating up to nine players, and a Spectator Mode. Additionally, a Deluxe Edition is available that includes a 100-page Digital Art Book and the celebrated KOF XIII Digital Soundtrack. Download KOF XII Global Match standard edition for $19.99/€19.99 or the Deluxe Edition for $29.99/€29.99.
Check out the launch trailer here.
In KOF XIII GM, players can enjoy the final chapter of the highly acclaimed Ash Saga, following events depicted in THE KING OF FIGHTERS 2003 and THE KING OF FIGHTERS XI. The story unfolds as a visual novel told from the perspective of the brand's iconic characters, including the titular protagonist, Ash Crimson. Players can play as Ash or any of THE KING OF FIGHTERS cast, including special fighters released as DLC for KOF XIII, like NESTS Style Kyo, Classic Iori, and Mr. Karate.
About KOF XIII
KOF XIII's gorgeous visuals helped cement its position as the pinnacle of 2D fighting since its original release. The game brings memorable characters and atmospheric stages to life with its highly detailed sprite-based graphics. It features 3-on-3 Team Battles, a Story mode, online opponents, Mission mode, character customizations, and more, making it one of the quintessential competitive entries on the global fighting game circuit. 
Assets for the THE KING OF FIGHTERS XIII GLOBAL MATCH are available here.
For all the latest on KOF XIII, follow SNK on Twitter or join its Discord.
# # #
ABOUT THE KING OF FIGHTERS
THE KING OF FIGHTERS, officially abbreviated as KOF, is SNK's famous fighting game series. It's known for its large cast of characters, innovative "team" system, with both original designs and characters from other SNK games. Developed in 1994, the long-running KOF series features 15 mainline titles and several spin-offs. KOF XIII won Best Fighting Game and Most Improved Sequel at the GameSpot awards and was nominated for the D.I.C.E Award for Fighting Game of the Year in 2011. For more information, visit the official website: https://www.snk-corp.co.jp/us/games/kof13gm
ABOUT SNK CORPORATION
Founded in 1978, SNK CORPORATION is a Japanese video game company headquartered in Osaka, Japan. SNK is an acronym of Shin Nihon Kikaku, meaning New Japan Project, and was the company's legal name until it was shortened to SNK in 1986. SNK is best known for creating the Neo-Geo arcade system and several game franchises, including THE KING OF FIGHTERS, Metal Slug, Samurai Shodown, and Fatal Fury. SNK also helped publish games like Rage of the Dragons, World Heroes, Ninja Master's, Sengoku, and Double Dragon. Learn more about SNK CORPORATION by visiting https://www.snk-corp.co.jp/us/. 
MEDIA CONTACTS
SNK CORPORATION
info-usa@snk-corp.co.jp 
TriplePoint on behalf of SNK CORPORATION
snk@triplepointpr.com
+1-415-955-8500